Samsung HT-C6930W BD-Receiver System
Price
: $850
At A Glance
: AVR with integrated Blu-ray 3D player and slim speakers • Proprietary auto setup with musical test tones • Attention-getting array of fun network-enabled apps
The Start of Something Big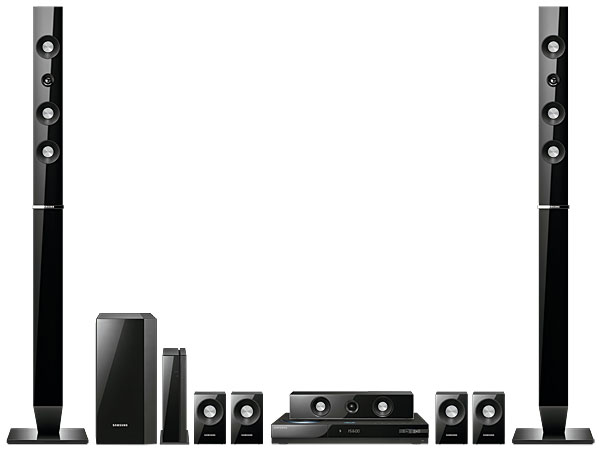 Samsung's HT-C6930W 7.1-channel Blu-ray 3D Home Theater System, to quote the full official name, includes a speedy Blu-ray 3D drive, seven speakers, subwoofer, wireless connection for one pair of surrounds, and an auto setup system that replaces the customary bleeps and sweeps with musical test tones. It builds on Ethernet and Wi-Fi network connectivity with DLNA certification and a variety of apps.
The apps in my review unit included Netflix, Blockbuster, CinemaNow, and VUDU HD Movie streaming rentals; plus YouTube, Rovi TV listings, Pandora streaming music, Google, Picasa photos, Google Maps, Accu Weather, Facebook, Twitter, USA Today, and a couple of rudimentary games called Texas Hold 'Em and Sudoku. You can download more apps for prices ranging from free to $1.99.
Thus, Samsung has turned this BD-receiver package from an old-fashioned disc-bound HTIB into a hip video and audio streaming device listing for $850. Impressive, huh?
Light and Lively
In the carton is a BD-receiver, two easy-to-assemble towers, a horizontal center speaker, and four satellite speakers that you can configure for side-surround plus either back-surround or frontheight use. The system supports Dolby Pro Logic IIz for height enhancement, and a dedicated remote button easily switches the height mode on or off.

The system is indisputably sleek and handsome, if a little lightweight—the BD-receiver and sub weigh less than 10 pounds each. There are several lit-up items along the BD-receiver's top front surface, including flat touchsensitive controls at right, a prominent "Blu-ray 3D" logo in the middle (dimmable in the Settings menu, according to Samsung), and a crescent-shaped window at left that shows the disc drive in operation. The remote is modest but well thought out, with oversized controls that are well differentiated by color and shape. Slim plastic-enclosed speakers boast a no-grille design with a recessed tweeter and varying numbers of woofers: three for the towers, two for the center, and one full-range driver for the satellite-surrounds.
Connectivity is limited though not unreasonably so for a system with a dedicated disc drive. There are two HDMI inputs—and no other video ins. The single HDMI output is complemented with component and composite video (but no S-video). Audio inputs are more varied, embracing optical, analog, iPod dock, USB, and FM (but no AM).
Rated power is 165 watts into 3 ohms with no specified distortion level. Utilizing energy-efficient Class D amplification—or in Samsung-speak, Crystal Amplifier Pro—enables a box little more than 2 inches tall to power five speakers and sub. As usual, see our measurements.
I slid the BD-receiver into my rack and put together the towers. Each one consists of a base, column, and speaker module. When the towers were assembled, the tweeters turned out to be 43 inches above the floor, which may be OK for a tall person sitting upright, but not so good for a medium-height sloucher like me. To keep the three front tweeters as close in height as possible, I placed the center speaker above the flat-panel HDTV, which put the center tweeter another 3 inches higher than the other two speakers. For easy mounting, the center and surrounds had keyholes in back.
The slender speaker cables had color-coding that corresponds to stickers on the speakers. I connected my HDTV with an HDMI cable, plugged in the BD-receiver's power cord, and turned on the system. The disc drive made a grinding noise, the system emitted a brief snatch of music—that's its way of saying hello and goodbye—and the colorful main menu appeared. I tapped in my network password for the Wi-Fi connection, and the system was almost fully operational.
Config Quirk
Samsung's Musical Room Calibration wasn't as easy as other auto setups I've tried. Part of the problem was self-inflicted: I needed to set up 5.1 channels, the bedrock standard in surround sound and my usual configuration for product reviews. However, this auto setup would only recognize 5.1 as a user error, not a user choice. It prompted me to hook up the two unused speakers and would not take no for an answer. I did a temporary 7.1-channel setup with back-surrounds to placate the system and later removed the unwanted speakers.