Samsung HT-BD2T HTIB
Price
: $1,759
At A Glance
: Integrated Blu-ray drive and amps • Skinny stand-mount front speakers, wall-mount surrounds • Basic HTIB sound in a convenient package
Do You Know the Way to Blu?
Audio manufacturers in the home theater sphere fall into two distinct groups. The most distinguished calling cards belong to the audio specialty brands. If you say you're using B&W speakers with an Outlaw receiver, fellow audiophiles will immediately nod their heads. They know what you're talking about, and they know you know what you're talking about.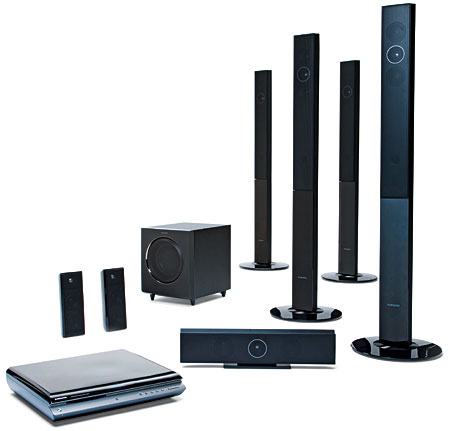 Then there are the manufacturers who handle audio as an outgrowth of their video products. After all, home theater with lousy audio is hardly home theater at all. These manufacturers will likely offer audio products in the context of a home-theater-in-a-box system. Some of them now build Blu-ray players into their HTIBs. At the heart of Samsung's system is a combo Blu-ray player and surround receiver, hereinafter referred to as the Blu-receiver.
At heart, Samsung is a maker of superb and bestselling video displays. But do you want to buy a whole system with speakers, amps, and a signal source from Samsung? Preliminary answer: That depends on how you view the tradeoff between convenience (always the strong suit of an all-in-one system) and performance (the plot thickens).
Blu in the Heart
This system is known as the HT-BD2, according to its front panel, manual, and carton; or it's known as the HT-BD2T, according to Samsung's Website. The Website also lists similar-sounding models, the HT-BD2ST and HT-BD2ET, with smaller speakers. This 7.1-channel system uses towers as both front and side surround speakers and comes in a box that's almost as tall as a fridge.
The Blu-receiver has an attractive gloss-black plastic finish. The front panel angles upward and is nearly horizontal. That's good, because you'll be able to operate the controls easily regardless of where the unit sits on your rack. But it's also bad, because the front panel is virtually impossible to read from across the room. At far left is a power button and LED. Next to it is a slot-load disc mechanism (no drawer) with an Eject key just to the right of it. Farther to the right are a single function button, a set of transport controls, and a 1.5-inch-long rocker switch that serves as master volume control.
The front and side surround speakers are 52-inch-tall towers. They are a three-part affair. The business end is on top, with a pedestal of similar dimensions in the middle, and a 13-inch base at the bottom. The speakers utilize a ported woofer-tweeter-woofer configuration.
Although the molded-plastic speakers and pedestals are nothing special, Samsung took some pains with the bases. They're glossy black plastic on top with an underlying heavy metal disc that gives them some extra stability. You can give them a casual whack, and they probably won't tip over. However, the wobbly plastic parts that fit the base to the pedestal undercut this stability slightly.
A low 9.5-inch-wide non-adjustable foot supports the 21.8-inch horizontal center speaker. I regret that I wasn't able to get the center's tweeter on the same level as the front left/right tweeters—which were 44 inches off the floor, a bit on the high side. The 11-inch-tall back surrounds include a keyhole for wall mounting.
The sub makes a good impression from the front, thanks to its gloss black plastic faceplate and metal grille. The back includes a single mono line input, volume knob, and power button. There are no other controls—no crossover knob, no phase control, no bypass switch.
Hooking everything up is easy, as you'd expect with this kind of system. The supplied speaker cables have color-coded plugs at one end to fit into the Blu-receiver. The other end has soldered bare-wire tips with black or red wrapping to indicate positive or negative speaker connections. It took me less than 15 minutes to assemble the speakers (no tools required), get everything in place, run the cables, and connect everything. There was no agonizing. It was fairly obvious how everything fit together. So far, so good.
To complete the setup, I ventured into the Control menu to balance the channel levels. Here I ran into a problem. Normally, you expect to find individual channel level adjustments in the same menu with the test tones needed to adjust the channels. Without the tones, you can't really tell how the channels relate to one another except by ear, and the ear is easily fooled. That's why I use an Aperion Audio Sound Level Meter ($29 at www.aperionaudio.com).
Unfortunately, the channel-level adjustment is in the Sound Edit menu, and the test tones are in the Speaker Setup menu. So there's no way to hear the tones and make the adjustments at the same time. I had to go back and forth. This wasn't easy, especially with a system that's a little balky at accepting commands. It turned a five-minute routine into an ordeal that consumed the better part of an hour. Samsung seems to assume the average HTIB buyer will not be too fussy about channel levels.
Blu Movies
Because of the wide disparity between titles, I'll list my disc-loading times. My editor speculates that the differences may have stemmed from the player's handling of discs authored in the BD-Java environment. Samsung also confirms that the Blu-ray drive is based on the BD-P1400, a standalone player dating from an earlier generation of the Blu-ray era.
Harold & Kumar Go to White Castle loaded in 27 seconds. If you know anything about these guys, you know they got loaded, too. In a dream sequence, one of the supporting characters was a large plastic bag filled with green herbal matter. For this audience, cognitive challenges abound, so the movie was mixed with dialogue right up front as in a TV show. This probably wasted the resolution of DTS-HD Master Audio, but really, no movie ever suffers from lossless surround. The Samsung speakers batted this easy pitch out of the park. However, it also betrayed a slight resonating-plastic coloration and never broke free from it.