B&W Panorama Soundbar Speaker
Price
: $2,200
At A Glance
: 5.1-channel decoding in a single soundbar • Decoding for Dolby Digital and DTS, not lossless • Strong bass even when subwoofer output is not used
5.1 Channels in One
Why shouldn't respectability and innovation be on speaking terms? In loudspeakers, that's not as easy as it sounds. Much of the recent audio innovation in home theater has come in products that are designed to complement flat-panel TVs. These products are morphing before our eyes—into soundbars, on-walls, and ever-smaller satellites. They are also moving beyond the standard five-speakers-and-sub configuration in their deployment of surround's 5.1-channel array. This makes for a striking contrast when you look at the high-end speakers that grace audiophile short lists. These include a staid group of medium-density fiber-board boxes whose fundamentals, in many cases, haven't changed in decades. Traditional speakers can sound great, but that's not often enough to make people buy them.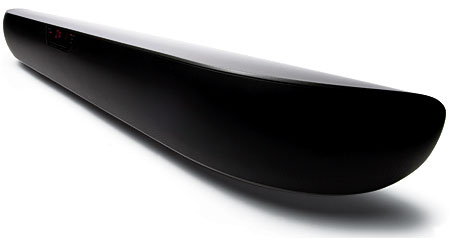 Who will step up and combine the innovation of home theater with the performance of audiophilia? One likely suspect would be Bowers & Wilkins, more widely known as B&W, which has spent decades invigorating audiophile products with distinctive design gambits. B&W likes to get around—its speaker lines cover a lot of ground. It was only a matter of time before the world got a look at the company's first soundbar, the Panorama.
This is not an entry-level product priced to be an afterthought to a flat-panel TV purchase. At $2,200, it may cost more than some of the TVs it will be used with. In fact, for that kind of money, you could easily mate a mid-priced receiver with a decent 5.1-channel speaker package. What on earth could B&W be up to?
Famous Dimples
The Panorama is slightly less than 43 inches wide, for the benefit of those who would like their soundbars to precisely match the width of their flat-panel TVs. At 31 pounds, its glass-filled ABS plastic enclosure is more solidly built than other bar speakers I've reviewed. The front features a perforated aluminum grille, which offers protection from curious little fingers. A sheet of mirror-black titanium-coated stainless steel curves around the top, back, and bottom. In back is a pair of B&W's famous dimpled Flowports, which are pocked like golf balls in an attempt to improve air flow and reduce port turbulence. You can use the supplied bracket to wall-mount the product or place it on a table, as I did. There is a bass EQ setting to complement your choice.
Drivers within the soundbar include a single 1-inch aluminum dome tweeter, a pair of 3-inch glass-fiber cone midranges, four 3-inch glass-fiber surrounds, and a pair of 3.5-inch Kevlar-paper drivers that B&W refers to as subwoofers in this configuration. The tweeter attaches to a tapered tube enclosure adapted from B&W's world-beating Nautilus line. This claims to minimize energy coming from the back of the tweeter and prevent it from polluting what comes out the front. The subwoofer drivers are set into a sub enclosure that makes the most of the abovementioned Flowports. Regarding the surrounds, B&W says: "We took advantage of their natural 'beaming' at higher frequencies, coupled with DSP and the curved enclosure, to help create the immersive surround field."
On the back are five inputs, three digital and two analog. Two of the digital inputs are optical, and one is coaxial. The analog inputs are stereo RCA jacks. The sole output is for a subwoofer (I reviewed the product without one). The Panorama has onboard decoding for Dolby Digital 5.1 and DTS. However—like many soundbar speakers on the market—it has no HDMI input. It also doesn't have onboard decoding for Dolby TrueHD, Dolby Digital Plus, or either variety of DTS-HD. This raises a question for Blu-ray users—which I hope includes all of you. How do you hook up a Blu-ray player?
To take advantage of a lossless soundtrack, you might connect the player's two-channel analog downmix output to one of the bar's analog inputs. However, even if the source material were lossless, you would still give up the benefits of discrete channels. Instead, the player would rely on the soundbar's Dolby Pro Logic II matrixing to steer information to the center and surround channels. As an alternative, B&W recommends that you use the optical or coaxial input, which would receive either a legacy Dolby Digital or DTS signal from the player, or one of those signals from an alternative soundtrack on the disc itself. The Panorama comes with two optical cables among the supplied accessories. It also includes two stereo analog cables, screw-in feet for table placement, brackets for wall mounting, and a soft cloth to buff the shiny finish.