Denon DHT-1513BA HTIB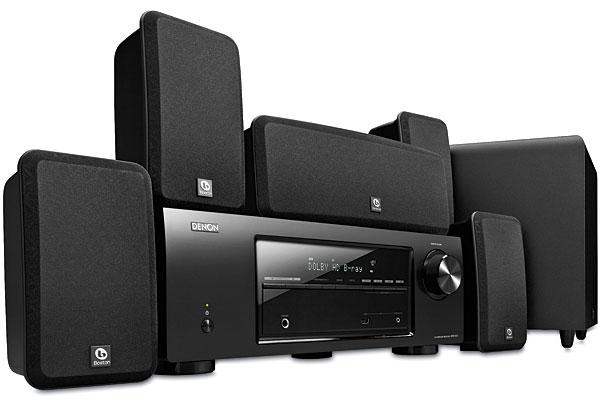 Price
: $600
At A Glance
: Denon entry-level AVR • Boston Acoustics sat/sub set • Acceptable performance
Eliminating nonessentials sounds easier than it is. A year ago, I went through my clothes and filled six shopping bags with shirts and pants I knew I'd never wear again. Just a month ago, I repeated the exercise and darn if I didn't fill another bag. If I'd exerted myself, I could have filled two. So I felt a certain respect as I cracked open the Denon DHT-1513BA carton and moved its contents to my rack and speaker stands—because I knew this system's designers had made some tough decisions. They're more hardheaded than a guy who decides to let his HD DVD promotional T-shirt survive another year.
This in-a-box system has more street cred than most. It includes a mainstream A/V receiver that's sold separately for $250 as the Denon AVR-1513. And it adds speakers from a brand that's been making good ones for a long time: Boston Acoustics, Denon's D+M Group stablemate. While the speakers packed with this system bear a passing resemblance to the Boston Acoustics MCS 90 5.1 speaker package ($500), there is at least one difference. The sub enclosure is a slightly different shape.
Still, you could argue that this $600 system brings together products that would cost you perhaps $750 if you purchased exactly the same AVR and similar speakers. And that doesn't even include the value of the supplied zip cord.
Just What You Need
The AVR-1513 is the lowest-priced A/V receiver in Denon's current line, with model numbers ending in -13. At press time, Amazon was selling it for the list price of $250, while its predecessor, the AVR-1312, was discounted to a rock- bottom $135.
This AVR is designed to give you precisely what you need to run a basic surround system—and not much more. It will feed a single HDTV with up to four HDMI-equipped high-def signal sources and maybe a couple of composite-video legacy sources. HD-capable component video is a notable omission. The surround-decoding staples are present: DTS-HD Master Audio and Dolby TrueHD for your Blu-ray Discs, Dolby Digital and DTS 5.1 for your DVDs. You can also use Dolby Pro Logic II or DTS Neo:6 to rechannel stereo sources to surround. A proprietary virtual surround mode will provide faux-surround effects with two speakers or headphones.

As expected, there are five amp channels, not seven, and auto setup and room correction are not included, so sticklers who want their channel levels more accurately balanced than can be done by ear will want to add $50 for a RadioShack SPL meter to the system cost. And there are no low-volume listening modes. When you're watching a dynamically challenging action movie, these can be a great luxury to boost dialogue and knock down noisy effects, especially with a modestly powered receiver that may clip at high levels with some speaker loads.
This doesn't mean the AVR-1513 is any less loaded than a comparable budget AVR from another manufacturer, but it's worth discussing what you'd get by stepping up to the Denon AVR-1613. For $400, it delivers the same five times 75 watts (rated with two channels driven) but adds loads of additional features. They include a full suite of Audyssey technologies, including MultEQ auto setup and room correction plus Dynamic EQ/Volume low-volume modes. If you're addicted to your iPhone or iPad, the addition of Apple AirPlay wireless connectivity might justify the $150 price differential all by itself. Other gimmies include an iOS-compatible USB connection, an iOS control app, SiriusXM satellite radio, RadioDenon Internet radio, Pandora personalized Internet radio, and Flickr photo sharing. The AVR-1613 also includes the collared binding posts that are standard equipment on most receivers, versus the spring-loaded tab-wire clips on the AVR-1513.
The Boston Acoustics speakers packaged with this system include four satellites that measure less than 5 inches tall plus a center and a subwoofer. Inside the satellite's molded plastic enclosure—which reveals a plasticky-sounding resonance when knuckle-rapped—are a 0.75-inch soft (textile) dome tweeter and 3-inch copolymer-coned woofer. The horizontal center has the same drivers with dual woofers. All speakers have the same wire-clip speaker terminals used on the receiver. Within the sub's vinyl-clad fiberboard enclosure is an 8-inch downward-firing woofer driven by 100 watts specified using the rigorous RMS (as opposed to the more lenient peak) method.
This receiver's graphic user interface has a more stripped-down look than the full-color GUI of Denon's higher-priced receivers, befitting the product's no-frills feature set. But the simplified interface makes the receiver, if anything, easier to use. It didn't take long to input speaker types and distances and balance levels with an SPL meter.
This system was nearly complete in itself. The only thing I added was a signal source: Oppo's BDP-83SE universal disc player. All movie demos were Blu-ray Discs with DTS-HD Master Audio soundtracks.
A Sketch, Not a Portrait
A compact sat/sub set often provides a cunning sketch of the frequency spectrum, as opposed to a full-fleshed portrait with all the nuances. It makes compromises, but if it exercises discretion at the same time, the compromises are palatable and you might be pleased with the result. That's what a good HTIB is all about.