Denon DHT-1513BA HTIB Page 2
Did this system deliver slammin' bass? No, but it avoided the one-note dominant bleat of the worst cheap subwoofers. The sub integrated tolerably well with the satellites. I fiddled with crossover settings from 120 to 150 hertz and ended up preferring the lower one because it reduced localization of male voices in the sub to a barely noticeable minimum. The speakers are rated down to 120 Hz, although the manufacturer doesn't say plus or (more likely) minus how many decibels. See our measurements to determine how much midbass I was doing without. Midbass and lower midrange had a plastic-enclosure coloration but were listenable. The upper-midrange presence region got a little grainy, sometimes even edgy, although the effect was only irksome at peak volumes and only with some content. The speakers' top end was rolled off—gently, not crudely—and in a system with budget amplification, that's how it should be. Remember what I said about discretion?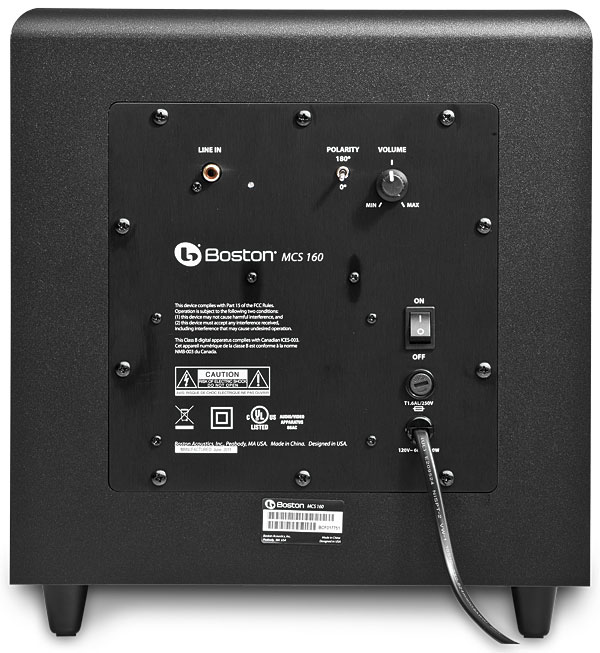 The Denon/Boston Acoustics system sounded its best with a pair of movies that both have, coincidentally, political themes. The Ides of March, with George Clooney as a presidential candidate, features a subtle bass line dotted with tympani. Not loud, but insistent, it snaked through the movie, and as it did so I came to appreciate the sub's pitch definition—it was pretty good for a sub that costs next to nothing. The soundtrack was recorded at Abbey Road, so this was best-case material, and the system handled it well. Dialogue reproduction in all movies was acceptable though not far above average. The Iron Lady—the Margaret Thatcher biopic with Meryl Streep—challenged the system with riots, a Falklands War sequence, and full-throated debate in the House of Commons. This unofficial demo played on a warm day with a fan in the room, which made higher master volume a must. I expected to have my ears flattened, but except in one sequence in which the strings became intentionally aggressive to complement the onscreen action, it was surprisingly pleasurable.
As the subject matter got less highfalutin, I became more aware of the system's grain and color- ation. Abduction makes the case for Taylor Lautner as the new Tom Cruise. Its best moment was a quiet one with train-station ambience, which reminded me of the benefits of having matched speakers in the four corners of the soundfield—a sensible design strategy that costs nothing to provide. I pushed the volume up and down but never quite achieved an ideal comfort level. In the aliens-invade-Russia scenario of The Darkest Hour, the additive effect of edginess from both content and receiver was hard to take.
Flying Brick Wall
King Crimson's Live in Zurich is one of the extras packaged with the DVD-Audio/CD edition of Starless and Bible Black. It offers more tracks and higher resolu- tion (24 bits, 48 kilohertz) than excerpts from the same 1973 concert in The Great Deceiver CD box set. Admittedly, it was cruel to confront an HTIB with a rhythm section once likened to a "flying brick wall." But although the system couldn't possibly convey the brutal low-frequency force of John Wetton's John Entwistle–caliber bass playing, it did do justice to his ever-shifting bass and midbass tonal nuances. Instruments occupying the midrange and high frequencies—Bill Bruford's clockwork-gone-berserk snare, David Cross's reedy violin, and Robert Fripp's inimitable fuzztone guitar—emerged with slightly muddied but still coherent textures. While the end result could never have been a fully nuanced oil painting, it was a fine HTIB pencil sketch, with the correct outlines and shadings.
John Coltrane's Olé features several familiar instrumental voices—not only the leader's soprano and tenor saxes but also Eric Dolphy's alto sax and flute, Freddie Hubbard on trumpet, the piano of McCoy Tyner, and the dual-bass rhythm section of Art Davis, Reggie Workman, and Elvin Jones. Instrumental timbre wasn't entirely clean, but neither was it lost in noise. Imaging of musicians mixed at hard left or hard right seemed slightly stronger than Coltrane in the center. Pushing the left and right speakers closer together helped. A speaker with a more vibrant top end wouldn't have needed such assistance—but a toppier speaker would also have made things sound hard.
I became more aware of the system's consistent off-axis response with the 40th anniversary CD remastering of Terry Riley's In C. In one performance of the work (not the one recorded here), the conductor invited the audience to get up, walk around the concert hall, and "savor the sound" from different positions. I did the same, walking around the room, and noted how similar the characteristics of the sound in way-off-axis positions were to the prime position. This is clearly a system built around family values: It communicates well to many listening positions simultaneously.
At $600, the Denon DHT-1513BA HTIB is a very good value. It's easy to use and suitable for low to moderate volumes in a smallish room. If you have a big room to fill—and especially if you like your action movies, rock, or hip-hop loud—you may be better off investigating a more powerful receiver from Denon or another manufacturer as well as speakers that can handle more power. Likewise, if you want more than a stripped-down feature set, set your sights higher. But Denon has done a fine job of mating receiver and speakers in this pragmatically designed starter system. It pro- vides basic performance and basic features at a basic price.