Five for Five Chris Chiarella
Chris Chiarella Says:
Cambridge SoundWorks MegaTheater 530 HTIB $1,150
Samsung HLN437W 43-Inch DLP HD Monitor $3,700
Total $4,850
(That's $150 left over to buy DVDs!)
Shopping for a complete home theater system has certainly become a much easier process since the HTIB became a serious alternative to separates. One of the best I've ever seen is Cambridge's MegaTheater, bundled in several different configurations with the same high-performing, reasonably priced speakers that Cambridge sells individually in their stores and on their Website. Now that all of the MegaTheater systems have the improved AVS550 DVD receiver at their heart, it has officially become a no-brainer.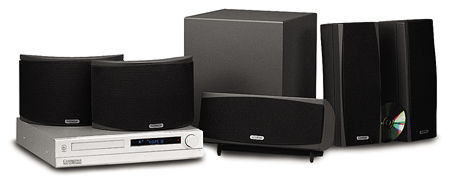 The AVS550 adds DVD-Audio playback and Dolby Pro Logic II decoding to the previously available Dolby Digital and DTS options. HDCD, CD-R/-RW, videoCD, MP3, and JPEG photo compatibility remain, along with the digital AM/FM stereo tuner. Newly incorporated are two S-video inputs, a headphone jack with its own volume control, and a smarter, learning unified remote control. Setup and use are also less complicated than the previous generation.
As before, all of the system's 450 watts (60 watts for each of the five channels, plus 150 watts for the sub, enough to qualify as real home theater gear) have been relegated into the subwoofer housing to keep the console sleek and compact. Other forward-thinking conveniences include a digital optical audio input for satellite TV, an Xbox, or a PlayStation 2, plus a coaxial audio input. The combination of progressive-scan component video output and SuperSmart motion-adaptive deinterlacing with 3:2-pulldown correction makes for video quality that's better than I've seen on plenty of standalone DVD decks.
Cambridge's top-end system, the MegaTheater 530, also includes some of the best loudspeakers from their Newton Series. The three matching MC300 two-way acoustic suspension speakers for the front soundstage incorporate two 4-inch molded-composite diaphragm bass drivers and a 1-inch silk-fabric dome tweeter with a neodymium magnet. The two S300 surround speakers, meanwhile, are three-way, four-driver MultiPole acoustic suspension speakers with
4-inch molded-composite bass drivers and two 2.5-inch mid-high-frequency drivers. Specially designed to power a 5.1 system, the 8-inch acoustic suspension BassCube 851 subwoofer puts out ample bass, rated down to 35 hertz.
Recent MegaTheater price reductions mean that you can also afford a truly outstanding display and still remain under budget. Apart from being one of the best-looking video display technologies on the market today, DLP offers the long-term advantages of no burn-in effects over time and the ability to fit a 43-inch 16:9 screen into a form factor less than 40 inches wide, 30 inches high, and 16 inches deep and weighing just over 67 pounds. The Samsung HLN437W widescreen HD monitor delivers an absolutely gorgeous picture from a broad 150-degree horizontal viewing angle, thanks to a variety of technologies at its disposal. The HD Ultra-Fine Pitch screen (0.155 millimeters) improves sharpness on text and fine details, Samsung's Digital Natural Image engine enhances detail and contrast while reducing video noise, and the Faroudja Film Mode 3:2-pulldown correction renders a smoother, more-filmlike look from DVD and HDTV content (you'll need an add-on tuner). Resolution is 1,280 by 720p, with onboard conversion of all signals to 720p.
Inputs are plentiful and state of the art, capped by the pure-digital DVI with HDCP. Dual HD component video inputs accommodate high-def satellite receivers, tuners, and cable boxes with 480p, 720p, or 1080i output. A dedicated DVD component video input automatically detects 480i or 480p players. In fact, the Smart Input System identifies onscreen which connections—three sets each of composite and S-video ins with an XGA PC input are also provided—are active, bypassing the unused jacks.
Pair the elegant Samsung HLN437W DLP TV with the impressive MegaTheater and strap yourself in for some serious home theater action.—CC
Cambridge SoundWorks
(800) FOR-HIFI
www.cambridgesoundworks.com
Dealer Locator Code CAB
Samsung Electronics America
(800) SAMSUNG
www.samsungusa.com
Dealer Locator Code SAM
LATEST VIDEO