Fantastic beasts and Where to Find Them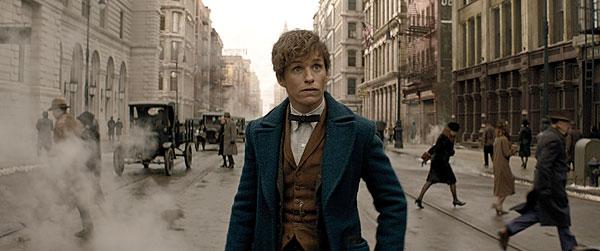 In 1926, a shy British wizard visits New York and loses a briefcase full of magical creatures. He runs into a disgraced witch-cop, her delightful clairvoyant sister, and a non-magical aspiring baker who acts as the audience surrogate. There are also magical politicians, non-magical politicians, the threat of an evil wizard, a witch-hating cult, and something tearing up Manhattan. Creatures' abilities are too often dictated by the plot requirements, and character motivations don't always make sense but may be clarified in the inevitable sequels.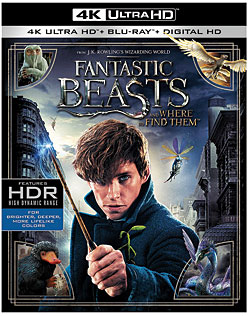 The elaborate visuals were computer generated, and on a large 4K screen, the additional detail in the effects is appreciable. Some of the Beasts have fantastic colors, and that is where wider color gamut is exploited, along with the Oscar-winning costumes. HDR helps amp up the contrast to make fire, magic wand beams, and lightning jump out. The images are uniformly sharp, but the color temperature changes based entirely on the location, clearly an artistic choice. Sold separately is an outstanding Blu-ray 3D version as well, converted from 2D.
James Newton Howard's score propels the action nicely. In the opening credits, it's spread out among the speakers, matching the orchestral positions of the instruments. The Dolby Atmos mix is exceptionally directional. Magic clouds swirl about. Sounds are precisely placed to match onscreen action, such as when a foundation cracks in the top left wall, then over your right shoulder, and finally directly in front of you. The movie also ticks off several Atmos demo clichés including magical bugs flitting around, thunderstorms, and rain falling from the ceiling speakers. The one flaw in the mix is that some of the dialogue was hard to understand. The problem is not entirely technical: The two main characters are shy, and the actors often mumbled their lines. But the movie was confusing enough without having to wonder, "What did he just say?"
Extras are all on the non-4K Blu-ray Disc, and the best are pieces on costume design and the sheer scale of the sets. The deleted scenes were deleted for a reason, though hard-core Potter fans will want to watch the Suitcase Celebration segment to hear the U.S. wizard school song. A Digital Copy of the film is included for the WB Movies All Access app and UltraViolet.
Blu-Ray
Studio: Warner, 2016
Aspect Ratio: 2.40:1
Audio Format: Dolby Atmos / TrueHD 7.1 core
Length: 133 mins.
MPAA Rating: PG-13
Director: David Yates
Starring: Eddie Redmayne, Katherine Waterston, Dan Fogler
In the Harry Potter universe, Fantastic Beasts and Where to Find Them is a school textbook. The movie of the same name provides the back story of its author. I hope there is no test, because I found the movie long and overstuffed.