F8: Fate of the Furious
But let's face it: The Fast & the Furious franchise has never really striven to imbue their films with much reality. Every subsequent film in the series tries to top the previous one with even more ludicrously implausible action sequences and ridiculous plot devices. And F8: Fate of the Furious is a doozy. At the outset, Vin Diesel's character, Dominic Toretto, says something flippant like, "It doesn't matter what's under the hood. The only thing that matters is who's behind the wheel." Then we see him prove his point by jacking up some rusty jalopy with enough nitro to put the car into lunar orbit. But hey, this is a popcorn movie… with a gallon of extra butter. It's almost as if the filmmakers wear it like a badge of honor.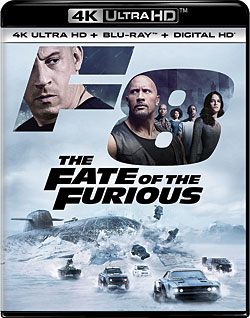 Both the 4K and standard HD discs exhibit exemplary image quality. Colors and textures are vibrant and pop right off the screen, but the 4K sports a more natural and lifelike picture with darker tones through- out. Shadow detail is much richer, and low-light interiors are more realistically rendered. HD interiors frequently appear overlit and have an artificial look about them. Both have their own intermittent motion blur and strobing issues here and there, though the 4K has fewer of them.
The DTS:X surround sound is reference worthy, with a cornucopia of chaos and carnage to showcase your speakers with, and boy oh boy, does the carnage pile up. The dialogue is atrocious, but it never gets overwhelmed by the surround-channel speakers even when the pandemonium is at full tilt.
The 4K disc comes with a feature-length audio commentary with director F. Gary Gray. All other bonus content is on the HD Blu-ray and consists of numerous self-indulgent featurettes that cover the film's locations, the intricate stunt work, the actors and their characters, and most importantly, those wickedly cool cars they use.
There are also two extended sequences and the same audio commentary from the UHD disc. An unrated extended cut of the film is included but only through the Digital Copy.
Blu-Ray
Studio: Universal, 2017
Aspect Ratio: 2:40:1
Audio Format: DTS:X
Length: 136 mins.
MPAA Rating: PG-13
Director: F. Gary Gray
Starring: Vin Diesel, Dwayne Johnson, Charlize Theron
I never understood why MI-6 always gave James Bond the most expensive and exotic sports cars on the planet to take with him on his missions. Q Branch must know by now there's no way in hell that thing is coming back in one piece. That same basic logic applies to the Fast & the Furious films: Why would you ever give a Lamborghini to someone who's going to a demolition derby?