The Eruption of Eddie Van Halen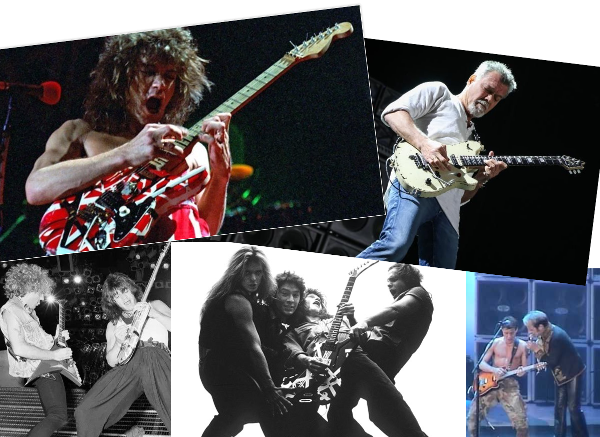 It only took Eddie Van Halen 102 seconds to change the face, sound, and scope of rock guitar forever.
The first time any of us dropped the needle on "Eruption," the onomatopoeic 1:42 instrumental that served as the literally explosive second track on Van Halen's self-titled February 1978 debut album, we knew instantly that rock & roll had turned yet another corner. During the pop-music malaise of the late-1970s, wherein the razor-edge ethos of punk and seemingly endless days/nights of disco had already upset the bloated rock applecart, Eddie Van Halen shifted the narrative back to the value of the virtuoso musician in ways not seen in almost a decade.
As you no doubt know by now, Edward Lodewijk Van Halen, the aforementioned pre-eminent guitarist of the post-Jimi Hendrix generation, passed away on October 6, 2020, following a lengthy battle with cancer. He was 65 years old.
I was lucky enough to see Van Halen with both David Lee Roth and Sammy Hagar as the band's respective frontmen four times in total, the most recent gig having been held on February 28, 2012 at Madison Square Garden in New York City (with, of all bands, Kool and the Gang as the semi-unlikely but most assuredly welcome opening act). WWEDN — What Would Eddie Do Next? — was essentially the mantra as we waited for the man to do his thing (especially when he sat down on the stage during much of his featured, exploratory guitar-solo sequence before kicking into "Ain't Talkin' 'Bout Love" near the end of the band's 24-song set). Much like Stevie Ray Vaughan, EVH (as he'll be abbreviated as from here on out) was quite underrated as a rhythm guitar player, always knowing exactly when to step aside and let the vocals, melodies, and frontman histrionics take center stage in any given Van Halen song.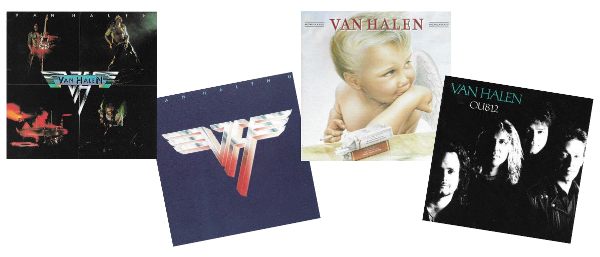 Many other gearhead pundits can tell you all about the breadth of EVH's innovations on the axe — in terms of playing, tapping, composing on, and building/reconstructing them (the infamous "Frankenstrat" being but one example of the latter) — so there's no real need for me to rehash those wholly earned platitudes here. Rather, I feel the best way for the audiophile-leaning ear to enjoy the mighty Van Halen catalog is either on wax (180-gram preferred, but virgin vinyl will also suffice), via the band's original-issue Warner Bros. CDs, or, if you're lucky enough, the Steve Hoffman-remastered gold-disc DCC version of Van Halen.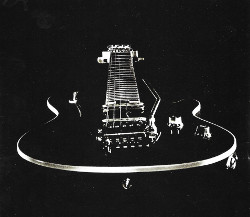 There are numerous quibbles about the latter-era VH CD Remasters that would send us down quite the untenable rabbithole — so, suffice it to say, I think it's much better to diver down, er, dive deep as suggested and delve into the inherent joys of ear-boggling tracks like "Atomic Punk" (the abject head-scorcher from February 1978's Van Halen), "Spanish Fly" (the nylon-string acoustic curveball from March 1979's Van Halen II), "Dirty Movies" (the gritty guttersnipe from April 1981's Fair Warning), "Panama" (the seatback whoosher/gusher from January 1984's 1984), "Finish What Ya Started" (my personal favorite Hagar/EVH mindmeld earworm, from May 1988's OU812), and "Baluchitherium" (the cathedral-wide instrumental churner from January 1995's Balance), to name but a few.
Though I never had the honor of meeting EVH personally, I have been privy to some firsthand comments he gave to a guitar-journalist friend of mine from an interview that had remained unpublished for quite some time until after I contributed to its editing and presentation. A "good sound" is something that inspires you to play, EVH told my colleague. He went on to confirm that his guitar solos were indeed all spontaneous and that he remained unaffected by trends, a philosophy instilled from the very beginnings of the band itself. When asked who his favorite artists were (in a segment of the interview that has sat on the editing floor until, well, right now), EVH replied, "I like Tori Amos. She's a good songwriter. I like Soundgarden. I like their singer [the late, great Chris Cornell]. I'm a big fan of Peter Gabriel." (Right now, you're thinking, "The man had good taste in music.")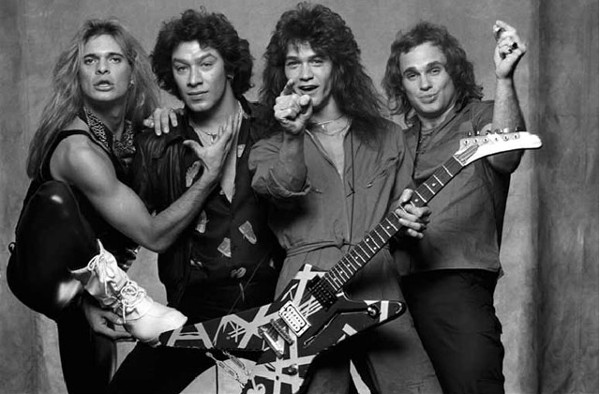 Over the years, I've spoken with a number of artists about EVH, his ongoing influence, and his role as a bandmember/bandmate, including direct discussions with all three of his Van Halen frontmen — the aforementioned Roth and Hagar, as well as Gary Cherone. (Cherone took on the lead-vocal duties for March 1998's ill-fated, and somewhat underrated, Van Halen III. Check out that album's delicately creative final cut, "How Many Say I," to hear a kernel of what might have been.)
"I was always looking for combustibility," the kinetically eloquent David Lee Roth told me back in 2003 about the impact Van Halen had beyond his own ribald frontman antics and EVH's undeniable guitar heroics. "Rock & roll is very much the sound of a Marshall amplifier and a big bass drum, and we [Van Halen] had to go learn 300 or 400 other people's songs before we could start writing it and make a living at it. It's what we had to do to have the capacity to exist longer than three or four years. I don't mean the capacity to just play fast on a guitar — I mean to create melodies and create songs that are memorable. We had on-the-job training. Five 45-minute sets a night was the standard, and we would do that six nights a week — or seven, if you were lucky. That was an industrial-strength education — and the integrity of our music was undeniable."

For his part, Sammy Hagar recognized the already strained group dynamic when he replaced Roth as lead vocalist in the mid/late-1980s, outright refusing to entertain the idea of renaming the outfit "Van Hagar" (despite press-driven name-mashups to the contrary). Hagar freely collaborated with EVH to further develop the broader band muscles hinted at during the 1984 "Jump" era. "Some of the guitarists I've worked with, like Eddie Van Halen — they wrote music and I listened to it, and then I'd write lyrics to it," Hagar told me back in 2017. "But with a band of guys who've been together for more than 10 years, it's really inevitable that something's going to go wrong. Now, whether or not you fix it, and move forward — that's pretty tough. It's hard when you're together that much — and bands are together constantly. But when you do find the sweet spot and you get the right combinations, you usually move to the next level. That's chemistry." (Right now, that second-wave chemistry can be found all across the four VH studio albums that particular unit did together.)
Meanwhile, Gary Cherone agreed with me that he (like anyone else rightly would) marveled at his great good fortune to be able to stand next to EVH both onstage and in the studio, and he also respected the band's compositional skills. "Harmonies were always a part of Van Halen," Cherone told me back in 2016. "When you say 'Van Halen,' you think of guitar, but harmonies and melodies were just as important as the riffs and the solos that Eddie played."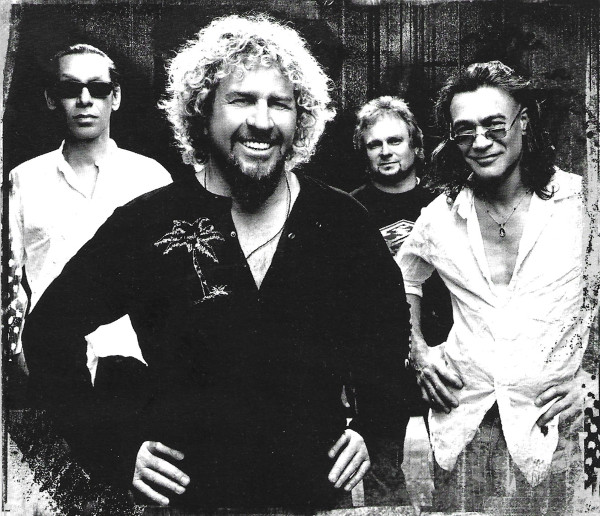 EVH's influence stretched far and wide into the guitar community at large — and for those who studied his work meticulously, they found his roots ran much deeper than the rock genre VH presided in. "Eddie's father [Jan van Halen] was a jazz clarinet and horn player, so I have a feeling having that music in the house informed a lot of what those guys did," observed Paul Gilbert, the forward-thinking shredder extraordinaire perhaps best known as being the lead guitarist in the MTV-era pop/hard rock stalwarts Mr. Big, when we spoke in early 2016. "It might be under a layer of [VH drummer and Eddie's older brother] Alex Van Halen bashing away, but when you hear the breakdown of 'I'm the One' [from 1978's Van Halen] and the 'bop-bah-bah' vocal — that's total jazz! It's got a cheesy ending to it, but I was analyzing Eddie's solo to 'Little Dreamer' [also from Van Halen], and he's got a sophisticated note choice in there to where I'm going, 'Man, I wouldn't have thought of that.'"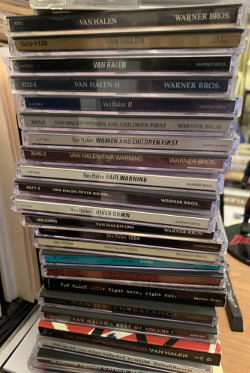 EVH had a grip on the generation of guitar players who came after him as well — as confirmed by Will Evankovich, the Bay Area-bred, Nashville-based musician currently serving as lead guitarist of The Guess Who, as well as having been the producer of Styx's far-reaching June 2017 concept album, The Mission. "I remember the moment my brother pulled out that vinyl disc from a sleeve that was adorned by four aliens from outer space, and he put the needle down on a piece that my feeble-child mind assumed was an amazing synthesizer solo," Evankovich recalled on October 6 of hearing "Eruption" from the iconic Van Halen debut album for the very first time. "That idea caused my brother to laugh and say, 'No, you fool — that is a guitar, and that is Eddie Van Halen!' I was forever changed as a budding young guitar player."
"One break, coming up," Roth says right before the final push of "Unchained," the ferocious mid-album nexus point on April 1981's Fair Warning. Right now, there's a permanent break between Eddie Van Halen and this mortal coil; that's quite true. But EVH's perpetual fretboard prowess and bottomless catalog of innovative riffs and hooks make for damn sure that the cradle will rock forevermore.