Epson Home Cinema 5050UB Pro-UHD 3LCD Projector Review Page 2
Once the 5050UB was carefully positioned and both lens shift and focus dialed in—a process that took all of about 5 minutes—I made separate picture adjustments for high- definition/standard dynamic range and ultra high-definition/ high dynamic range viewing. The Natural color mode proved the best out-of-box match for HD/SDR: grayscale tracking was well within the acceptable range of deviation (see Test Bench), and the projector's color point measurements indicated accurate coverage of the Rec. 709 color gamut. I also selected the Medium Power Consumption and High Speed Auto Iris settings, a combination that provided a sufficiently bright picture on my screen, along with optimal contrast. Choosing Medium Power Consumption also resulted in a noticeable reduction in fan noise, which could be fairly obtrusive during quiet scenes in movies when the High setting was selected.
For HDR viewing, I made adjustments in the projector's Digital Cinema Color Mode. With this selected, the projector offered extended color reproduction, clocking an impressive 97 percent of the P3 color gamut used for the mastering and presentation of movies in, you guessed it, digital cinemas. I also stuck with the Medium Power Consumption and High Speed Auto Iris settings. While I left the HDR curve adjustment at its default mid-point during calibration in Digital Cinema mode, I ended up changing this setting on a disc-by-disc basis during both casual and critical viewing. Yes, it's true: HDR picture calibration is hardly what you'd call a set-and-forget process, making tools like Epson's HDR curve adjustment a home theater must-have.
HD/SDR Performance
Watching HD episodes of the American version of The Office on Netflix (I'm not sure why it took me so long to get around to watching this strange and very funny show), I was impressed with the clarity of the Epson's upconverted 4K image. In an episode where boss Michael (Steve Carell) needs to terminate a random employee for budgetary reasons on the day of the office Halloween party, objects lining the desks of the demoralized workers were displayed in crisp detail, skin tones looked natural, and the colors of costumes and of holiday decorations lining the space looked reasonably rich. I left the 5050UB's Image Enhancement menu at the 2 setting for most of my viewing since pushing this past the 2-3 range only served to add an unnatural-looking degree of edge sharpening to high-quality streamed sources like Netflix. (Image Enhancement can also be switched to Off, a setting that will bypass the projector's 4K upconversion, though I saw no visible benefit to doing this.)
In 2018, Sony Pictures Entertainment proved that the Spider-Man franchise still had more legs with the release of the animated Spider-Man: Into the Spider-Verse. Watching the movie on regular Blu-ray, the Epson displayed solid blacks and excellent overall contrast in a scene where Miles crawls into an underground space and encounters Spider-Man doing battle with the Green Goblin. The near-psychedelic colors in this extended sequence looked vivid for regular Blu-ray, and I noted crisp rendering of the film's distinctive, computer- generated "comic book" textures.
Ultra HD/HDR Performance
I started off my Ultra HD/HDR evaluation by confirming that the 5050UB's 12-bit video processing resulted in proper display of a 10-bit Ultra HD test pattern. Check. Next, I inserted a Blu-ray disc version of the Ridley Scott sci-fi/horror classic Alien into the tray of my Oppo UDP-203 universal player. Most of Alien takes place in dark spaceships, and the Epson proved capable of drawing out fine shadow detail in these gloomy interior spaces. In a scene where the Nostromo crew investigate the remains of a crashed alien ship on a remote, lifeless planet, the contrast between the bright lights mounted on their helmets and the deep, black environment beyond was striking. Detail was also impressive for a circa-1979 production shot on 35mm film, with film grain coming through as finely rendered rather than being overemphasized by the Epson's Image Enhancement processing.
Turning to a digital production, I next watched some scenes from The Meg, a disc that Sound & Vision projector expert Kris Deering regularly uses to evaluate HDR tone mapping. While it took multiple clicks away from the HDR curve adjustment's midpoint to get the brightness level of The Meg's picture to look right, I didn't notice any blown-out highlights once that step was taken. Overall, the image looked balanced, clean, and immaculately detailed. In one scene where Jonas (Jason Statham) prepares for a rescue dive, for example, lights in the submarine's interior had an intense glow, while the finely fleshed out shadows gave the image a strong sense of depth.
Watching the same scenes from Spider-Man: Into the Spider-Verse that I viewed on Blu-ray, but now on Ultra HD Blu-ray disc, I was struck by how much better this already great- looking movie came across on the latter format. Shadows gained depth and detail, and the increase in the contrast range caused images to pop in a manner that the Blu-ray version only hinted at. Colors also appeared notably more vivid and displayed a wider range of subtle hues. What caught my attention most, however, was the level of definition and detail to be seen in the computer- generated textures that Spider-Man's animators painstakingly employed to add a comic book look to images. This effect goes far to add a convincing element of depth to the otherwise flat, 2D animated image, and is best appreciated when viewed in 4K/Ultra HD. The ability of the 5050UB's 4K pixel-shifting processing to pull it off on the big screen was nothing short of impressive.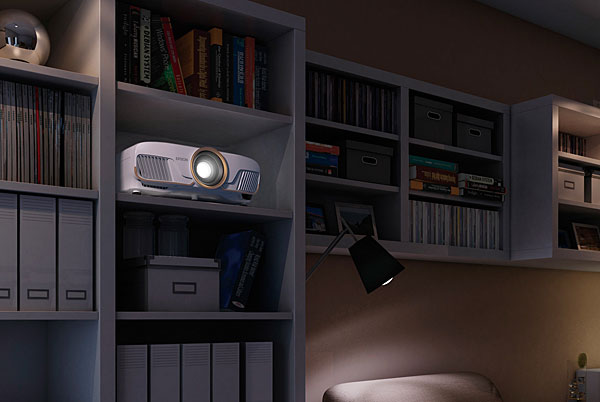 While "pumping" generated by the action of the Epson HC 4010's dynamic iris was something I noticed on occasion when testing that model last year, I didn't find myself as distracted by that artifact during everyday use with the 5050UB. Did any pumping occur? Yes, but it was barely enough to warrant mention. Similar to the 4010, the 5050UB failed a few of Sound & Vision's standard HD deinterlacing tests—mainly 2:2 pulldown—but that's not some- thing I'd consider a deal-breaker to any degree in this brave new 4K world.
Conclusion
Compared with flat-panel TVs, there can be a dramatic variation in the price you'll pay for a serious home theater projector—anywhere from $2,000 to $35,000 and up. And in some cases, more expensive models won't necessarily provide an appreciable increase in picture quality basics that would help to justify their premium price. At $2,999, Epson's Home Cinema 5050UB makes an excellent choice for anyone seeking a reasonably priced projector that delivers detailed-looking Ultra HD images with satisfying levels of brightness, contrast, and color depth. The projector's extensive setup options and new 4K- and HDR-friendly features—specifically, full-bandwidth HDMI 2.0 connections and a remote control-accessible 16-step HDR curve adjustment—also go far to enhance the 5050UB's already wide-ranging appeal. You could, of course, hold out for a native 4K projector, and in some cases you'll only have to pay two or three grand more for it over what Epson charges for the 5050UB. But with pixel-shifting 4K models available offering this high level of performance, I'm not certain you need to bother.