Epson Home Cinema 5050UB Pro-UHD 3LCD Projector Review Test Bench
Test Bench
FULL-ON/FULL-OFF CONTRAST RATIO: 34,700:1
The measurements here were made using CalMAN (www.spectracal.com) measurement software from Portrait Displays, together with a Photo Research PR-650 color meter, Minolta LS-100 luminance meter, and a Murideo/AVPro (Fresco Six-G) test pattern generator.
Pre-calibration measurements were made with the Epson Home Cinema 5050UB's Natural color mode active. Post-calibration measurements were made in the same mode. All measure- ments were made at 14-feet from a 92-inch diagonal, 1.1 gain Stewart Filmscreen Cima screen with the zoom lens set near its midpoint.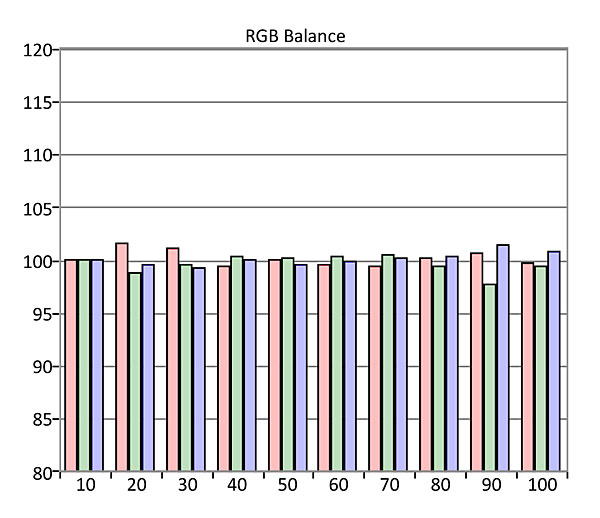 The projector's full-on/ full-off SDR contrast ratio was achieved with the Natural color mode, Medium Power Consumption, and High Speed Auto Iris setting active. With this combination, black measured 0.001 ft-L and peak white 34.7 ft-L for a contrast ratio of 34,700:1. The projector's native (Auto Iris Off) contrast ratio with the same preset and Power Consumption mode active was 4,338:1. In HDR display mode with the Digital Cinema picture preset and High Power Consumption, High Speed Auto Iris, and default mid-point (7) HDR10 settings active, Full-on/full-off contrast ratio measured 0.08 nits black and 23.05 nits (24 ft-L) peak white for 1,153:1.
Before calibration, the Epson's default 6500K color temperature preset in Natural color mode displayed very good grayscale tracking, with the Delta E averaging out to 2.6. After calibration, that number improved to 1.4, with a high of 2.7 at 90 percent brightness. (Delta E is a figure of merit indicating how close the color comes to the standards, either D65 for the white point or the color coordinates for each of the primary and secondary colors that define the color gamut under test. Values below 3 are considered to be unnoticeable.)
With the default settings active in Natural color mode, the Delta E of the 5050UB's measured color points averaged out to 1.0. While the projector provides color management system controls, I didn't feel the need to access them given the Epson's faithful out-of- box Rec. 709 color reproduction. Coverage of the P3 color gamut was an impressive 97 percent. Gamma closely tracked a 2.2 target for most of the range when the -1 Gamma preset was selected, with a high of 2.3 at 90 IRE. In HDR mode, peak white output measured 79 nits +/- 1 nits regardless of the size of the measured white window. Picture uniformity was good: white full-field test patterns showed minimal brightness drops between the center and edges of the screen, and no color shifts. Our suite of high-definition video processing tests revealed uneven performance, with the Epson tripping up on 2:2 and several 2:3 pulldown patterns.
Input lag with a 1080p source measured 27.0 ms, making the 5050UB a better-than-average option for high-def gaming.—AG