Epson Home Cinema 5050UB Pro-UHD 3LCD Projector Review

PRICE
$2,999
AT A GLANCE
Plus
Extended color
Excellent brightness and contrast
Great value
Minus
Fan noise with High Power Consumption setting active
THE VERDICT
Epson's latest UltraBlack model delivers impressive image quality with both standard and Ultra HD/HDR sources at an equally impressive price.
In late 2018, I reviewed Epson's 4010 PRO-UHD 3LCD Projector, a $2,000 model with a bright (2,400 lumens) picture, 4K/Ultra HD display via pixel-shifting, and a wide range of sophisticated setup features such as motorized lens shift and focus that are typically found only on much more expensive models. But that wasn't all the 4010 had to offer. It also provided high dynamic range compatibility plus a claimed ability to hit 100 percent of the P3 targets within the Rec. 2020 color space used by Ultra HD sources (98 percent, by our measurements). While I liked the 4010, and appreciated the high value proposition it presented, my main complaint was that its contrast performance fell short of other projectors I've tested, including other models from Epson. Which is why I leaped at the chance to review the company's new 5050UB, another affordable projector offering high-end specs, Epson's coveted UB (UltraBlack) designa-tion, plus a slew of new features designed to enhance the display of Ultra HD/HDR sources.
What makes an Epson projector UB, as opposed to non-UB? For models like the 5050UB, a proprietary filter is used that controls light polarization within the projector to eliminate any leakage. While that might not sound like a big deal, the increase in contrast provided by Epson's UltraBlack technology makes both a visible and measurable difference. Add to that the projector's impressive 2,600 lumens color and white brightness spec, and you have a model that appears primed for UltraHD/HDR movie-viewing.
To provide more detail on the 5050UB's HDR handling, it supports both the HDR10 and broadcast TV-friendly HLG high dynamic range formats. Epson also added a 16-step HDR curve adjustment, accessible from the projector's remote control, to modulate the tone map of incoming HDR signals. As I'll discuss in more detail later on in this review, the curve adjust- ment goes far to fine-tune the picture quality of HDR images, which can vary dramatically on a disc-by-disc or stream-by- stream basis.
While some may be wondering why Epson hasn't made a jump to producing a projector with native 4K display chips as opposed to the 1080p-plus-pixel-shifting process used by the 5050UB, the company definitely upped its Ultra HD game on this new model. Specifically, the 5050UB sports HDMI 2.0 inputs capable of passing 18Gbps signals. This means that the projector is fully compatible with game consoles or streaming boxes that output 4K/60Hz signals—something that the 4010 model with its HDMI 1.4 connections couldn't claim. Epson also says that the 5050UB uses a 15-element aspheric lens glass with "extra low dispersion optics" that was designed specifically to optimize the display of ultra-high definition content. Same as with other recent Epson projectors, 12-bit video processing is used to ensure smooth image gradations with standard and Ultra HD images alike.
I experienced a strong sense of Déjà vu when unpacking the 5050UB, mainly because the projector has an identical chassis to the 4010 model I'd previously tested. Measuring 20 inches wide and weighing in at a hefty 25 pounds, the white-toned 5050UB has a substantial build and includes fancy features like a motorized lens cover that automatically opens and closes to protect from dust when the projector is powered off.
A pair of HDMI 2.0 jacks on the 5050UB's back panel are accompanied by a VGA input and a USB port. Control connections include LAN, RS-232C, and a trigger output for a projection screen. The 5050UB's 250-watt UHE lamp is spec'd to last 5,000 hours in Eco Power Consumption mode, 4,000 hours in Medium, and 3,500 hours in High.
Epson's full-size remote control has a fully backlit keypad that makes it easy to find specific controls in a dark room. Dedicated buttons are provided for the Lens Adjustment, Color (picture) Mode, and Image Enhancement menus, along with custom Memory presets that can be loaded with a combination of adjustments made from those menu options. There's also a dedicated HDR curve adjustment button for making quick HDR tone map adjustments when watching movies.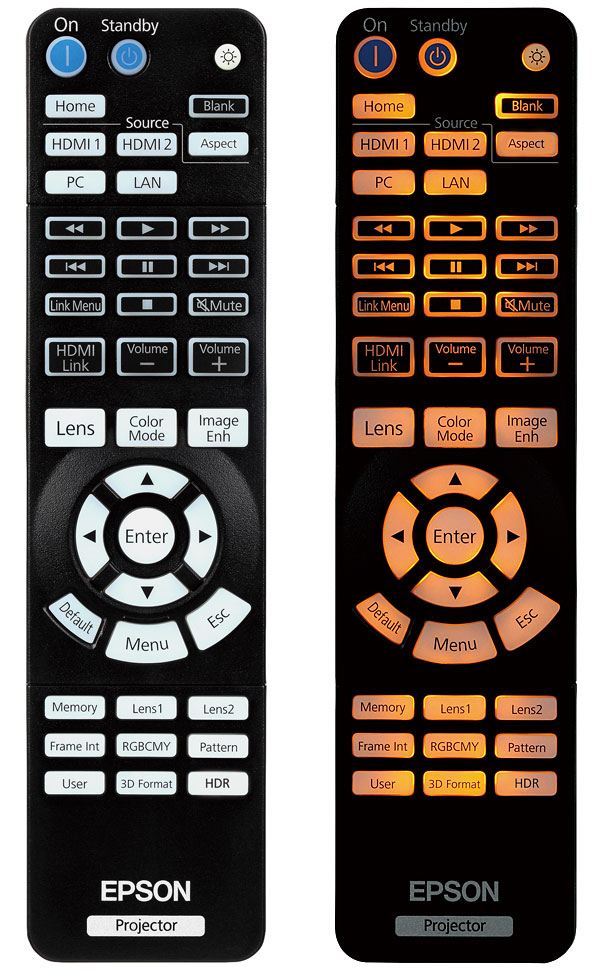 Setup
The 5050UB was installed on a high shelf at the back of my room with its lens surface positioned 14 feet away from a 92-inch diagonal, 1.1 gain Stewart Filmscreen Cima screen. Similar to Epson's 4010, the 5050UB features a 2.1x zoom lens and +/- 96 percent vertical and +/- 47 percent horizontal lens shift. These motorized adjustments on the projector make it easy to optimize image geometry and focus, and there's also a pair of adjustable feet on its bottom surface to aid in shelf or table installations. Ten lens memory presets are provided for storing zoom and focus settings for installations requiring multiple display aspect ratios—when using a 2.35:1 aspect ratio "scope" screen, for example. Epson also says the that the level of accuracy provided by the 5050UB's motorized adjustments makes it a good option for "Zero Edge" projection screens where there is minimal bezel area on the screen's edges.