Epson Home Cinema 4010 4K PRO-UHD LCD Projector Review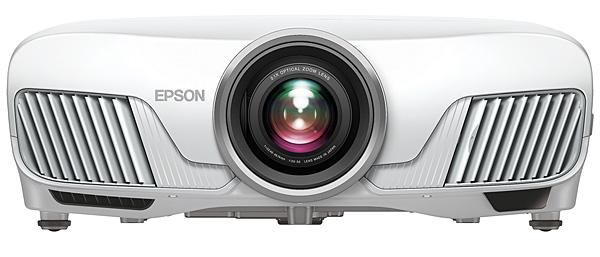 PRICE
$1,999
AT A GLANCE
Plus
Extended color
Good brightness and contrast
Great value
Minus
Blacks could be better
High fan noise with picture optimized for HDR
THE VERDICT
he Epson 4010's near-perfect color, good contrast, and wide array of setup features make it a strong under-$2,000 projector option.
Affordable, 4K-capable projectors are very much a reality — Sound & Vision has reviewed several such models plucked from the DLP, LCD, and LCOS camps. And in some cases, "affordable" can equate to $2,000 or less. One drawback you have to contend with when considering such projectors is their dependence on pixel-shifting technology to display a full Ultra HD image onscreen. But given the crisp pictures we've seen when viewing with pixel-shifting models from JVC, Optoma, Epson, and others, the lack of true 4K-resolution imaging chips ultimately isn't much of a drawback at all.
This time last year we reviewed Epson's Home Cinema 4000, a $2,200 LCD projector that uses pixel-shifting to deliver "4K Enhanced" image quality. That model has since been replaced by the Home Cinema 4010, a new pixel-shifter priced at $1,999, though it can be found online for $1,799.
What do you get when stepping up to the new Home Cinema 4010? According to Epson's specs, slightly higher brightness (2,400 lumens of color and white light output) and improved contrast. Epson also touts improved 4K PRO-UHD Enhancement technology for the 4010, with 12-bit processing to ensure smooth image gradations. (This feature can be switched off if you prefer viewing 1080p sources with no enhancement, though it will remain on for Ultra HD sources.) A unique 15-element glass lens is said to offer better resolving power across the full screen area, with black coating of the lens chambers to reduce light leakage.
Otherwise, Epson left in many of the features that made 4000 a strong Top Pick contender in 2017. The new 4010 boasts the same near-100 percent P3 color gamut coverage, a 2.1x zoom lens with horizontal and vertical lens shift, and a powered lens control with multiple lens memories. It also supports display of HDR10 high dynamic range content, though only for 4K/24 programs with 4:2:2 encoding and 10- or 12-bit color depth (which happens to cover most of what's available on Ultra HD Blu-ray disc) via its HDMI 1.4 inputs. The lack of up-to-date HDMI 2.0/18Gbps connectivity on the 4010 is a bit of a mystery, but unless you're using the projector for 4K gaming, there's not much there to complain about. Epson's projector can also be used for 3D movie viewing (requires optional $99 each ELPGS03 RF 3D glasses).
Compared with other projectors I've had in-house over the past year or two, the 4010 is quite the big boy: it measures around 20 inches wide by 17 inches deep and weighs nearly 25 pounds. The Epson's substantial look and feel is helped by a motorized lens cover that automatically opens and shuts when you power the projector on and off.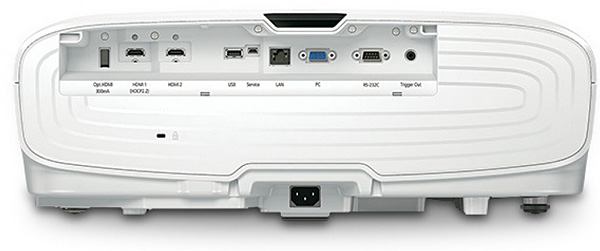 Along with its pair of HDMI 1.4 jacks, the Epson has a VGA input and a pair of USB ports—one for firmware updates and the other for powering an optical HDMI connection. Control connections include LAN, RS-232C, and a trigger output for a projection screen. The lifetime spec for the 4010's 250-watt UHE lamp is 5,000 hours in Eco Power Consumption mode, 4,000 hours in Medium, and 3,500 hours in High.
A substantial home theater projector should come with a substantial remote control, and the full-size handset that accompanies the 4010 satisfies expectations. The keypad is fully backlit for easy access in a dim or dark room and includes direct buttons for input switching. There are also buttons to directly call up Color Mode and Image Enhancement submenus. Motorized lens adjustments for size, focus, and position—an amenity typically found on pricier projectors that eases setup considerably—can be called up by pressing the Lens button.
Setup
I installed the 4010 on a high shelf at the back of my room with the lens surface positioned 14 feet away from a 92-inch diagonal, 1.1 gain Stewart Filmscreen Cima screen. The generous range offered by the projector's 2.1x zoom lens and +/- 96-degree vertical and +/- 47-degree horizontal lens shift allowed me to quickly adjust image geometry. Using the motorized adjustments, I was then able to optimize focus by standing close up to the screen. A pair of adjustable feet on the projector's bottom permits additional tweaking of image position.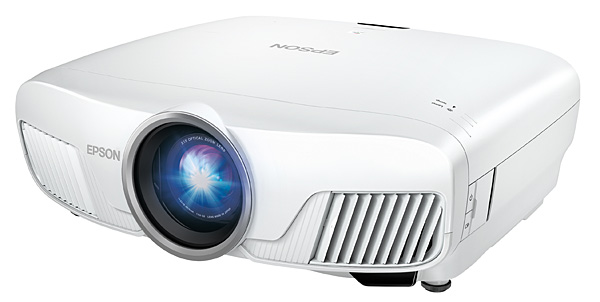 Like many other projectors (and TVs), the 4010 doesn't allow for automatic switching between optimized settings for standard and high dynamic range sources within the same picture mode (called Color Modes by Epson). For this reason, I adjusted the Natural mode, which provided mostly accurate out-of-box measurements, for an HD/SDR input, and the Digital Cinema mode for Ultra HD/HDR. According to Epson, Digital Cinema covers the full P3 color gamut and the 98 percent coverage that I measured with Digital Cinema active proved that to be about right.
Other settings I used for HD/SDR viewing included -1 Gamma, Medium Power Consumption (lamp mode), and High Speed Auto Iris. I noted occasional pumping artifacts from the Auto Iris, but barely enough to justify the reduction in image contrast that shutting it off would require. While the projector's black level and contrast didn't match what I've seen from pricier projectors, it's performance here was for the most part impressive for an under-$2,000 model. I also chose to use the 4K Enhancement setting for viewing HD programs, mainly because I saw no downside to using it. The Epson also offers loads of detail and resolution adjustments to make pictures look crisper without adding artificial-looking enhancement; depending on the source material quality, these ranged from highly effective to completely unnecessary.