Emotiva Unveils 8 Products, Including New 16-Channel AV Processor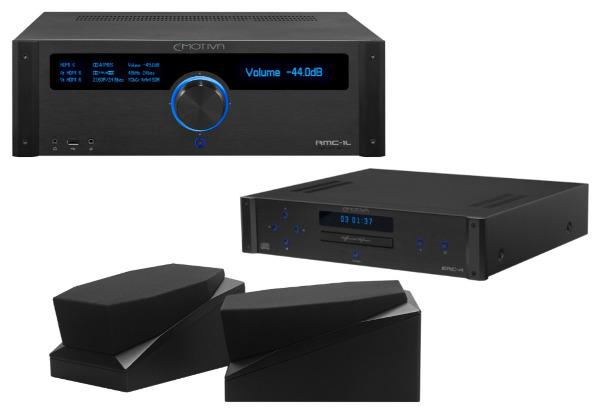 Emotiva Audio is shipping eight new products, including a high-end 16-channel AV processor, a "world-class" CD player/transport, and a height speaker designed for use in object-based surround systems.
The new RMC-1L 16-channel AV processor ($3,999) is described as a scaled back version of the company's flagship processor featuring "similar sonics and flexibility." Like the $4,999 RMC-1, the RMC-1L is upgradeable and supports 4K and high dynamic range (HDR) video switching, Dolby Atmos and DTS:X processing, and boasts 16 balanced audio channels, which can be configured for 9.1.6-channel Atmos or 7.1.4-channel DTS:X immersive surround-sound setups.
Each decoded audio signal is processed by a separate AKM4490 Verita 32-bit digital-to-analog converter (DAC) operating in fully balanced mono mode, according to Emotiva. Other highlights include an analog preamp section, 32-bit AD/DA conversion, and eight HDMI inputs and two outputs, all of which support HDMI 2.0b and HDCP 2.2. The processor also handles DSD audio files and has a Reference stereo playback mode.
Emotiva said it plans to offer a Dirac Live automated room correction upgrade that will run at 24/192 on all 16 channels.
"We saw an opportunity to offer a slightly scaled back version of our flagship RMC-1 with the same performance attributes, but minus a few features that will go unnoticed to all but the most knowledgeable users and installers," said president and CEO Dan Laufman.
Aimed at music lovers with extensive CD collections, the ERC-4 ($599) is a reference-quality CD player/digital transport featuring an audiophile-grade DAC with 24-bit/192-kHz-capable optical and coaxial digital inputs. The player is built around a reinforced-steel chassis, designed to guard against external noise and interference, and equipped with Analog Devices AD1955 DACs, low-distortion LM4562 op-amps, a switched-mode power supply, and both balanced and unbalanced analog outputs,
"The ERC-4 is designed for music lovers who want the benefit of a high-fidelity CD player combined with an outstanding DAC that accepts signals from streamers and other sources with digital outputs," Laufman said.
Rounding out the new hardware offerings is the BasX A-400Z four-zone power amplifier ($649), rated to deliver 2 x 100 watts (8 ohms) to each zone. The amp provides an 80-Hz crossover and a rear-panel master-volume control, and is built to handle impedances as low as 2 ohms when driving one or two pairs of speakers, according to Emotiva. Rated power into 4 ohms is 150 watts and 250 watts into 2 ohms.
In speakers, Emotiva is shipping the A1 AirSpace "immersive speaker" and has updated four of the speakers in its Airmotiv line.
Designed for installation on the wall or ceiling, the A1 AirSpace ($299/pair) is designed for use as a height speaker in Dolby Atmos and DTS-X surround setups. The speaker mates a 1.3-inch folded-ribbon tweeter with a 4-inch woven-fiber woofer in a low-profile enclosure with an angled baffle. It can be used as a direct firing surround or height speaker or placed atop the front left and right speakers so sound is reflected off the ceiling. A rear-panel switch optimizes the frequency contour when the A1 is used as a "ceiling bounce speaker."
Emotiva has also updated four of its most popular Airmotiv models, including the T2+ ($999/pair) and T1+ ($699/pair) towers, B1+ bookshelf speaker ($229/pair), and C2+ center-channel speaker ($399). All incorporate a folded-ribbon tweeter and feature "several new ingredients and subtle aesthetic enhancements that represent a step forward." Prices remain the same as their predecessors.
For more information, visit emotiva.com.