The Elephant Man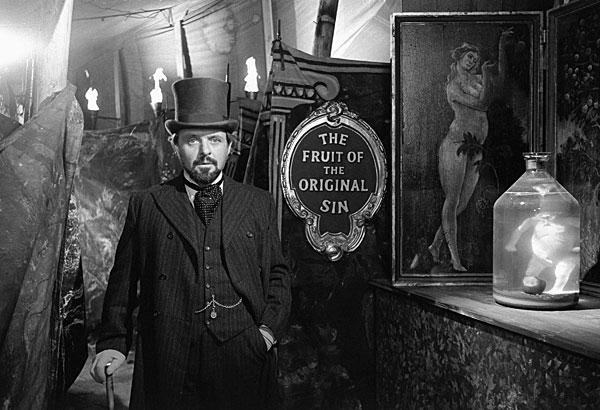 Eraserhead
. Merrick is initially exploited as a fairground freak, but like the Victorian era the story is set in—a time of belief in progress, growth, and self-improvement—the movie ultimately turns optimistic. It shows Merrick's development, with the aid of understanding medical gentlemen, from a brutalized working-class outcast to a person able to take his place among upper-class society, becoming friend to royalty, society celebrities, and appreciative theater crowds. Along the way, though, The Elephant Man reveals its shock and horror-film influences such as
Freaks
,
Frankenstein
, and
The Hunchback of Notre Dame
.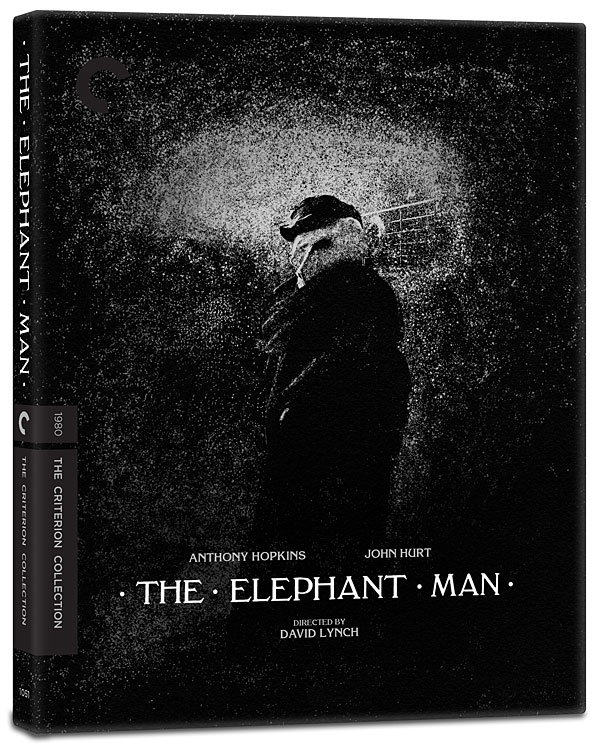 The new 4K digital restoration used for this disc showcases cinematographer Freddie Francis' painterly shots of crowded streets in impoverished London districts. Striking compositions are filled with the inky blacks of topcoats and cravats set off by dazzling white shirts and handkerchiefs, all against backgrounds with a beautiful range of grays. There's immense detail in textiles and patterned lace curtains, along with statuettes and chintzy Victoriana tchotchkes. Text appears crisp, with posters eminently readable even in shadowy lamp-lit rooms.
The soundtrack makes remarkable use of startling effects such as the extreme low-frequency roar of furnace flames and the rumbling grind of mechanical workings from the bell tower under which Merrick lives. Dialogue is clear and crisp, and John Morris' assertive score features exceedingly well-separated instruments—bells, carousel organ, and vibraphone—in the exceptional stereo mix.
Extras include four substantive and tightly edited interviews. John Hurt is, unsurprisingly, intelligent and well-informed about all aspects of the story and production. Frank Connor explains his job as stills photographer, producer Jonathan Sanger tells how he turned the book into the film, and Lynch speaks of working with the brilliant cast and producer Mel Brooks. A featurette serves up the same talking heads covering similar ground but amplified by Brooks and makeup artist Christopher Tucker. Another covers Merrick's life and the artistic licenses taken in the film. There's more of the director—audio only—amusing an American Film Institute crowd with offbeat observations of his working methods and artistic influences (painters).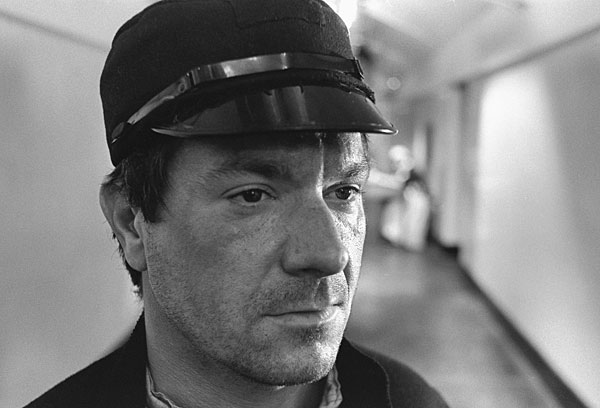 Blu-ray
Studio: Criterion, 1980
Aspect Ratio: 2.35:1
Audio: LPCM Stereo
Length: 123 mins.
Director: David Lynch
Starring: Anthony Hopkins, John Hurt, Anne Bancroft, John Gielgud, Wendy Hiller, Freddie Jones.
Director David Lynch's film tells of Joseph Merrick, whose terrible deformities to head, limbs, and skin led to him being called the Elephant Man. It begins with Merrick's nightmare of his mother being attacked by elephants—supposedly the cause of Merrick's condition—in smeary, scary, surreal images as disturbing as those from Lynch's earlier fatherhood paranoia party film,