Disney+ Launches on Vizio Smart TVs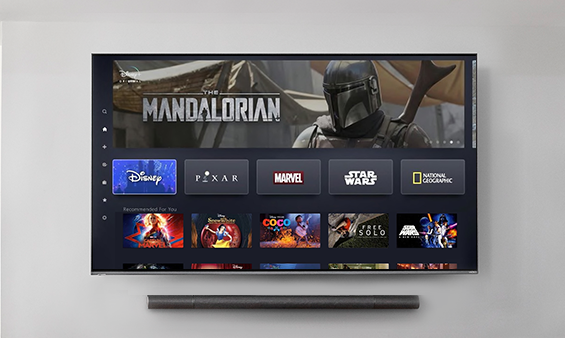 Owners of Vizio SmartCast-enabled smart TVs dating back to 2016 will soon have direct access to the new
Disney+ streaming service
via an app on the home screen.
While it has been possible to stream Disney+ through the Chromecast built-in app and Apple's AirPlay 2 streaming platform, Vizio owners will now be able to launch and subscribe to the service from the Disney+ app that will appear in the apps row on the screen or through the SmartCast Mobile app (available for iOS and Android devices); the app supports voice control via Siri, Google Assistant, and Alexa-enabled devices.
For $6.99/month Disney+ subscribers can peruse Disney's extensive library of films and TV series, which includes content from Pixar, Marvel, Star Wars, and National Geographic as well as a number of new, original feature films and TV shows. Movies and TV shows can be downloaded or streamed to up to four devices at once. The service supports 4K Ultra HD and high dynamic range (HDR).
The Disney+ update is automatic and rolls out over-the-air via Wi-Fi. In some cases, Vizio said viewers will be prompted to update the TV. If the Disney+ app doesn't appear on screen, Vizio suggests checking to see if a manual update is available for your model TV and points to this resource.
The SmartCast smart TV platform provides access to numerous subscription apps, including Netflix, Prime Video, Hulu, Redbox, NBC, and CBS All Access, to name a few. Numerous free apps are also available, including Pluto TV and WatchFree, which provides access to a varied mix of more than 150 channels and was recently updated to let you save specific channels as Favorites and navigate by genre such as news, sports, movies, TV shows, and music.
For more information, visit vizio.com.
Related:
Disney+ Threatens to Topple Netflix Reign
Hands On: Disney+ Streaming Service
Disney+ Launches on Samsung Smart TVs
Verizon Customs to Get 12 Free Months of Disney+