Hands On: Disney+ Streaming Service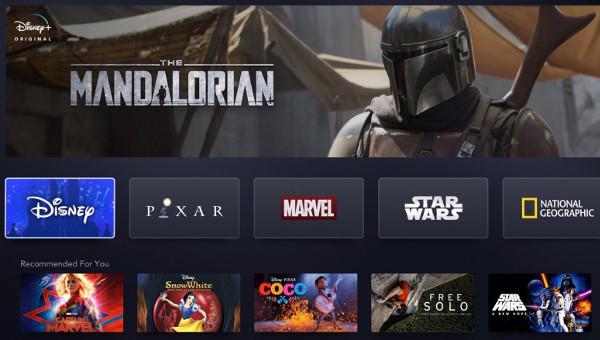 Disney+ launched last week with great fanfare (and a few hiccups) so I was anxious to see if it lives up to the hype. From my first look, the streaming service has everything Disney in one place. The recent acquisitions of 20th Century Fox, Marvel, and Pixar have made for an impressive list of titles. Many older titles have been converted to high definition, with all
Star Wars
movies converted to 4K. There's a lot to watch, and most of it looks good.
Anyone with a sense of cinematic nostalgia will find the $6.99/month streaming service a good value. And anyone with kids will feel like they found the mother lode. The "from-the-vault" animated movies include many classics: Frozen, Moana, Hercules, Lion King, Aladdin, Beauty and the Beast, Jungle Book, Little Mermaid, Cinderella, Snow White, Sleeping Beauty, Bambi, Peter Pan, The Lady and the Tramp, 101 Dalmatians, Pinocchio, Dumbo, Fantasia, The Aristocats, Robin Hood, Pocahontas, The Hunchback of Notre Dame, Alice in Wonderland, The Sword in the Stone, Rescuers, Three Caballeros, Up andMulan.
One category lists nostalgic movies such as Swiss Family Robinson, Old Yeller, Parent Trap and The Love Bug, as well as Tron and The Rocketeer, which doesn't seem old enough to be considered nostalgic.
There are also old Disney Channel kids' shows: Lizzy Maguire, The Descendants, Hanna Montana, Boy Meets World and others. The original High School Musical and High School Musical 2 are available, along with a 2019 original High School Musical series.
Of course, Disney is producing its own streaming original series. It's interesting to talk about "Disney originals," because unlike Apple, Netflix, Hulu, or others, Disney is first and foremost a movie and TV production studio.
The Mandalorian is a series based on Star Wars. It follows a Mandalorian bounty hunter after the fall of the Empire. (It takes place after episode 6, Return of the Jedi.) It is ripe with odd-looking monsters, a bar scene and lots of laser-gun battles, but it wasn't until the last scene of the first episode that a twist intrigued me enough to make me want to see more. To tell you more would reveal spoilers. Disney+, like Apple TV+, has opted to release an episode each week rather than doing a binge-able episode dump. If you want to binge, you'll have to wait several weeks.
The World According to Jeff Goldblum is a National Geographic edutainment series that delves into a different subject each week. The first episode covers sneakers; the second is about ice cream. Goldblum's quirky, childlike personality adds color as he discusses the history and evolution of each week's subject. In the ice-cream episode, he interviews Ben and Jerry, and visits the unique Salt & Straw store in Portland, Oregon. He accompanies Tyler Malek (founder of Salt & Straw) into an Oregon forest to create a unique ice cream with wild ingredients.
Encore is a delightfully entertaining and heart-warming story about the cast of a high-school play that reunites years later to perform the same play as adults. In the first episode, alumni of the 1996 production of Annie at a San Diego high school are gathered to recreate the play with a Tony-nominated director. The show follows the actors, memories flooding in, as they struggle to learn their lines and songs, 23 years after they first performed the musical. A professional choreographer and a Broadway-worthy wardrobe transform the 2019 performance beyond its original humble origins. Seeing the reaction of their families watching them perform brought a sweet tear to my eye.
For families with young kids, there is Family Sundays. Each week the episode walks parents and children through a DIY project that they can work on together.
At launch, Disney+ provides access to more than 500 movies and 7,500 TV episodes, including titles that weren't expected to be available at launch. However, it is odd that Star Wars: The Force Awakens won't be released until after the final Star Wars movie is released to theaters on December 20. Likewise, while the final Avengers movie, Avengers: End Game, is on the service, the prequel to that movie, Avengers: Infinity War, won't be available for another month.
In my first days of testing Disney+, I encountered technical glitches (which were widely reported the day the service launched). I could not, for instance, get to the Marvel movie collection. Within a week, those issues were resolved, yet a couple of problems with the user interface remain.
There isn't a "start from the beginning" button. When you click to play an episode or movie that you stopped before you finished watching, it starts playing where you left off but doesn't give you the option to start it over. I found that to be annoying when watching the Mandalorian series because there are about 10 minutes of credits at the end of each episode. Not only could I not start the episode over, I had to wait until the very end before I could start the next episode. Setting up a profile for each person using the Disney+ account will ensure that a movie or show starts where you left off rather than continuing from the point where another person on the account left off.
The app doesn't prompt you to set up profiles when you get started. Instead, you need to click on the main subscriber's profile picture in the app and choose "Add Profile." There's an option to limit the profile to kid-friendly content. Setting up profiles allows each user to create his or her own watch list and receive personalized recommendations. Up to seven profiles can be created. Four users can stream at the same time.
There's another issue that fans of the The Simpsons will find bothersome. While all 30 seasons of the animated series are available to stream on Disney+, the first 20 years of episodes are in the older 4:3 format. Creators didn't start producing episodes in widescreen (16:9) until 2009, so the older episodes are streaming in 16:9, which means visual gags at the top or bottom of the screen in many episodes are cut off.
Disney has heard the cry of disgruntled fans. A spokesperson told polygon.com: "We presented The Simpsons in 16:9 aspect ratio at launch in order to guarantee visual quality and consistency across all 30 seasons. Over time, Disney+ will roll out new features and additional viewing options. As part of this, in early 2020, Disney+ will make the first 19 seasons (and some episodes from Season 20) of The Simpsons available in their original 4:3 aspect ratio, giving subscribers a choice of how they prefer to view the popular series."
Another issue: It's cumbersome to navigate through the hundreds of Simpsons episodes. The seasons are listed onscreen, but it would be much faster and more efficient if episodes were organized by year in a drop-down menu. A shuffle option that presents episodes in random order would also be a nice addition.
Disney Plus is available on Amazon Fire TV, Apple TV (4th generation on), Roku, Android Lollipop and later, Android TVs, LG Web OS TV, Samsung Wizen smart TVs, Sony PlayStation 4, Xbox One, and Chromecast. Movies can be downloaded, which is a nice perk if you're traveling with kids.
A stand-alone subscription to Disney+ $7/month or you can opt for a bundle that includes ESPN+ and Hulu (with ads) for $13 per month. Verizon is offering Disney+ free for a year to wireless customers with unlimited plans and those with a 5G home internet subscription.