Denon AVR-E400 AV Receiver Page 2
I spent some time using Ethernet- connected DLNA with the Denon Remote App. I used the iPhone version on an iPad; it's since been updated for iPad. It proved to be an easy way to burrow through Ethernet-connected DLNA to my two desktop PCs, one of which is dedicated to music. I also used it to access Internet radio stations. Though I haven't said it until now, I usually find DLNA a clumsy way to access music: so many steps, so much button pushing. But when you switch from conventional remote to touchscreen app, the folder navigation chores seem less tiresome.
On the video side, the receiver provides upconversion for Ultra HDTV and passthrough for 3D, so buying this basic receiver shouldn't prevent you from enjoying the latest and greatest in video technology. In a nice touch, an HDMI passthrough mode enables you to route signals through the receiver even when it's in standby mode. This might be convenient if you want to watch TV with a set-top box without turning on the receiver.
Associated equipment included five Paradigm Reference Studio 20 v.4 speakers and a Paradigm Seismic 110 subwoofer. I managed to fit the banana plugs of my Monster 1.2S cables into the top of the Easy-Connect terminals (those without banana plugs may find a bare-wire connection even easier). Source components were an Oppo BDP-83SE for discs, iPad 2 for AirPlay streaming, Lenovo Win7 ThinkCentre running Windows Media Player via DLNA, Lenovo Win 7 ThinkPad running Foobar 2000, and Meridian Director USB DAC for the laptop. Movie demos were Blu-ray Discs with DTS-HD Master Audio soundtracks.
Good as It Should
This receiver sounded every bit as good as it should at this price. Midrange was communicative, if a little schematic, and shaded gracefully into a reasonably open top end that was slightly better than average for this price point. When the receiver played full range, with no bass management or room correction, the bass presentation was on the light side, but you shouldn't expect a receiver at this price to get loads of bass out of full-range speakers. With bass management and room correction, bass was sufficient but not especially forceful. With Audyssey Dynamic EQ and Dynamic Volume disengaged—a necessary choice for reviewers, though not for consumers—the master volume control required 60 to 65 of its 98 increments to play movies loud enough for a good tradeoff between dialogue and effects.
Hit & Run is the story of a well-meaning goofball who leaves the Witness Protection Program to drive his girlfriend to a job interview. Comedy and violence ensue. The Denon receiver sensibly ducked out of the way, nailing dialogue with admirable clarity and letting increasingly aggressive effects speak for themselves. A snatch of Hendrix's "Voodoo Chile" wafted through aromatically, and other fragments of music showed Audyssey MultEQ doing its usual fine job of cutting bass bloat in my room.
The Dictator is Sacha Baron Cohen's characteristically pointed comic vision of a hapless Middle Eastern authoritarian roughing it in New York. Once again, dialogue rose into high relief and remained pretty good even off axis (I had set up MultEQ in three measurement positions out of the available six). The score's mixture of orchestral and pseudo Middle Eastern pop music came through with good proportioning and resolution. My notebook filled with descriptions like "well rounded, competent, reliable."
Cloud Atlas is an ambitiously metaphysical movie spread in which A-list actors play up to seven roles in multiple settings and time frames. Though incomprehensible, it has enough star power to light the universe: Hanks, Berry, Weaving, Sarandon, Grant, and most memorably, Ben Whishaw of The Hour. And it is long on spectacle, the perfect challenge for an ambitious young receiver. From the opening sepulchral soliloquy, loaded with vocal tone color and chesty resonance, the Denon continued to have an enviable grip on speaking voices. Natural effects like rain and thunder were suitably enveloping, probably helped by Audyssey MultEQ fine-tuning. Orchestra and chorus were rich and evocative. A chase and shootout involving flying vehicles didn't have my fingers rushing to the volume-down key, even though Audyssey Dynamic EQ and Dynamic Volume were off, leaving me at the mercy of the movie's dynamics as preferred by the mixer. It was a great, if bewildering, movie experience.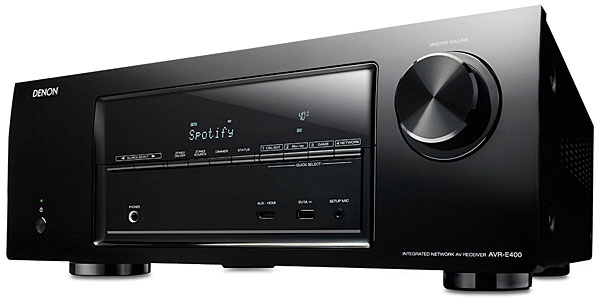 From Another Planet
The Denon was also reliable as a musical companion. In Alexander Scriabin: The Solo Piano Works (Capriccio CD), Latvian-born Maria Lettberg covers the 10 sonatas along with preludes, etudes, mazurkas, and other minor works. In disc two, with the otherworldly late sonatas—which I am convinced come from another planet, species, or dimension—the Denon mustered vivid tone color, supple pacing, and when the trills fluttered down to a whisper, excellent low-level resolution. While the 2.0-channel pure direct mode had a warmer sound, in this case the difference was slight, and the 2.1-channel, sub-augmented, room-corrected stereo mode was clearly superior. In either mode, I would have liked greater weight on the left side of the keyboard.
Leaving behind my collection of antique digital and analog disc spinners, I ripped Jan Akkerman's Passion from the sadly out-of-print CD to Apple Lossless and transferred it to an iPad. Via AirPlay, this all-acoustic album—from a guitarist better known for his Les Paul magic—was completely involving. I was hooked by the woody body of Akkerman's Lowden guitar, the harmonic richness of the mids and highs, and every little fret buzz and squeak. As in the piano selection, I would have liked more weight in the bottom strings, especially in the 2.0-channel pure direct mode. With Audyssey Dynamic EQ (but not Dynamic Volume) temporarily switched on, the receiver offered an in-the-guitar sound, perhaps a little too much of a good thing. When I switched it off, the guitar image stepped back and snapped into tight focus.
Nataly Dawn is best known as one-half of Pomplamoose, whose music videos are YouTube sensations. Her debut solo album, How I Knew Her, arrived as a 24/88.2 high-rez download from HDtracks, delivered by my laptop and current favorite USB DAC, the Meridian Director. The receiver's top end was a perfect match for Dawn's waiflike, expressive, character-filled soprano; it hovered in the room like a beautiful blonde puff of smoke. The full-band arrangements, some with strings, were recorded live in the studio, and the Denon captured them in all their natural-sounding glory.
The Denon AVR-E400 is a good-sounding receiver that does everything you'd need it to do within the Apple universe. While the omission of Bluetooth may be inconvenient for some, add-on solutions are so cheap that this receiver is still a good value. Perhaps more significantly, this receiver provides a blueprint for how future Denon network-oriented receivers might mediate between digital content and the consumer. This updated vision isn't so much a total break from the past as a careful reconsideration, interleaving old ideas that still work with new ideas that add functionality and make the user experience just a little easier. I had a good time with it. Oh, and I love those spring-loaded binding posts.
LATEST VIDEO