Denon AVR-5805 A/V Receiver At A Glance & Ratings
At A Glance: Denon AVR-5805 A/V Receiver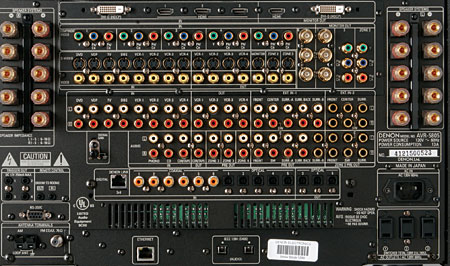 Features
Processing Modes: Dolby: Digital 5.1, EX, Pro Logic IIx DTS: DTS, ES, 96/24, Neo:6,
THX Ultra2
Other: DSP modes
THX Certification: Yes, Ultra2
Audio D/A Converter: 24-bit/192-kilohertz
Number of Amp Channels: 10
Power Rating (watts per channel): 170, into 8 ohms
Frequency Response: +/–3 dB from 10 Hz to 100 kHz
Dimensions (H x W x D, inches): 11 x 17.1 x 19.8
Weight (pounds): 97
Price $6,000
Connections
Inputs:
Video: HDMI (3), DVI-D, component video (5), S-video (9), composite video (9)
Audio: coaxial digital (3), optical digital (2), 9.1-channel analog, 5.1-channel analog (1), stereo analog (11)
Outputs:
Video: HDMI, DVI-D, component video (4), S-video (7), composite video (7)
Audio: coaxial digital (6), optical digital (5), stereo analog (8), 9.1-channel preamp, 5.1-channel preamp
Additional: Denon Link 3, Ethernet, FireWire, RS-232, 12-volt trigger (4), IR jack in/out
These listings are based on the manufacturer's stated specs; the HT Labs box below indicates the gear's performance on our test bench.
Ratings: Denon AVR-5805 A/V Receiver
Build Quality: 95
• High-quality internal components
• Sturdy exterior build
• It's big and heavy, but where else are you going to put all this stuff?
Value: 93
• Expensive for a receiver, but the performance and features are here to back it up
• It's hard to find this many quality features anywhere
Features: 98
• There isn't much it can't do, or much you can't connect to it
• Ten fully configurable amp channels, including simultaneous support of two independent 5.1 zones
Performance: 95
• Warm, smooth Denon sound
• Strong with movies and music
• Solid performance, even when driving ten channels
Ergonomics: 94
• Excellent remote and onscreen interface
• Easy to use and set up, even in multizone configurations
Overall Rating: 95
The AVR-5805 can legitimately lay claim to being the first of what may become a new class of megareceivers. But don't think this model is all about bells and whistles. At its foundation is a warm, natural sound with music and movies that makes all of these features worthwhile.
General Information
AVR-5805 A/V Receiver, $6,000
Denon Electronics
(973) 396-0810
www.usa.denon.com
Dealer Locator Code DEN
LATEST VIDEO