Denon AVR-4520CI A/V Receiver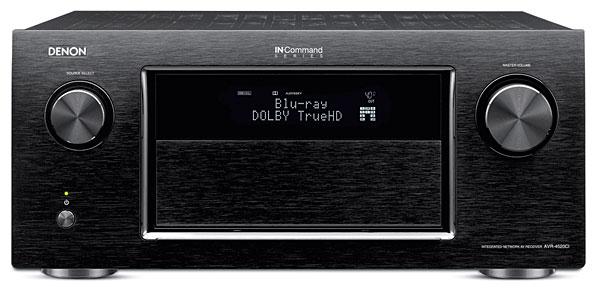 PRICE
$2,499
AT A GLANCE
Plus
Top-drawer room correction
Strong dynamics
Bounteous custom features
Minus
Bluetooth requires accessory
THE VERDICT
The Denon AVR-4520CI and Audyssey MultEQ XT32 room correction combine to produce a close to perfect-sounding receiver.
Denon and its sister brand Marantz are among the most popular A/V receiver makers. The AVR-4520CI is Denon's top-of-the-line model, the brand's best shot at building every feature worth having into a nine-channel powerhouse. It does not attempt to be all things to all people (Bluetooth users, for instance). But it does offer a feature set that is strong in custom integrator features; hence the CI designation in the model number. And, as I discovered in this review—you won't mind if I give away the ending, will you?—it also offers the best implementation of Audyssey room correction I've ever heard. Room correction has always seemed like a great idea, but the results have been hit or miss. Here it consistently produced great sound.
Heavy Metal
The front panel may not be stylish, but it is metal, not plastic. With the flip-down door closed, the only visible button is for power, while two knobs select inputs and adjust volume. But behind the door are four strategically selected input buttons—for Cable, Blu-ray, Game, and Network—along with the expected navigation controls and more buttons that select, activate, and deactivate the three extra zones. Front-panel jacks include MHL-compliant HDMI for streaming from an Android device, along with iOS-capable USB and the usual suspects.
Lackluster remote controls are a common weakness of pricey receivers. Here, Denon goes the extra mile. This learning remote differentiates controls by size, shape, and color. Its handsome green backlight illuminates the keys and the 1.4-inch-wide liquid crystal display. Just touching the remote triggers the backlight—wonderful! Four macro keys at bottom allow automating of control sequences. The only possible way to improve this remote would be to turn it into a Web-programmable USB remote. If you don't like traditional remote handsets, the Denon Control App is available for both Android and iOS devices.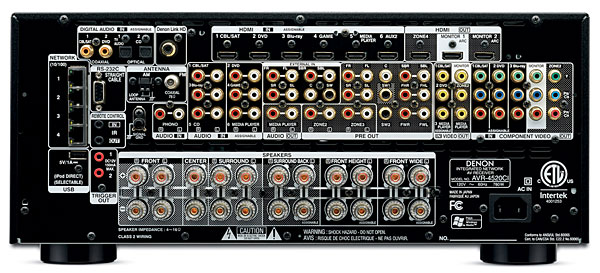 Denon provides one out of three possible wireless connectivity options: Apple AirPlay. That enables iOS devices to stream to the receiver through your home network. Unlike many other AVR makers, Denon does not provide Bluetooth in this model, and its Website does not even list a Bluetooth adapter. Inexpensive adapters from other manufacturers are available, of course. Wi-Fi is also absent as both a feature and an add-on. However, this CI-hip receiver does have a built-in four-port Ethernet switch. Connect one to your router, and you'll still have three left to connect a wireless bridge along with, say, a Blu-ray player and a Smart TV.
The three HDMI outputs include two parallel outputs and one discrete output dedicated to zone four. That means the receiver can switch two separate HDMI feeds at the same time. It can also pass an HDMI signal when in standby. Video processing includes both 3D and 4K passthrough and 4K scaling.
The full suite of Audyssey audio tools starts with MultEQ XT32, the most advanced of Audyssey's four auto setup and room correction systems, with the finest filter resolution. Its interaction with Denon's amp proved crucial to the product's performance—more about that later. If you're using more than one subwoofer, Audyssey SubEQ HT factors that into the room correction. Audyssey Dynamic EQ and Dynamic Volume provide definitive volume leveling and low-level listening enhancement. If you need to trim bass frequencies to relieve neighbors of through-the-wall boom, Audyssey LFC is included.
Finally, Audyssey DSX offers the potential of both height and width soundstage enhancement. With this receiver's nine amp channels, you can run two of the following four options along with your standard 5.1-channel setup: height, width, or back-surround channels, or biamping of the front stereo channels. The back panel's 11 sets of binding posts allow three of the four to be hooked up at once, enabling you to switch among them as desired.
The DLNA protocol handles media sharing from networked PCs and other devices. This receiver is also certified for the Windows 7 Play To feature, enabling you to route music streaming from a PC to the receiver via Ethernet. Play To also works in Windows 8. Other network audio options include vTuner Internet Radio, support for Sirius XM, Pandora, and Spotify audio streaming services, and the Flickr photo-sharing app.
Denon's setup assistant guides the user through every back-panel connection in addition to running the Audyssey auto setup. Audyssey MultEQ XT32 includes a nifty feature that lets the user dial in the sub volume setting most suitable for the room correction scheme. Everything ran uneventfully, and I made my usual tweaks, designating the speakers as small and specifying an 80-hertz crossover.
Associated equipment included five Paradigm Reference Studio 20 v.4 speakers, Paradigm Seismic 110 subwoofer, Oppo BDP-83SE universal disc player, and iPad mini (Retina version). All movie demos were on Blu-ray Disc.