Denon AVR-2311CI A/V Receiver Page 3
I've used Bruckner's ninth and final symphony as demo material before, but for these sessions, I auditioned Sony Music's new SACD release with Paavo Järvi conducting the Frankfurt Radio Symphony Orchestra. Bruckner has influenced film soundtrack composers to the point where I can visualize scenes into which the music might fit: an extraterrestrial-wonder passage at the end of the first movement, a battle between spaceships in the second.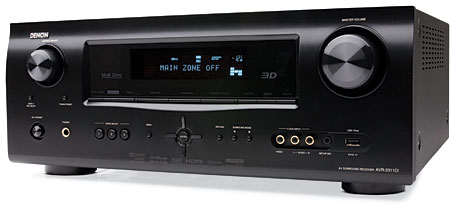 Like many AVRs that lack direct decoding of SACD's DSD signal, this one had no trouble switching automatically to high-resolution PCM (maybe I should credit the OPPO for the slick changeover). For a sub-$1,000 AVR, the Denon did a fine job. While it wasn't the last word in transparency or warmth, it delivered a layered midrange, a decently developed treble, and a well-sculpted bass, all of which sounded better with MultEQ on. At the highest peaks, some of the layering blurred slightly, but the overall presentation was free of gross flaws and somehow felt right.
New York Blue by Valerie
Joyce is an album of songbook standards varied with a couple of classic rock chestnuts, including a languid, expressive, slow-motion version of Hendrix's "Little Wing." As usual, the Chesky SACD left the center channel unused. However, Chesky exceeded even its usual high standard in the vocal imaging between the left and right channels. I walked up
to the center speaker and put my ear against it to confirm that it wasn't getting an audible signal. The voice was dramatically close up, with the piano, bass, and drums well behind. It was like having the jazz singer sitting on my shoulder, crooning into my ear, while I sat in a cathedral.
David Bowie's Scary Monsters is the original vinyl release from 1980. Heavily played—but always lovingly cleaned beforehand—it sounded as good as it did 30 years ago. It sounded even better, in fact, through the Dolby Pro Logic II Music mode. I switched among DPLII and the various stereo modes—with MultEQ XT and bass management, or the pure mode without any processing—but I always came back to DPLII. Robert Fripp's over-the-top shredding guitar solos remain forces of nature.
To the tenacious reader of spec sheets, the AVR-2311CI's charms may seem subtle. After all, Denon has done such a sterling job of spreading desirable features throughout its A/V receiver line that you may wonder why you're paying $899 for the must-haves (HDMI 1.4a, the Audyssey suite) and nice-to-haves (DPLIIz height) when you could get them for less than half the price. Of course, there's HD Radio and an increment of extra rated power over lower models. But the most compelling reason to go for this one is that it's the only one that brings CI functionality well below the psychologically significant $1,000 price point. Your custom integrator will be glad to explain how important that is.