Denon AVR-1913 A/V Receiver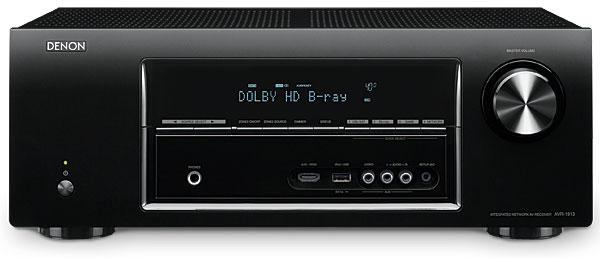 Price
: $580
At A Glance
: Incredibly intuitive Setup Assistant • Apple AirPlay • Assignable power amps • Network/Internet streaming
As much as the phrase "plug and play" has saturated the electronics world to the point of near-ubiquity, it's not a label we've ever seen applied to the giant mess of inputs, outputs, and speaker connections that define the A/V receiver. That's not to say that Denon is labeling the AVR-1913 as such, but you could make the case. Or, if not plug and play, perhaps plug and poke and plug and poke and plug and poke and play. (The comedic value would at least outweigh any drawbacks in marketability.)
We've come a long way since the days—not too long ago—when the graphic interface on Denon's A/V receivers looked like a relic of the Commodore VIC-20 operating system, and the back panel of even the lowliest model was so packed with esoteric connections that the average consumer (not counting Home Theater readers, of course) almost certainly had to phone a friend (almost certainly a Home Theater reader) at least twice to get things up and running.
Denon's AVR-1913, as with the rest of this year's line, is a marked departure from those good days, with a setup process so easy, even your granddad could do it, and an unfussy, uncluttered back panel that focuses strictly on the essentials. It's also an amazingly feature-packed receiver at this price point, which places it on an interesting and somewhat ambiguous precipice. It's a step up from Denon's 5.1-only budget offerings or a step down from its more custom-installer-friendly CI line, depending on how you look at it.
Features
No matter how you look at it, the AVR-1913 isn't lacking in the doodads department, which may come as a bit of a surprise after a peek at the back panel. It's sparse back there, with only one component video in and no component video monitor output—one of the AVR-1913's features is its analog-to-digital audio/video capabilities, which convert any of the analog video inputs for output to your TV via HDMI. There are four pairs of stereo RCA inputs for those analog sources, two composite video inputs (and one composite video out—shocking, I know), an FM antenna jack, one each coaxial and optical digital inputs, speaker connections, a solitary subwoofer output, five back-panel HDMI inputs, and one HDMI output with Audio Return Channel capabilities. And, of course, an Ethernet network jack.
Move around to the front, and you'll find another HDMI input, one composite video and stereo RCA input, a jack for the setup mike, and a USB connection with full iDevice connectivity.
What you won't find anywhere are S-video inputs and outputs, but rumor has it that if you send Denon a mimeographed request, they'll fax you an order form for last year's model.
Let's get back to the network jack for a moment, though, because that's the doorway to the soul of most of the AVR1913's features. It doesn't feature built-in Wi-Fi, and Denon doesn't offer a Wi-Fi dongle, but the AVR-1913 is said to be compatible with most third-party wireless solutions. If you can add one, or get a Cat-5/Cat-6 cable to the back ofyour gear rack, it's worth it for the wealth of features it unlocks in the receiver. Among these are DLNA support to bring content in from your home computer or network drive and a decent selection of music streaming services that includes SiriusXM, Pandora, and Internet Radio. Denon recently added the popular Spotify service, and the AVR-1913 boasts Apple AirPlay support.
Even as the lowliest man on the Denon 7.1-channel totem pole, the AVR-1913's two extra amps (all are rated at 90 watts) are assignable as back surround channels, height channels, dual-amp front channels, extra front-channel channels, or a powered second zone. But if you want preamp outs for the second zone to feed a dedicated power amplifier, you're out of luck. You're equally out of luck if you're interested in using the AVR-1913 as a dedicated preamp, as there are no preamp outputs beyond the subwoofer out. And, with no multichannel analog in, this lack of luck also extends to anyone wanting to connect a high-resolution audio source with 5.1- or 7.1channel analog audio outputs. Then again, complaining about such would be missing the point: This AVR's very raison d'être seems to be simplicity of setup and operation at an affordable price, and in that respect, it excels. Case in point: The supplied hard-button remote is just as sparse as the back panel and even less detailed than the available iOS control app, offering few of the other myriad functions typically included in an AVR remote. It's rather akin to the second, stripped-down controller sometimes included with better gear so as not to confuse the less technically inclined in the household. But it offers everything you'd normally need after you get everything set the way you want it. Meanwhile, I found the iOS app pretty slick and easy to use, if also a little simplistic. Setup