Definitive Technology ProCinema 600 Speaker System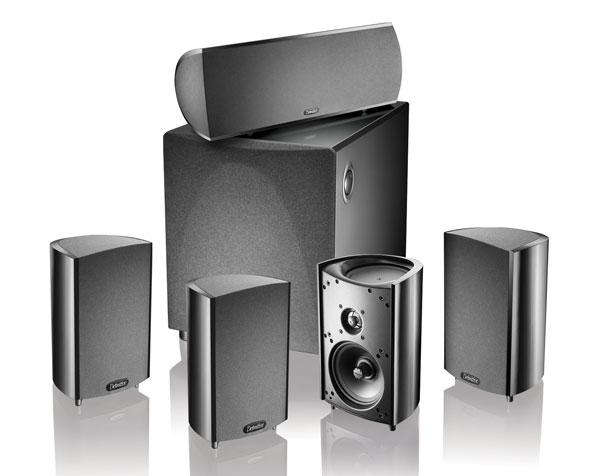 Price:
$699 (updated 1/28/15)
At A Glance:
Exceptional sonic performance for the price • Coherent soundfield • Good fit for small rooms • Extreme volume can cause distortion • Lacks depth and punch of larger systems
The ProCinema 600 5.1 speaker system is small, compact, and unobtrusive, capable of blending into any environment. This sub-$1k system effortlessly provides a highly coherent surround field in a small room without degrading the sound quality, even at relatively high volumes. Using patented technology, the system delivers surprisingly good bass and midrange for a sat/sub system. Yes, it lacks the sheer depth, high impact, and fine details of more expensive systems with larger drivers and enclosures. But for basic home theaters in multi-purpose spaces, it not only gets the job done, it performs quite admirably for its size and cost.
Features
The ProCinema600 5.1 speaker system includes four small, matching speakers for the front left and right and surrounds plus a dedicated center and a 250W powered 8-inch subwoofer. The system employs Def Tech's exclusive Balanced Double Surround System (BDSS) technology, which combines active drivers with equal-sized pressure-coupled radiators. A single radiator is located on top of the satellites and two are placed on either side of the main drivers in the center-channel speaker. The matching radiator in the subwoofer is downward firing. This design effectively doubles the lower-midrange radiating area, improving low-frequency response. Additionally, a waveguide is used to flatten the overall frequency response and improve off-axis dispersion.
While extremely small, the satellite and center speaker enclosures feel sturdy and substantial in your hand and are fabricated with injection-molded mineral-filled polymer. The sleek, curved enclosures also reduce diffraction and provide increased rigidity to reduce resonance.
Ergonomics
The ProMonitor satellites and center speaker are wall-mountable, or they can sit on a shelf. However, Def Tech offers dedicated floor stands ($99/pair) that allow placement further from the wall for a more spacious and fuller soundfield, which I highly advise.
The satellites ship with a rubber-tipped tripod stand attached to the bottom for placing them on a shelf. (Just leave them attached when wall mounting.) Remove the center screw to take them off when using the ProCinema stands. The center speaker's enclosure is horizontally oriented and designed to rest in the perfect radiating position when placed on a TV stand or shelf.
The individual speakers are lightweight and can be held in one hand, and the enclosures are black with a high-gloss finish. They are curved toward the back of the enclosure, providing a small strip in the back for two speaker terminals that accommodate bare wire, spade lugs, or banana plugs. There are also holes for the wall mounting.