Definitive Technology ProCinema 1000 Speaker System and Pioneer Elite VSX-84TXSi A/V Receiver
Little speakers are looking up.
Pricewise, these Definitive Technology ProCinema speakers and this Pioneer Elite A/V receiver are a perfect match. Even visual cues unite them, with the receiver's shiny-black metal faceplate echoing the satellite enclosures' black-gloss curve. In other ways, they may seem like an odd couple (or septet, rather). Wouldn't that big receiver be too much for those little speakers? No, say the specs. With the satellites rated to handle as much as 200 watts per channel, the receiver's hefty rated 140 watts are well within the acceptable range, although the speakers' 90-decibel sensitivity suggests that they'll play fairly loudly, even with a lower-powered amp. Therefore, it is legal to marry these speakers to this receiver, at least in Massachusetts, Canada, Spain, and the Netherlands.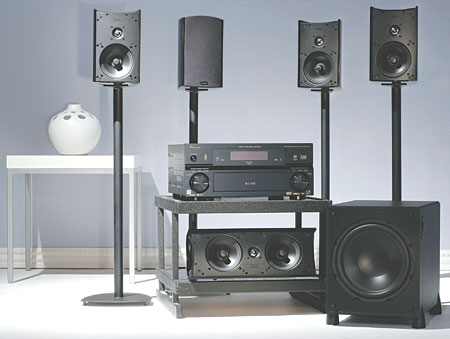 Enter the General
The Pioneer VSX-84TXSi receiver struts into the room like a five-star general decorated with medals—although, in this case, they are feature-signifying logos. Although many are on the front panel, the most concentrated aggregation of them is on the carton, which so impressed me that I got a blog out of it. (Check it out for yourself at www.hometheatermag.com.) Some of the logos are business-as-usual staples that you'd find even on a budget receiver, such as Dolby Digital EX and various members of the competing DTS family. The THX logo is more of a rare bird, indicating that the receiver meets a tough set of performance benchmarks. (Please note, however, that the Definitive Technology speakers I'm reviewing here are not THX certified.)
Even rarer is the DCDi logo, which reveals state-of-the-art video processing delivered through a state-of-the-art video interface. Along with the generous allotment of HDMI jacks on the back panel, that should give many of you an extra incentive to route video sources through the receiver. Not only does it make switching easier, it also ensures that the signal is already deinterlaced and cleaned up before it hits your screen. Set your DVD player and other sources to their interlaced outputs to take full advantage of the receiver's DCDi processing.
A premium-priced surround receiver has to earn its price tag by keeping up with the Joneses. If the Joneses have XM Radio, so do you, as one of the Pioneer's logos confirms, along with the XM-compatible Neural Surround, as another logo indicates. Of course, the Joneses have iPods, but can they hook them up to a big system through a 30-pin docking connector? A supplied cable does that with Apple's docking plug on one end and a round multipin proprietary plug on the other. When in use, the iPod displays a Pioneer logo on its screen, while the receiver's onscreen and front-panel displays take over. You can use the receiver's remote to control the iPod. Another logo boasts "Plays Windows Media," which it presumably does through the back-panel USB input.
Moving deeper into proprietary territory is the Advanced MCACC (Multi-Channel Acoustic Calibration and Control) feature, which lets you plug a microphone into the front panel for automatic detection of speaker size and distance. It also includes a room-equalization scheme designed to correct acoustic defects. I did most of my listening without MCACC simply because my room already sounds good, and I'm alert to its few flaws.

There is an interface called SR+ that enables Pioneer-brand displays and receivers to exchange information and work together. It provides for automatic video switching and other benefits. Finally, here's something I'd never seen before: Contrle de Phase, as the carton calls it, or Phase Control. According to Pioneer, this provides "phase matching for an optimal sound image at your listening position. Phase matching is a very important factor in achieving proper sound reproduction. If two waveforms are in phase, they crest and trough together, resulting in increased amplitude, clarity, and presence of the sound signal. If a crest of a wave meets a trough, then the sound will be out of phase, and an unreliable sound image will be produced. The default setting is on, and we recommend leaving Phase Control switched on for all sound sources."
Also new to me was the AIR Studios Monitor logo. AIR, located in London, is one of the world's fanciest recording studios. The AIR Website explains, "The AIR Studios logo on a Pioneer product means we have been involved in the design since the prototype. It is a guarantee that some of the best ears in the world have approved the product. There are two levels of certification: Monitor Reference for critical applications and Monitor for less critical applications." In the former category is the British Pioneer VSX-AX10Ai. The latter includes another British model, the VSX-AX4AVi, as well as the VSX-84TXSi under review here. Certain Pioneer speakers and disc transports are AIR approved, as well.
Slow and Steady
For the first time in a decade, Definitive Technology has overhauled their popular ProCinema line. Prototypes wowed attendees of the January 2006 Consumer Electronics Show, although production models didn't follow until July. Def Tech's Sandy Gross enjoys an extended development process as much as a leisurely dinner (to my benefit, in both cases). The satellites come in two sizes: small (ProMonitor 1000, ProCenter 2000) and smaller (ProMonitor 800, ProCenter 1000). I received the ProMonitor 1000 and the ProCenter 2000, along with the ProSub 1000.
The ProMonitor and ProCenter speakers come in enclosures made of PolyStone, a mineral-loaded thermoplastic designed to be stiff and nonresonant. You'll immediately notice the way the cabinet curves toward the rounded rear, where vertical structures break up bass-polluting standing waves. But, unless you pop off the grille, which covers both the front and the top of the speaker, you might miss the baffle's convex curve. All of these curves mitigate acoustic problems—both inside and outside the enclosure—that can muddy the sound.
Historically, Def Tech has refused to be limited by front-driver placement. Although the ProMonitor and ProCenter don't have the back-panel drivers that enliven some of the company's large floorstanding speakers, there is a passive radiator on top of the monitor and on each of the center's sides that matches the woofer's 5.25-inch size and helps to provide extended bass. Mount the speakers any way you like: with a threaded insert, with the keyhole, on feet, or on optional stands.
Surround Side of the Floyd
Buttery is the first word that comes to mind when I try to describe the ProMonitors and the ProCenter. Smoothness is the prime directive. These speakers were designed to speak up—loudly but sweetly. Most speakers are a little too bright. These are not. There is no obvious stop sign in the midrange, that telltale frequency hump that screams "Stop!" when the volume reaches a certain level. My finger stayed on the volume-up key, and I encountered no abrasive midrange hurdles, until the soundfield fully opened up. Depending on how you've set up the sub, what finally stops you may be the bass.
There are trade-offs here. The first one I noticed was low-level resolution. There is some, but low-level cruising requires a little more power than normal, especially if you need to follow dialogue. Turn it up, though, and the soundfield unfurls, instruments acquire previously submerged tone color, and voices take on greater shape and definition.
What better system is there for comparing live performances of The Dark Side of the Moon from two DVD sets, Live 8 and the newly re-released Pulse? The former includes the celebrated Pink Floyd reunion of 2005. Accordingly, it focuses more on band members playing instruments (Roger Waters seems especially emotional), while Pulse emphasizes the imaginative light-show visuals of the 1994 tour (without Waters). Both have the tidal sweep of authentic live performances, while they remain faithful to the outlines of the best-selling studio album.
However, neither remains faithful to the acoustics of the enormous venues in which they were recorded. Stadium sound, after all, is hardly worth capturing. Instead, skillful mixes reconstruct the music, inventing an alternative reality that almost certainly sounds better than what the audience heard. Here, the buttery Def Techs—buoyed by plenty of clean power from the Pioneer—are in their element, billowing out a soundstage as big as a prairie sunset, animated by cool waves of instrumental matter, streaked with vocal color and lead guitar. The cash-register ka-chings that introduce "Money" are pure quad in Live 8 and on the Dark Side SACD—but, in Pulse, they hit all five channels. Fans will go berserk parsing this and other fine points of the three surround mixes.

A weekend of vinyl-transfer duties found me copying all three volumes of Eric Dolphy Live in Europe (among many other things) to CD-RW en route to MP3 and my iPod. Normally, I find saxophones tiring. What draws me to Dolphy is that he alternates with equal brilliance on flute and bass clarinet. The Definitive/Pioneer system articulated the alto sax cleanly and gently enough for comfort, with no painful ringing. The dancing flute emerged soft and sensual, just as it might on a really good recording of Debussy's "Prelude to the Afternoon of a Faun," and the bass clarinet's low, hollow resonance defied comparison. It was simply a unique sound, which the speakers and sub delivered cohesively. By insisting on a louder volume than I'd normally choose for these instruments, the Definitives lured me out of my book and deeper into the music. When I replayed the music through the Pioneer's iPod connection, I was satisfied with the results.
Trumpet Butterflies
Inside Man stars Denzel Washington, Clive Owen, Jodie Foster, and Willem Dafoe. Aside from the lively cast, this suspenser is fairly conventional compared with other Spike Lee Joints. (Was he using E-Z Wider?) The one memorable surround effect came when cops contemplate rushing a bank full of robbers and hostages. The soundtrack contrasts two sets of sounds—voices echoing in the bank and voices miked close up in the police trailer outside the bank. When the police finally storm the citadel, only to find no one home, a solo trumpet emits eerie butterfly figures that zigzag through the soundfield. Except for the world-beat song that kicks off the movie, Terence Blanchard's lovely score is purely and timelessly orchestral—jazz tinged but free of cheap synthetic effects. In lieu of fancy sonic barrages, the movie does its work with sotto-voce acting and a nice drumbeat of final plot twists.
In an attempt to broaden myself, I rented Larry the Cable Guy: Health Inspector. Larry's raffish charm, his taboo-busting panache, and indigestion-inspired jokes and effects drive this meditation on the universality of redneck chic. The equipment delivered it all faithfully, but let's not go into detail.
The Matador, with Pierce Brosnan as a goofy hit man and Greg Kinnear as the failed yuppie who befriends him, gave the ProSub 1000 a relentless workout. Low-frequency effects were common, powerful, and often edited brilliantly—for instance, when a car explosion segued to thunder surrounding a suburban house. It eased off just long enough for man and wife to have an intimate chat, then a falling tree crashed into the kitchen. The ProSub 1000 was tuneful and delivered recognizable pitches throughout its range, although the upper bass was more prominent than the lower bass. That might account for the side-mounted volume dial, which I adjusted downward 10 minutes into this movie.
Can't Lose
Heavy hitters Definitive Technology and Pioneer maintain their edges with the ProCinema 1000 speaker system and the VSX-84TXSi receiver. The Elite receiver is not only a strong surround receiver but a cutting-edge performer with the iPod and XM Radio, emerging technologies that are likely to drive the future of audio. And the speakers are adept not only with music and movies, but with music videos, an underrated art form that should have a more prominent presence in A/V specialty-retailer demo rooms. This Spotlight System is a can't-lose proposition.
* Audio editor Mark Fleischmann is also the author of the annually updated book Practical Home Theater (www.quietriverpress.com).
Highlights
Definitive Technology ProCinema 1000 Speaker System:
• The svelte sats sport high-tech plastics
• Big, open, gently voiced midranges
• Ideal for medium and small rooms
Highlights
Pioneer Elite VSX-84TXSi A/V Receiver:
• Hefty chassis and plentiful power
• Connects almost everything and does almost everything
• DCDi! THX! XM! iPod! MCACC!