Deepwater Horizon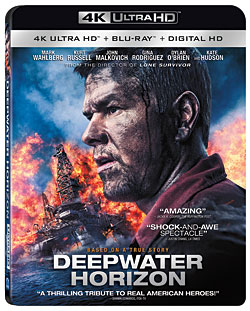 Movies based on real events have a way of getting the facts twisted in order to fit the Hollywood narrative. In this case, that apparently wasn't needed. As the movie recounts, BP cut too many corners and people lost their lives because of their negligence, and it created one of the largest environmental disasters in U.S. history. Director Peter Berg does a good job of introducing the various characters—whose names weren't changed from their real-life counterparts—and keeps the pacing brisk from start to finish.
According to IMDB, the film was shot with various digital cameras with resolutions ranging from 3.4K to as high as 6.5K, but its DI (digital intermediate) was finished in 2K. For the UHD release, the 2K master was upconverted to 4K with excellent results. Detail is off the charts in close-ups, and the wider color gamut really takes hold during the second half of the film as the oil rig is ablaze and blowing up around the surviving workers. Black levels are inky and offer up some excellent shadow detail, all improvements over the excellent-looking Blu-ray Disc.
With all hell breaking loose on the rig, one would expect the Dolby Atmos track to be put to good use, and it sure is. Wow doesn't even describe it! Even the mellow first act makes good use of the entire sound array with the roar of a vintage Mustang's engine to a being-there feeling as the helicopter flies from the mainland out into the Gulf. Once disaster strikes, things definitely liven up with reference-quality bass response and a plethora of discrete effects flying around the room as the rig tears itself apart.
Supplements are included on the 4K disc and include three featurettes on the production, seventeen minutes of unedited footage, and a piece that profiles the real- life heroes of the accident. There's also a Blu-ray, along with a UV Digital Copy.
Blu-Ray
Studio: Lionsgate, 2016
Aspect Ratio: 2.39:1
Audio Format: Dolby Atmos / TrueHD 7.1 core
Length: 107 mins.
MPAA Rating: PG-13
Director: Peter Berg
Starring: Mark Wahlberg, Kurt Russell, John Malkovich
April 20, 2010 started out like any other day for oil rig chief of maintenance Mike Williams (Mark Wahlberg) and superintendent Jimmy Harrell (Kurt Russell). As its shore leave ends, the crew boards a helicopter for the flight out into the Gulf of Mexico to begin their duty on Deepwater Horizon, an offshore rig. Standard protocol is broken when the old crew leaves and the new one arrives, raising the suspicions of Harrell that something is amiss. The project is overdue and over budget, and BP is doing whatever it can to cut costs—penny wise, pound foolish.