Crowson Technology TES 100 Couch Kit
What's shaking in the world of convergence?
One of the reasons I sleep well each night, secure in my job at HT, is the fact that seemingly every unusual product that comes down the pike is deemed "convergence" and falls into my lap. The Crowson Technology Tactile Effects System (TES) 100 wasn't exactly what I thought it would be: I anticipated a little added shaking of the sofa at appropriate moments, and the TES 100 certainly delivered, but the Couch Kit's two magnetic transducers turned out to be actual loudspeakers that also happen to channel enough physical vibration to move whatever is pressed down upon them, ideally the two hind legs of a big piece of furniture. Two rubber feet help to isolate the front legs. The less-expensive Chair Kit comes with one transducer and three rubber feet.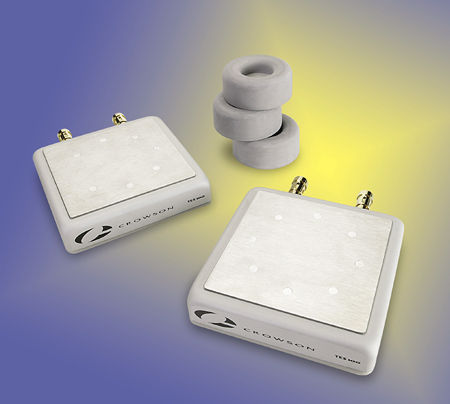 Make It a Double
The TES 100 requires a minimum of 50 watts per channel to do its thing, although increasing to 100 watts makes a big difference. Working with the pair of transducers connected to my amplifier's left/right speaker outputs, I noted a distinct directionality to both the audio and the tactile effects. You can also hook up the system using your receiver's sub/LFE out, which would be mono in nature, and Crowson sells 200-hertz FMOD low-pass filters for full-range input from left/right preouts or tape outs.
There are actually four basic hookup possibilities (too detailed to cover here), but the manual is quite clear on the subject. Connections for bare-wire terminations or banana plugs (spades might shake loose) are located along one side of the transducer, and Crowson recommends 18- to 10-gauge speaker wire. RCA-type Y-adapters, necessary in two of the four prescribed setups, are not supplied.
Fire Down Below
Working in conjunction with my subwoofer (and with the bass settings generously tweaked), the TES 100 found genuine boom in all of my movie demo material, both obvious (the massive firepower of The Patriot) and less obvious (the sadistic fun of Bugs Bunny). On an explosive video game like Halo for Xbox, that extra little boost of realism is provided to help reach a level of immersion that most modern game designers are striving so hard to attain.
I won't say that the TES 100 rocks the home theater to the same extent as larger, more-elaborate shakers, but the audible aspect—as the transducers also tend to fill in a possible "deaf spot" in the room, owing in part to their unusual placement below and behind the listener—was a welcome bonus in my system, contributing additional audio that works within the 5.1-channel soundfield with convincing results and without any hard, pinpoint effects that might be distracting.
While the TES 100 install was quick and fairly simple, it does require two new cables, which you'll likely need to run along the floor. This approach is less intrusive than bigger, dedicated shaker devices, though, and the TES 100 turns up your home theater audio playback a serious notch.
Highlights
• Install in minutes, plan for hours what to do with those additional speaker cables
• Adds effective vibration to the home theater experience
At A Glance: Crowson Technology TES 100 couch kit
Nominal Impedance (ohms): 6
Recommended Amp Power: 50–500 watts
Dimensions (H x W x D, inches): 1.1 x 4.8 x 5.7
Weight (pounds): 3.5
Other New Convergence Products: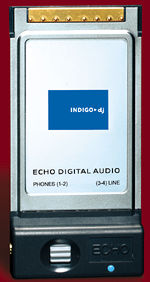 Echo Indigo DJ Sound Card
One of the fastest, easiest, and most impressive audio upgrades I've ever tried, Echo Digital Audio's Indigo DJ is a bona fide 24-bit/96-kilohertz device with a high-end converter and power supply that plugs into a PC or Mac (Windows ME/2000/XP, OS X v10.2 or better) with a Cardbus Type II slot, a laptop, or a properly equipped desktop.
Essentially plug-and-play after a quick software install, the compact sound card provides a clearly audible improvement. When I connected the card to my PC's standard headphone out and turned it up to full volume, my office sub/sat system dished out some truly nasty noise. Using one of the Indigo DJ's two 0.125-inch analog stereo outs, however, I noted only a faint hum that remained steady even as I turned the volume all the way up via the DJ knob, suggesting even this small flaw was inherent to the amplified speakers and not the Indigo DJ. A stereo mini-jack-to-RCA cable with 0.25-inch (TRS) adapters comes in the box, and future driver updates will also use the twin outputs to support four-speaker surround sound.
Indigo DJ Sound Card, $229
Echo Digital Audio
(805) 684-4593
www.echoaudio.com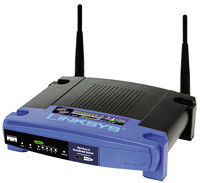 Linksys WRT54GS Wireless-g Router with SpeedBooster
When even state-of-the-art Wi-Fi 802.11g just isn't fast enough for your wireless home network, Linksys' new SpeedBooster technology puts a little nitro in the gas tank. A fully compatible add-on to standard Wireless-g systems, the WRT54GS router can enhance data transfer by as much as 20 percent, or up to 35 percent if you use SpeedBooster devices (such as Linksys' Wireless-g PCI adapter) throughout the network.
Chaining packets of data together reduces the overhead of each—overhead imposed by network protocols—to increase data throughput. Chaining also controls the local "airwaves" longer, thereby reducing interdevice interruptions. Using a single 2.4-gigahertz channel (it can work in all 11 channels) helps the WRT54GS play well with other wireless devices and networks without interference. All of this means that music/video streaming and Internet access are now faster and less problematic than ever.
WRT54GS Wireless-g Router with SpeedBooster, $100
Linksys
(800) 326-7114
www.linksys.com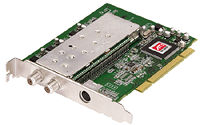 ATI HDTV Wonder Remote Control Edition Video Card
HDTV comes to the PC in a more convenient, affordable way with the new HDTV Wonder. In addition to analog NTSC cable, this add-in video card supports ATSC digital broadcasts without cable or satellite subscriptions. Included is an advanced personal video recorder application—to view, pause, and record both analog and HDTV programs while taking advantage of the PC's ability to archive content to DVD for use away from the computer—along with ATI's robust Multimedia Center software suite.
ATI's NXT2004 VSB/QAM receiver handles off-air DTV signals in a variety of terrestrial signal-reception conditions by incorporating multipath cancellation, tuner control, and all-digital carrier-recovery circuitry that eliminates the need for external components. Bundled with the HDTV Wonder board and software are an HDTV antenna and a remote control, because who wants to mouse their way through the channels?
HDTV Wonder Remote Control Edition Video Card, $199
ATI
(905) 882-2600
www.ati.com
Logitech diNovo Media Desktop System
A boldly elegant way to access entertainment on Windows 2000 and XP PCs, diNovo is a radical new keyboard design with a breakaway number pad that also pulls duty as a snazzy multimedia remote control for MP3s, videos, and photos. Also part of the Media Desktop is a wireless optical mouse and a recharging module that doubles as a Bluetooth (small form factor, low-cost radio link) hub that provides a wireless bridge between the PC and other Bluetooth peripherals.
The numeric media pad is the real star here; it allows for sophisticated playback control without being tethered to the desk. The LCD panel gives you an interactive readout of time, date, song titles, and even instant messages and emails. The Media Desktop software also helps, designed with a user interface that you can clearly see on the computer monitor from across the room.
diNovo Media Desktop System, $250
Logitech
(702) 269-3457
www.logitech.com