Coming Attractions
Dr. Who Sonic Screwdriver Universal Remote Control
You gotta love it—a gesture-based universal remote control modeled after the Mark VII Sonic Screwdriver used by time traveler Dr. Matt Smith in England's long-running sci-fi TV show Dr. Who. You can program the remote to execute up to 39 commands using 13 gestures, including up/down, left/right, push/pull, and clockwise/counterclockwise. Each motion triggers a pulsating green light and a different alien sound effect—unless your wife makes you turn on the quiet mode. The wand runs on two AAA batteries and comes with a display stand and clear cover.
Great Geek Gift: Made by The Wand Company and available through ThinkGeek, the Sonic Screwdriver is perfect for home theater geeks who love tech toys and classic sci-fi. Price: $100
ThinkGeek • (888) 433-5788 • thinkgeek.com
Hisense Pulse with Google TV Set-Top Box
Connect the tiny Pulse to your ordinary TV and transform it into a smart, Wi-Fi-enabled set that makes it easy to stream programs you can't get on cable or satellite. Onscreen apps provide one-click access to sites such as Netflix, Vudu, YouTube, Pandora Radio, and Thuuz, and the supplied remote control has a touchpad and Netflix button on one side and a keyboard on the other to facilitate Web searching.
Multitask the Night Away: Picture in picture and picture outside of picture let you keep an eye on your favorite show while you check Facebook or cruise the Web. The plug-and-play device supports 1080p resolution and is equipped with an HDMI input and output as well as USB and Ethernet ports. Price: $99
Hisense • (678) 318-9060 • hisense-usa.com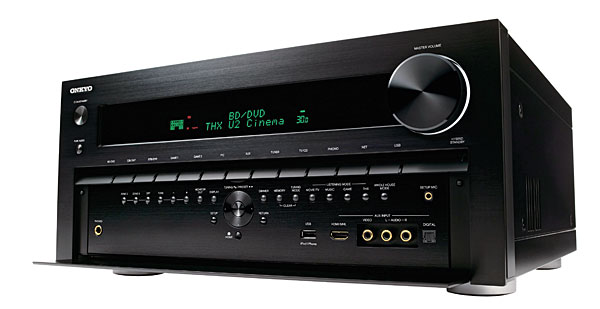 Onkyo TX-NR5010 Network A/V Receiver
Create a 3D sonic extravaganza with the world's first receiver to support DTS Neo:X multichannel upmixing for up to 11.1 channels with front height and width speakers. The nine-channel TX-NR5010 is also the first to incorporate Cisco's SimpleTap technology, which simplifies network connections so you can start streaming from Pandora instantly. Among its countless features is Audyssey MultEQ XT32 room equalization, nine HDMI inputs, three-zone playback, and THX Ultra2 Plus certification, which ensures wall-crumbling, distortion-free reference levels in large rooms.
It's All Geek to Me: Onkyo has A/Vphiles covered with a host of accouterments, including a dual-core HQV Vida/Marvell Qdeo video engine for seamless 4K upscaling and a robust Burr-Brown DAC stage featuring PLL jitter-cleaning and VLSC noise mitigation. Price: $2,999
Onkyo • (800) 229-1687 • onkyousa.com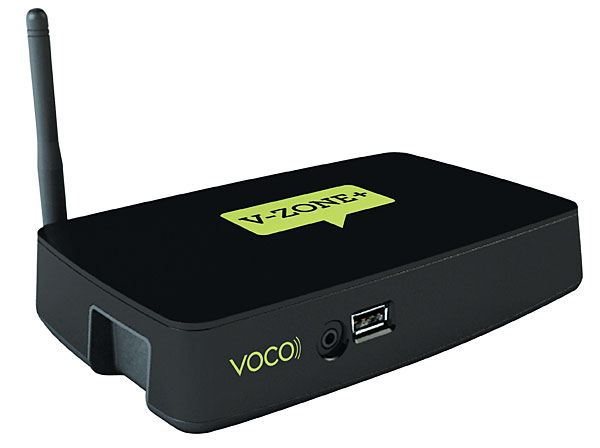 Voco V-Zone+ Voice-Controlled Wireless Media Streamer
If you're looking for a media streamer with a little panache, you'll need to speak up. Literally. Connect V-Zone+ to your audio system or TV, download the Voco Controller, and use voice commands to stream music and 1080p video from an iOS or Android smartphone, the Internet, an MP3 player, a USB drive, or a PC. You can set up the system to stream over your Wi-Fi network or plug in an Ethernet cable for automatic configuration. The unit can be configured as a hot spot to extend Wi-Fi coverage.
No Repeat: Voco uses the same voice-recognition engine found in Lexus, Toyota, and Chrysler vehicles. Accuracy is said to be a respectable 93 percent. Did you get that? Price: $350
Voco • (888) 879-8626 • myvoco.com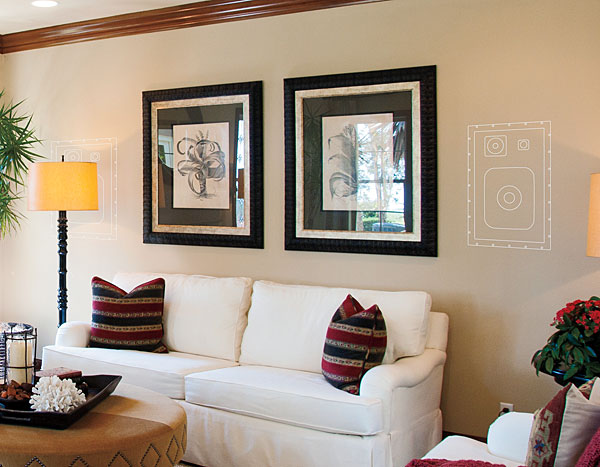 Sonance Invisible Series IS4 In-Wall Speaker
Traditional in-wall speakers are great space savers and can offer amazing fidelity. Paint their grille covers, and they become inconspicuous, but they do not disappear. Not so with the IS4. Mount the 2-inch-thick panel between the studs and flush with the drywall, spackle over it, paint it or add wallpaper, and your music will literally emanate from the walls.
Planar Power: High-efficiency planar diaphragm drivers—a 4-square-inch tweeter, 17-square-inch midrange, and 113-square-inch woofer—enable the IS4 to play louder than previous-generation IS models. If you want to reduce sound transmission to adjacent rooms by up to 20 decibels, add the optional back box, which increases the speaker's depth by just over an inch. Price: $1,600/pair
Sonance • (800) 582-7777 • sonance.com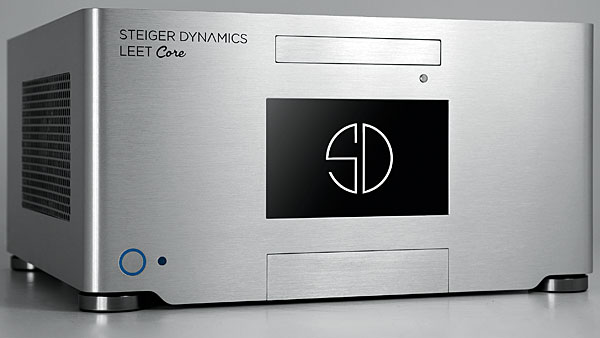 Steiger Dynamics LEET 3D Home Theater PC
It's not every day you come across a liquid-cooled home theater PC that looks like a high-end audio component. Housed in a brushed-aluminum chassis and aimed at hard-core gamers and A/V enthusiasts, the made-to-order LEET Windows 8 computer includes a Blu-ray/DVD writer and is built around Intel Core i3 or i7 processors and NVIDIA's 4K-ready GeForce GTX 690 video card. Liquid cooling enables overclocking to 5 gigahertz without hurricane-force whirring that makes it sound like the CPU is about to blow. A 120-gigabyte solid-state drive (expandable to 1 terabyte) is standard, and up to 12 TB of hard-disk storage—enough for 1,000 high-def movies—is possible.
Wonder Window: An acrylic window consumes the top panel, revealing the PC's impressively neat innards. Price: $1,998 and up
Steiger Dynamics • (855) 915-9000 • steigerdynamics.com
Quarkie Earphones
Looking for original gift ideas? Quirky might be a better name for this brand of earphones, which offers several positively unique styles: Cat Eye (shown), Snake Eye, Chameleon Eye, (purple) Gemstone, and our favorite, the Rusty Bolt (shown). "We make serious headphones with studio-monitor sound quality—but we don't think they have to look boring" is how Quarkie's Asian/British design team describes its work. Available in four sizes—XS, S, M, and L—each model has an in-line mike/mute button and uses 0.5-inch "low-distortion, wide-frequency" drivers.
Vipers, Too: Oh, we forgot to mention the Viper Head earphone. Imagine a snake head protruding from your ear an inch or so with its tongue extended. That's just creepy. Price: $109
Quarkie • quarkie.com
Hitachi UltraVision LE55W806 3D LED HDTV
The flagship of Hitachi's UltraVision line of Smart 3D TVs frames its 55-inch screen with a thin gloss-black bezel and comes preloaded with apps for Netflix, Vudu HD Movies, and YouTube, while built-in Wi-Fi enables wireless access to content via your home network. The 1080p display refreshes picture information at 120 hertz (120 frames per second) for 3D and 60 Hz for 2D and claims an ultrawide viewing angle so folks sitting at the far ends of the couch don't miss any action.
Connection Crazy: Among the TV's 11 inputs are two USB, a wideband component video jack to accommodate older source components, and four HDMI connections, including one for streaming content from MHL-compatible smartphones and tablets. Price: $1,399
Hitachi • (800) 448-2244 • hitachi-america.us
Emotiva XMC-1 7.2-Channel Preamplifier/Processor
"Go for broke without going broke" is the motto of Emotiva, a family-run business founded to deliver reference-quality performance at affordable prices. The latest product to embody this philosophy is the XMC-1, which promises "audiophile-caliber, multichannel preamplification with HD surround decoding" for fifteen hundred bucks.
True Tech: Behind the glow of its large OLED display is a Linux-powered ARM processor that controls a pair of super-fast Texas Instruments 32-bit dual-core DSPs, which handle audio decoding and post-processing. Highlights include streaming audio capability, stereo bass management, independent crossover controls for each of its nine channels, 4K-compatible HDMI 1.4 switching, balanced XLR outputs, and proprietary TACT Dynamic Room Correction. The XMC-1 is sold online (shipping is free within the contiguous 48 states). Price: $1,499
Emotiva • (615) 790-6754 • emotiva.com