Coco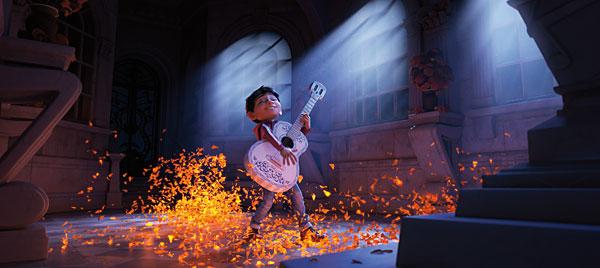 When the annual Day of the Dead arrives (Mexico's Dia de los Muertos—a celebration in which one's ancestors are honored and remembered), Miguel makes a surprising discovery. In an attempt to steal de la Cruz's guitar from the singer's crypt, Miguel passes over into the Land of the Dead though he's still very much alive. Unless he can find de la Cruz to help him, he might be doomed to remain there.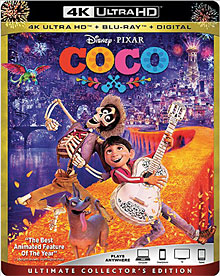 The denizens of the Land of the Dead are skeletal (though not scary), but with distinctive facial features—and hair. That creative decision seems to have been made to set up an ongoing string of bone jokes in an otherwise relatively serious film about life, death, and family.
The gorgeous animation in this Oscar-winning film (Best Animated Feature, 2017) is perhaps the best yet from Pixar. The company has outdone itself yet again, and the Ultra HD Blu-ray disc is clearly reference quality, not only in its resolution of fine details and riotously rich color but in its use of HDR (HDR10) as well. It looked stunning when viewed on a big screen with HDR projection, and even more visually brilliant—though perhaps less epic—on an OLED flat-panel UHDTV.
The UHD disc (but not the included standard Blu-ray) offers 7.1.4 Dolby Atmos, but on startup oddly defaults to plain Dolby Digital; you must select Atmos manually. I made the Atmos selection, but auditioned the disc in a conventional 5.1 setup. The film isn't an audio demo piece if your standards for such are explosions, house-shaking bass, and turn-your-head surround activity, but its use of clear, beautifully-recorded music more than compensates.
The extras are extensive, including deleted scenes, a wide range of making-of featurettes, trailers, a feature-length commentary, a short interactive feature ("How to Draw a Skeleton"), and a setup option for adjusting your TV (SDR only, tricky to use and not overly precise, but perhaps helpful for a viewer with a poorly adjusted set). All of the extras are included on both the 2K Blu-ray movie disc and on a separate, features-only Blu-ray disc. —Thomas J. Norton
Ultra HD Blu-ray
Studio: Disney-Pixar, 2017
Aspect Ratio: 2.39:1
Audio Format: Dolby Atmos (Ultra HD), DTS-HD Master Audio 7.1 (Blu-ray)
Length: 105 minutes
Director: Lee Unkrich
Starring: Anthony Gonzalez, Gael Garcia Bernal, Benjamin Bratt
Miguel, a feisty youngster in small town Mexico, loves music, particularly the work of his hero, the long dead guitar and singing star, Ernesto de la Cruz. But because his great-great grandfather abandoned his wife and daughter for a career in music, his family remains virulently opposed to music and forbids Miguel's having anything to do with it.