Up Close With Sony's QD-OLED and Other 2022 TVs
Sound & Vision
has
previously reported
on Sony's announced 2022 TV lineup, including its highly anticipated A95K QD-OLED model. We finally got a chance to ogle the new sets in-person at the company's TV press briefings in NYC this week, and can confirm there's plenty in store for prospective TV buyers to get excited about.
Sony's demos were divided into four stations, with a mix of test patterns, demo clips, and movie scenes used to show off improvements brought by advances in panel design, video processing, and Mini-LED backlight refinement on the new models as compared with the company's 2021 sets. The QD-OLED demo (pictured above) pitted Sony's new A95K against last year's flagship A90J OLED, with the company's BVMX300 professional OLED—a standard mastering monitor used by motion picture studios—thrown in as a reference. Viewing a test pattern that showed content in BT.709, DCI-P3, and BT.2020 color spaces, respectively, the A95K QD-OLED displayed a clear advantage in BT.2020 coverage, with red, green, and blue primaries coming across as brighter and more saturated purely based on panel performance. A movie image from Disney's Cruella where Emma Stone wears a red dress further drove the point home, with the red garment appearing distinctly brighter on the A95K compared with the same image on the A90J and the professional monitor.
Another segment from the same demo showed the superior off-axis performance of the A95K, with images retaining both uniform brightness and color at extreme angles. In comparison, Sony's A90J revealed slight color shifts when viewed from the same position—a typical effect with standard OLED TVs, which generate white light and then use filters to create color images. Another, apparently unforeseen, advantage to QD-OLED revealed in the demo was smoother, more accurate rendition of grain in film-based images, something a Sony rep attributed to the panel's ability to deliver stable color volume throughout the full luminance (brightness) range.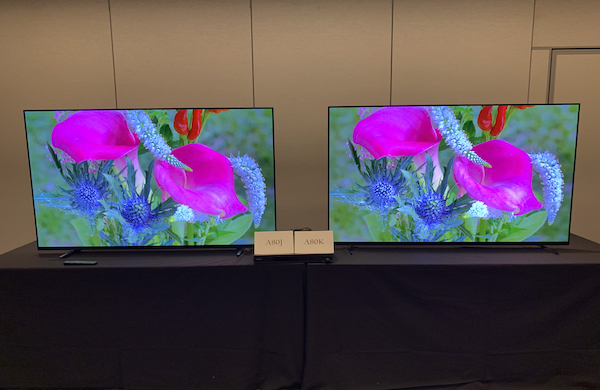 A demo of Sony's new A80K model showed how both luminance and color saturation can be improved through video processing in a standard OLED model, specifically by the company's Cognitive Processor XR and XR OLED Contrast Pro features. According to the company, these work to increase both peak and overall brightness, and also improve local contrast control to flesh out details in both highlight and color portions of images. Viewing demo clips on both TVs, the improvements were once again clearly apparent, with the A80K showing a more refined color range and highlight detail compared to Sony's A80J model, an S&V Top Pick in 2021.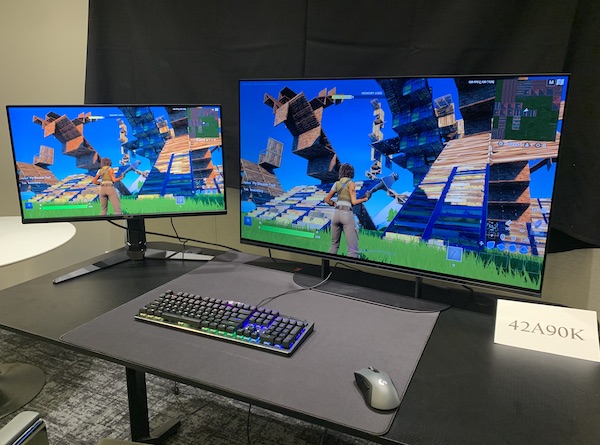 A prime audience for Sony's new 42A90K OLED TV is gamers, and Sony was eager to demonstrate how good Fortnite could look on the set's 42-inch screen. A state-of-the-art ASUS LCD monitor was also set up to compare image quality, and while both sets feature gamer-centric features like 4K/120Hz display and Variable Refresh Rate (VRR), the OLED model's superior contrast and detail rendition made it a clear winner. Conveniently, the set comes with an adjustable stand with a high position option for gaming.
2022 marks the arrival of Mini-LED backlights to Sony's 8K and 4K LCD TVs, and the company's demo of a both types versus their 2021 counterparts showed the benefits that the advanced backlighting tech brings to the LCD category, specifically when it comes to reducing blooming on black backgrounds. But there's more to Mini-LED than just Mini-LEDs. According to the company, its XR Backlight Master Drive tech was also responsible for the improvements I was seeing on the new Z9K 8K TV compared with last year's Z9J model. These new models also feature Cognitive Processor XR to improve color and highlight detail, and Sony's XR 8K upscaling is onboard to ensure clean conversion of 4K image to 8K resolution.
That's a wrap for this hands-on encounter with Sony's 2022 TVs. We expect to review one or more models in the coming months and are especially looking forward to an in-home evaluation of the new A95K QD-OLED. In the meantime, watch this space for news about pricing and availability on the forthcoming Sony models. <
Related:
Sony Introduces 2022 Bravia XR TV Lineup