China's TCL Tops Samsung in North American TV Sales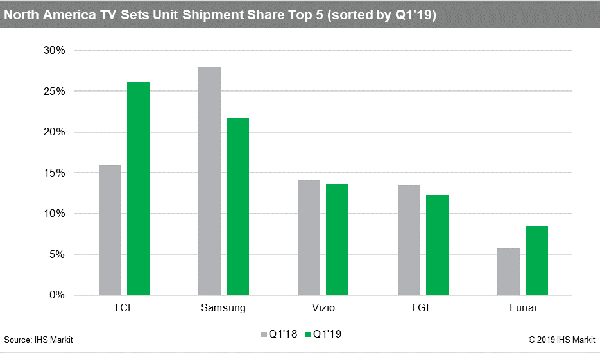 The ongoing trade war with China has yet to impinge on sales of TVs from TCL, which has been pushing hard to live up to its tag line: "America's fastest growing TV brand."
So hard, that TCL — which stands for "The Creative Life" — surpassed South Korea's Samsung in North American TV sales for the first time ever, according to new figures from London-based research firm IHS Markit.
In the first three months of 2019, unit shipments of TCL's aggressively-priced TVs captured 26% of North American TV sales, up from 16% during the same period a year earlier, according IHS, catapulting the brand into the top slot.
During the same period, IHS said Samsung's TV market share in North America slipped to 22%, down from 28% during the first quarter of 2018, moving it down to a No. 2 ranking, followed by Vizio (14%) and LG in the third and fourth slots.
TCL's sales bump also helped propel overall unit shipments of TVs in North America to a record 9.3 million units.
Although TCL bested Samsung in unit sales, Samsung still maintains the lead in terms of revenue with a 37% share due to larger screens and higher prices across its TV line.
"Amid rising concerns about tariffs arising from the US China trade dispute, TCL and other TV brands that rely heavily on China-based manufacturing have been increasing shipments dramatically," explained Paul Gagnon, IHS research executive director.
"As uncertainty mounts around a possible tariff-driven rise in costs, these brands have been bolstering shipments to protect against any potential disruption," he continued. "Given that margins for TVs are relatively low compared to other consumer-electronics categories, any tariff increase would have a major impact on sales."
Overall growth in TV unit shipments was also boosted by falling retail prices, especially for larger screen sizes, but Gagnon said elevated TV shipments in North America were mostly driven by sets with screen sizes smaller than 55 inches; 55-inch TVs had an average selling price of around $500 at the end of 2018.