Canton Movie LE 125 Speaker System
Speaker System Small sats, a big sub, and visions of hops and sausages.
My sociological spiel about the French in my JMlab Digital Home Cinema System review (April 2003) inadvertently hit newsstands around the start of the war with Iraq, so I'll limit my wantonly idiotic cultural commentary on the Germans to food and drink references. Have you ever tried their smoked beer? I'm not joking. It's called Rauchbier, and it's delicious. I should note that, although my byline is German, my ethnic makeup is German, English, Scots, and Irish, and they all make good beer. My oft-misspelled name literally translates as "meat man" (no jokes, please), and my great-grandfather was the last in a long line of sausage-makers. After he emigrated from Germany, he continued to practice his craft in New Jersey. According to my father, his sausages were so rich that you had to wash them down with a quart of milk.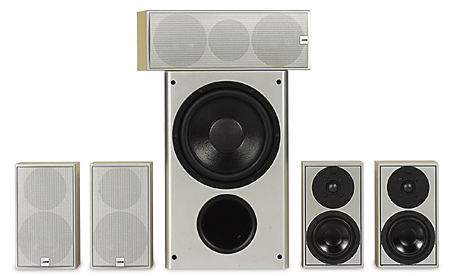 Canton's hometown is Weilrod, near Frankfurt. The company's name is an amalgam of the Latin verb cantare (to sing) and the German noun Ton (tone). One of Canton's four founding partners still runs the company, although speaker development has moved from a living room to a fully equipped facility with its own anechoic chamber. The best-selling brand in Germany, Canton is no Johann-come-lately to the sub/sat category—they've been producing them since 1979.
It would be convenient to say that the Movie LE 125 speaker system does for 5.1-channel sound what my distinguished ancestor did for food. There's something substantial in the way this system handles imaging and bass. The dominant impression isn't one of heaviness, though, so I wouldn't describe it (with apologies to vegetarians) in terms of animal fat dissolving in your mouth and causing a taste sensation. What do come to mind are the ancient purity laws that govern German beer production, along with words like "pristine" and "untainted." The speakers display a deft lightness in everything from their cleanly sketched midrange to their IKEA-compatible enclosures.
The five satellites are so charming that I patronized them as I took them out of the single carton in which they came. I think my exact words were, "Hi, cutie." In fact, their beech-vinyl enclosures and detachable aluminum grilles make them seem much smaller than their 9.8-inch height. The front and surround speakers are identical, right down to their 1-inch fabric tweeters and 5-inch polypropylene woofers. The center-channel speaker measures 15.7 inches wide, and its woofer-tweeter-woofer configuration's off-axis cancellation effect is the system's only glaring weakness. To tighten up the front soundstage, I cheated by setting up the center speaker vertically below my Stewart Firehawk screen. Each satellite has threaded inserts for Canton's Cantomount stands.
The patronizing came to an abrupt end when I uncrated the AS 25 SC subwoofer. It's larger than any sub I've seen packaged with a compact sub/sat set. In fact, at 18.5 inches high, its 1-inch-thick enclosure is nearly as tall as my reference sub (which uses a 12-inch driver). The AS 25 SC uses a 10-inch front-firing cellulose/graphite driver with a large port just below it, which gives the sub a relatively narrow footprint of 11.6 inches wide by 17.3 deep. The AS 25 SC is part of a series of subs that benefits from Canton's Subwoofer Control (SC) circuit, which suppresses inaudible low-frequency vibrations and expands response by about an octave.
By preventing energy waste on subsonic frequencies, the SC circuit also makes the most out of the 80-watt-RMS/150-watt-peak amp. I wasn't surprised to find that the sub, rated down to 30 hertz, has usable output in the mid-30s, according to the Infinity R.A.B.O.S. meter. It also had admirable pitch definition and control.
After I connected their all-metal binding posts to my Rotel RSX-1065 receiver with Monster M1.2S cable, the Cantons continued to politely defy my expectations. I expect German-made speakers to deliver a borderline-abrasive midrange—something more suitable for a brief fling than for a prolonged listening session—and, in its first hour, the Movie LE 125 seemed to be no different. But then I spent several evenings listening to the speakers slowly break in with David Garland's Evening Music on WNYC-FM. Naturally, I used Dolby Pro Logic II's music mode to give all five satellites a workout. After the first evening, their character inspired me to scribble notes about the music on Post-its and add the selections to my Amazon shopping cart. Somehow, the Cantons made me want to buy music. They brought out tonal shadings that became more fascinating with each passing evening.