Canton Ergo 620 Speaker System
Price
: $5,550
At A Glance
: Distinctive round-edged Cantons are easy to live with • Monitors deliver superb all-around performance • Adjustable sub delivers deep bass without bloat
Brilliant at Making Things
Last year I spent my vacation in Munich, Stuttgart, and Nuremberg. Afterward I sent e-mails and pictures to friends, raving about Germany's high-speed trains and pedestrianized shopping districts. One friend wrote back and said that I made him sad because I spent all that time in Munich without visiting BMW, and in Stuttgart without visiting Mercedes-Benz. Let's face it, the Germans are brilliant at making things: cities, cars, trains, eyewear, clothing, sausages, and beer—all the little things that enhance our quality of life. Wouldn't you like your loudspeakers to measure up to that standard?
Like a waiter carrying a giant beer stein or two, Canton is ready to help. The company has been manufacturing loudspeakers since 1972. It supports several lines, including the top-line Reference, Vento, Karat, Chrono, GLE, CD, Movie, Digital Movie, a custom installation series, and others. The Ergo line falls somewhere in the middle, hitting the sweet spot between performance and value. For this review, I followed my own oft-given but rarely followed advice and used a matched set of five Ergo 620 monitors with the Ergo AS 650.2 SC subwoofer. This gave the speakers a consistent platform from which to produce an enveloping soundfield. The Ergo line also includes three floorstanding models, an on-wall speaker, and a center, not reviewed here.
Hard Specs, Soft Edges
There's nothing cheap or, in the most fundamental sense, compromised about the Ergos. With shiny metal drivers peeping out behind the metal grilles of their round-edged cabinets, they are practically objets d'art.
The Ergo 620 is a 13.4-inch-tall, two-way monitor with a 1-inch aluminum-manganese dome tweeter and a 7-inch aluminum-cone woofer behind a metal grille. The enclosure is 0.75-inch MDF, which thickens to 1 inch at the baffle. Canton makes the tweeter and its voice coil former as a single piece. This is meant to improve heat dissipation and extend frequency response to 40 kilohertz. (If your cat or dog gives you a dirty look and runs out of the room, you'll know why.) There are no sharp edges anywhere on the enclosure, which makes the speakers a pleasure to handle. The side edges are especially softened, offering a distinctive look, and the front is slightly convex, with the grille following the shape of the baffle. Simply put, these are beautiful speakers.
The weakest part of a speaker family, especially below the top-of-the-line class, is often the subwoofer. Canton was determined not to skimp on the Ergo AS 650.2 SC sub. It has a 12-inch aluminum-cone woofer with a surround, suspension, and motor assembly that's designed to ensure high excursion (that is, a wide range of cone movement). The 200-watt ICEpower amp provides both power output and start-and-stop control. The enclosure is 1 inch thick, 1.75 inches at the baffle, and finished in the same beautiful cherry, wenge, or black ash veneer as the other Ergos, with the same sweet rolled-off sides and curved baffle.
For connectivity, the speakers have transparent-nut binding posts, which are non-biwirable. Several unusual options are available in the sub. In addition to stereo RCA-type line-level inputs, it also has two sets of line-level outputs. One is filtered at 80 hertz, and one is flat. It also includes a full set of speaker-level ins and outs. In addition to the usual volume and crossover controls, it has a phase control knob that's continuously variable from 0 to 180 degrees, as opposed to a two-position toggle. Perhaps most helpful is the room-compensation toggle, which has three positions. According to the manual, "Changing the setting from Normal to Wide gives the subwoofer a deeper, lower cutoff frequency with a gently falling frequency response curve at lower frequencies," while Narrow "reduces the subwoofer bandwidth with a gently rising frequency response curve at low frequencies." If you don't need the sub's output to be optimized for maximum volume, you can opt for deeper bass instead.
Associated gear included the Rotel RSX-1065 A/V receiver, Panasonic DMP-BD55 Blu-ray player, Integra DPS-10.5 universal player (for CDs), Rega Planar 25 turntable, Shure V97xE cartridge, and NAD PP-1 phono preamp.
Five Channels of Perfection
The best-sounding movie demo was, admittedly, not a deathless work of art. It was My Best Friend's Girl, a vehicle for Dane Cook's brand of edgy, high-energy, who-cares-if-you-like-me humor. This humor works best when Alec Baldwin enters the story to establish a comedic balance of terror. But the soundtrack is worthy of the lossless DTS-HD Master Audio codec that delivers it. It includes loads of adapted-for-surround rock classics like the title song by the Cars, "You're No Good" by Linda Ronstadt, and most impressively—in the climactic scene where Cook works really hard not to be liked—Johnny Cash's "The Man Comes Around." Rhythm sections emerged fully developed from the sub, with deep, true tones and satisfying dynamics. The soundfield (five channels of seamless, coherent perfection that are uninterrupted by any timbre-matching flaws) revealed a myriad of details. It revealed the exact character of the rain in one scene, which the mixer delivered with what sounded like full frequency response in the front, while the surround channels are deliberately rolled off.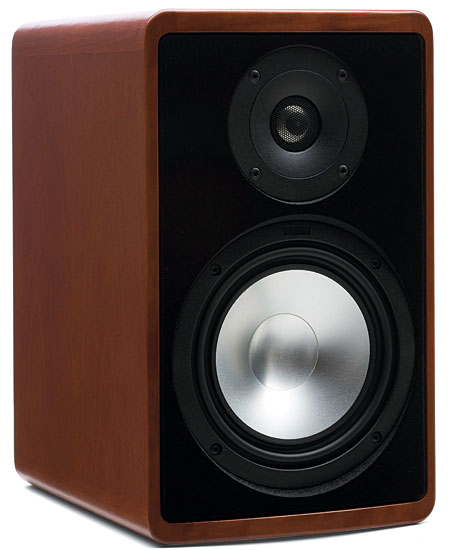 Gandhi dates from 1982, which was a bleak period for discrete-channel surround mixes. The lossless Dolby TrueHD codec reveals the soundtrack's age. The five identical Canton speakers highlighted the mix's limited panning pattern of surround effects. But the Cantons also gave it a warm glow that offset the metallic sound of the sitar, played by Ravi Shankar himself. There's certainly enough detail, as in the opening scene with a brief outdoor symphony of birds and insects. But I had to work hard to find just the right balance between the low-level speech of Ben Kingsley's hungerstriking Gandhi and higher-level crowd-action scenes. The loud stuff wasn't loud and abrasive, just loud. But on the whole, I was struck by the beauty of the soundtrack, and it whetted my appetite for the music demos to follow.