Cabasse Eole Speaker System At A Glance & Ratings
At A Glance: Cabasse Eole Speaker System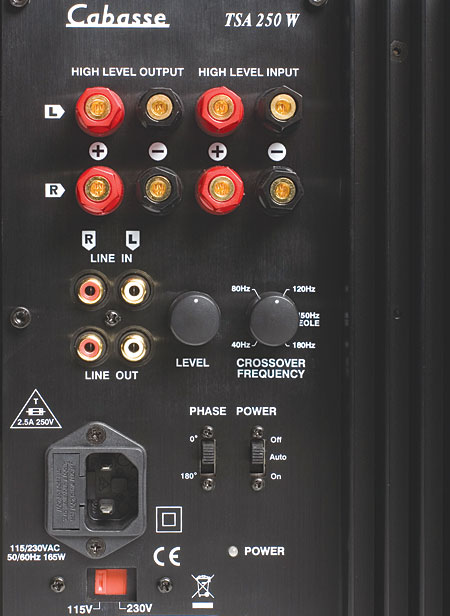 Subwoofer: Santorin 21
Connections: Speaker-level and line-level
Enclosure Type: Vented
Woofer (size in inches, type): 8, cellulose pulp
Power Rating (watts): 250
Crossover Bypass: No
Available Finishes: Glossy Black, Silver, Glossy White
Dimensions (H x W x D, inches): 13 x 13 x 14.2
Weight (pounds): 25.3
Price: $1,150
Speaker: EOLE
Type: Coaxial two-way front/center/surround
Tweeter (size in inches, type): 0.75, soft dome
Woofer (size in inches, type): 4, plastic
Nominal Impedance (ohms): 8
Recommended Amp Power (watts): 50–300
Available Finishes: Glossy Black, Silver, Glossy White
Dimensions (H x W x D, inches): 5.1, round
Weight (pounds): 3.7
Price: $380 each; in-ceiling model, $800/pair; optional stands, $300/pair
These listings are based on the manufacturer's stated specs; the HT Labs box below indicates the gear's performance on our test bench.
Ratings: Cabasse Eole Speaker System
Build Quality: 90 Good
• Satellites are solid-aluminum spheres
• Shelf stands are best for secure placement
Value: 89 Average
• A classy, stylish speaker system
• Good choice for contemporary, minimalist room décor
Features: 93 Good
• Flexible placement options: floor, shelf, or wall
• Small satellites don't dominate room
Performance: 92 Good
• Good sonic imaging for music and movies
• Well-balanced tonally
• Subwoofer and satellites integrate well
Ergonomics: 79 Poor
• Speaker stands are top-heavy and precarious on carpet
• Satellites are difficult to securely attach to floor stands
Overall Rating: 90 Good
The Cabasse Eole speaker system is an attractive, tasteful complement to a wall-mounted flat-panel or floorstanding rear-projection television. Its sound quality compares to larger speaker systems, yet it doesn't dominate the room.
General Information
Eole Speaker System, $2,395
Cabasse, U.S. Distributor: St. John Group
(877) 588-0075
www.cabasse.com
LATEST VIDEO