B&W DM600 Series 3 Home Theater Speakers
Photos by Tony Cordoza
For half a century, British speaker maker B&W has been very successful following a strategy of incrementally improving its designs year after year. Building on solid foundations is hard to argue with. Sure, it leads to model designations like "Series 3," but these assure potential customers that what they get won't be too different from a well-known, well-respected predecessor, only better. The speakers shown here are all members of B&W's long-standing 600 Series, which might be called the "high end on a budget" range of the B&W line, a line that extends from the entry level all the way up to the vaunted, multikilobuck Nautilus 800 Series models-like those used in London's famous Abbey Road Studios or the control room at George Lucas's Skywalker Sound. The DM602 and DM601 front and surround left/right pairs and LCR60 center speaker we tested all carry S3 suffixes, denoting Series 3, to distinguish them from the S2 versions they replace. One thing that makes the 600 Series speakers more affordable than, say, the 800 Series is cabinets finished in wraparound woodgrain vinyl instead of real wood veneer, but the blond Sorrento oak-grain finish on our samples looked attractive just the same. The five main speakers all have woven-Kevlar woofer cones and aluminum-dome tweeters-longtime B&W hallmarks. They also share subtly textured, round-sided front baffles, with the drivers set flush and the cone surrounds matching the color of the baffle. The look is strikingly handsome, and I'll bet many owners leave the charcoal knit grilles in the boxes. The DM602 and DM601 also include foam-rubber plugs that can be inserted into their front ports to modify their bass output. The effect is to lower the bass-response rolloff and tone down overall bass output a touch.
B&W DM600 Series 3 Home Theater Speakers
HIGH POINTS • Highly accurate tonal balance. • Outstanding high treble . • Impressive performance from a small sub. • Attractive, "different" look. LOW POINT • Surround speakers large for some installations. Click here for FAST FACTS
As always, I began by listening to stereo music on the front L/R speakers alone, operating full-range. My first impressions of the B&W DM602 S3 correlated very well with my expectations based on experience with its predecessor. The sound was clear and highly defined, with solid bass and very extended yet unforced treble. For instance, on "For Taking the Trouble" from Jackson Browne's latest disc
The Naked Ride Home
, the DM602 S3s produced an engagingly crisp and detailed soundstage, giving seductive depth to the organ and lifelike, "floaty" transients to cymbals and other percussion. (One selling point of the 600 Series 3 is its integration of B&W's high-end Nautilus tweeter technology, in which a tapered-tube subenclosure is said to absorb the tweeter's rear-radiating output, resulting in cleaner, more detailed sound. It seems to work.) Midrange balance was right on the money-a tinge more forward on Browne's golden baritone than my reference speakers, but no less open and natural-sounding on his and other male and female voices. The DM601 S3 sent for surround-channel duties is identical to the larger DM602 S3 in everything but woofer and box size. Both have the same waffle-textured front panel and the same dimpled FlowPort in front. This port design, another B&W standard feature, is said to reduce air turbulence and thus port noise, resulting in cleaner bass. I briefly compared the two models head to head. I was surprised to discover just how different the smaller DM601s sounded: distinctly less bright, distinctly "narrower" through the vocal octaves, and noticeably boxier in the upper-bass/lower-midrange region. Though the DM601 S3 is still a good-sounding speaker, I definitely preferred the larger model on its overall tonal merits, not just bass performance.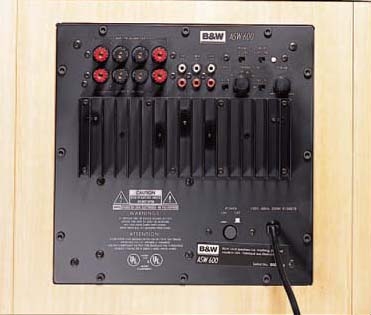 The LCR60 S3 center speaker appears to be a typical dual-woofer horizontal design, though B&W also suggests it can be used as a front or rear L/R speaker, oriented vertically. With mono material like TV announcers, the LCR60 S3 matched the DM602 S3s very well. It sounded a bit darker and a touch less open on male voices, most likely because of the interaction between direct sound from the speaker and sound bounced off the TV screen-a pitfall of virtually all TV-top center speakers. In my studio, the LCR60 also exhibited very little in the way of off-axis tonal shifts. (Tom Nousaine's experience was different-see
"in the lab"
-but I heard what I heard.) That is, when I listened from the far left or right end of the seating area, its overall tonal balance changed little from what I heard when listening head-on. This is rare among two-way dual-woofer center speakers, which often sound distinctly different when you're seated off-center. Then again, the LCR60 S3 isn't really a conventional two-way speaker. It's actually a two-and-a-half-way design, where one woofer handles just the bass, while the other functions as a bass-plus-midrange driver. So the B&W system's center speaker sounds pretty much the same over a broad side-to-side area, which is nice when the whole family is watching a movie. However, since the LCR60 S3's acoustic origin point is the midrange/bass driver, not the tweeter, when it's placed atop a TV you may want to shift it off-center to correct for the roughly 1-foot picture/sound offset, especially if you sit close to the screen, as I do. It looked a bit odd at first, but I got used to it soon enough. The ASW600 powered subwoofer is a medium-size 10-incher with a back panel that includes both line- and speaker-level inputs and outputs, a phase-inversion switch, and continuously variable level and crossover-frequency controls. There are also two additional mini switches. One defeats the sub's internal electronic line-level low-pass filter, sending the signal from an A/V receiver or preamp/processor directly to the amp. The second chooses between A and B equalization curves. A is optimized for maximum deep-bass extension, at a modest sacrifice in output, while B goes for maximum bass slam. With all six speakers deployed-the LCR60 S3 atop my widescreen TV, the DM602 S3s on 24-inch stands to the sides, the DM601 S3 speakers on high side shelves toward the rear of the listening area, and the ASW600 in my well-established subwoofer location to the left and behind the front left speaker-the B&W suite proved a highly capable surround array. Front-stage coherence and smoothness were very fine, as evidenced by the meticulous soundtrack of
Sum of All Fears
. For instance, in the Russian nuke decommissioning-inspection sequence (Chapter 5), the sweep of big-room ambience, small sound effects (like clinking equipment), and dialogue (with its attendant reverberant field) all integrated seamlessly-this kind of subtle stuff reveals both careful sound design and a well-knit surround system. The DM601 S3s in the surround-channel positions did their job with little fuss and excellent sound, especially on multichannel music like the 5.1-channel DVD-Audio mix of Aaron Neville's gospel album
Believe
. In tracks like the aggressively enveloping production of "Oh Happy Day," elements mixed into the surround channels, such as the choir and rhythm-guitar parts, maintained fine clarity and breadth. On movie soundtracks with lots of effects, the 601s revealed their locations a bit more than the bipole surrounds I use in my reference setup, which is not surprising given their conventional monopole design. The complete B&W speaker assembly also sounded great playing "Oh Happy Day" and other solidly dynamic tracks from the Neville disc, particularly when I cranked them up to front-pew levels (and then some) with my 200-watt-per-channel amplifier. The ASW600 subwoofer also impressed me with capabilities that were a good deal beyond what its modest size might suggest. Its output was solid to below 30 Hz, even at real-cinema playback levels in my midsize (about 3,200-cubic-foot) studio. My standard demo tracks for deep-bass grunt delivered surprisingly solid results. On some pop music, including both recordings mentioned previously, the system yielded a slightly looser, bassier signature with all main speakers set to "small" in my surround processor's bass-management menu than with them set to "large." Inserting the foam plugs (B&W calls them "bungs") into the ports of all four left/right satellites also noticeably tightened the bass performance in my setup. Of course, other setups and rooms may behave differently. The B&W DM600 Series 3 speaker system is a very fine performer in a price range that's heavily populated by fine speaker systems. Its performance on movies is outstanding, and it's surely one of the more musically satisfying performers as well. The speakers' finish and styling are fancier and more attractive than those of several more staid competitors. Do you pay a few extra bucks for this elegance? Probably, but who can complain when visual and aural refinement are this well matched?
PDF: In the Lab