Bumblebee
Transformers
franchise, but for much of this film, the title character is the only robot that appears onscreen. Directed by Travis Knight, who previously directed
Kubo and the Two Strings
, it has its share of action scenes, but also makes an effort to be character-driven by exploring the relationship between Bumblebee and the teenage girl who discovers him, Charlie. Set on Earth in the 1980s,
Bumblebee
can be a little predictable and even a bit corny at times, but nonetheless remains thoroughly enjoyable throughout.
Shot on 3.4K video and mastered in 2K, Bumblebee's picture quality is consistently excellent on Ultra HD Blu-ray. While not eye-poppingly dynamic, the disc's Dolby Vision-enhanced video is very natural-looking and suits the 1980s aesthetic of the film's San Francisco setting. Bright daylight scenes reveal excellent detail and rich, saturated color in Charlie's iconic Hot Dog on a Stick uniform with its red, white, blue, and yellow stripes. The amazing color range of the midway rides and signage at the theme park where she works is a delight, but I was more impressed by the lifelike look of shadows and the muted tones of rusting vehicles in a junkyard where Charlie searches for parts to fix her vintage Corvette.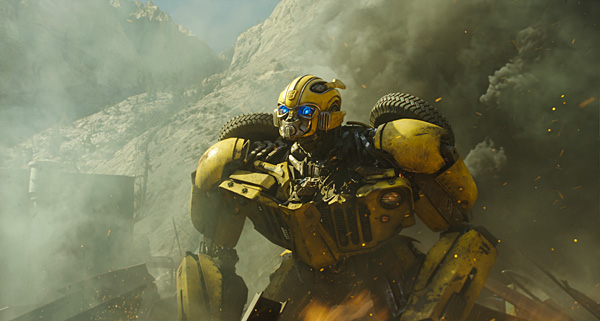 The disc's Dolby Atmos soundtrack is very good, though not up to the reference standard of some previous Transformers films. In the opening battle scene on Cybertron where the Autobots battle the Decepticons, overhead speakers are used effectively to provide spatial cues as the battle rages. Deep bass effects enhance explosions but are used relatively sparsely, and their overall effect is somewhat subdued. I especially enjoyed the classic 80s rock songs used to enhance the nostalgia of the visuals, which include items such as a Sony Sports Walkman and cassette decks built into Bumblebee, who takes the form of a 1970s VW Beetle.
The Bumblebee 4K release also includes a standard Blu-ray with the same Atmos soundtrack and bonus materials found on the main disc plus a digital download. Multiple making-of features and a new motion comic, Bumblebee - Sector 7 Adventures: The Battle at Half Dome, as well as a printed copy of the comic are included, along with deleted and extended scenes.
ULTRA HD BLU-RAY
STUDIO: Paramount
ASPECT RATIO: 1.85
HDR FORMAT: Dolby Vision and HDR10
AUDIO FORMAT: Dolby Atmos with TrueHD 7.1 core
LENGTH: 113 mins.
DIRECTOR: Travis Knight
STARRING: Hailee Steinfeld, John Cena, Jorge Lendeborg Jr., John Ortiz, Jason Drucker, Pamela Adlon
Bumblebee is the sixth entry in the live-action