Bryston Mini A Speaker System Review
PRICE
$4,785
AT A GLANCE
Plus
Coordinated on- and off-axis response
Custom drivers
Strong dual-10-inch sub
Minus
Center not fully timbre-matched
Not much to look at
Sub crossover limited to two settings
THE VERDICT
The Bryston Mini A offers refined performance and—though it's not obvious to the naked eye—serious build quality at a moderate price.
So many audio products start as marketing necessities. But how many start as personal quests? When Bryston's James Tanner wanted to design a one-off "ultimate loudspeaker" for his own reference system, the resulting Mini T floorstanding tower impressed his colleagues so much that it squirreled its way into the upper-echelon marketing channels usually reserved for Bryston's formidable preamps and amps (which, incidentally, include surround-friendly three-, five-, and eight-channel models). This left turn was hardly a surprise coming from Bryston, a company whose early movers and shakers were involved in medical equipment and NASA before moving into high-end audio. Daniel Kumin reviewed a $9,000 system based on the Mini T, using the Mini A as surround speakers, in October 2014 (available at soundandvision.com). The more affordable system reviewed here gives a more prominent role to the Mini A in all four corners of the room, and it adds the new AC-1 Micro center and the weighty Model A Sub dual side-firing subwoofer.
Maple Leaf Rag
In addition to the Mini A monitor ($1,200/pair), the Bryston A series includes the floorstanding A1 ($3,490/pair), A2 ($2,790/pair), and A3 ($2,390/pair) as well as two centers, the big AC-1 Mini ($1,250) and smaller AC-1 Micro ($490). They are all made in Canada by Axiom, whose VP100 v4 center bears a passing resemblance to the AC-1 Micro, though the AC-1 drivers are custom designed for Bryston. The Mini A monitor and Model A Sub are said to be unique to the Bryston line. Finish options include black ash, natural cherry, darker Boston cherry, and (at additional cost) various custom veneers. All the speakers, including the subwoofer, are covered by Bryston's 20-year warranty.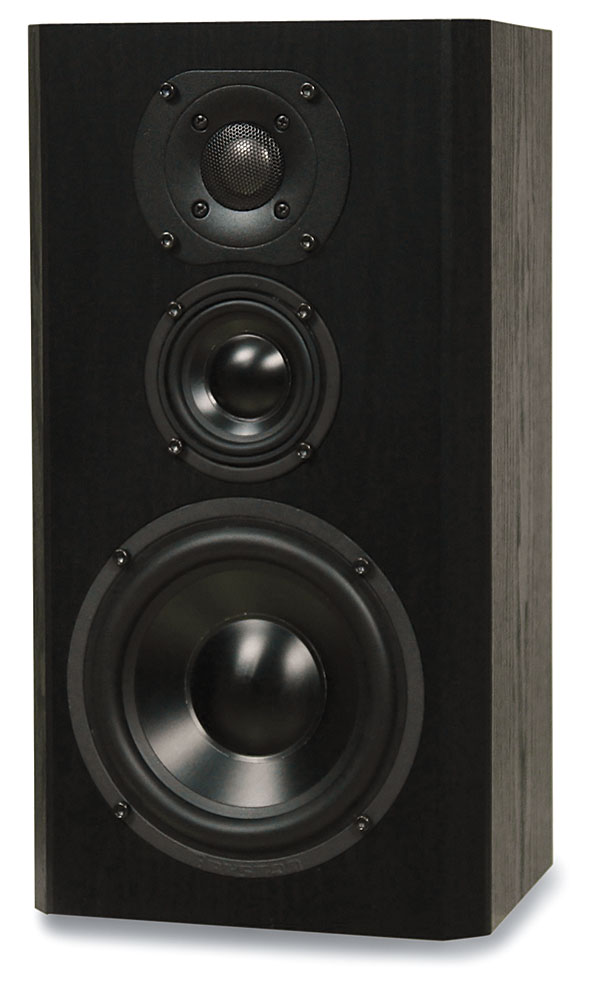 At first glance, these speakers don't look especially fancy. Look closer, and you may notice their trapezoidal footprint, which eliminates parallel side walls and therefore minimizes internal sound-bloating standing waves. Inside the well-braced fiberboard enclosures are custom drivers utilizing die-cast aluminum baskets with what Bryston calls "substantial" magnets.
The Mini A is a three-way design with a 1-inch titanium-dome tweeter, 3-inch midrange, and 6.5-inch woofer, the latter two employing aluminum cones. The tweeter's subtle waveguide is one visible manifestation of Bryston's institutional goal of coordinating on- and off-axis sound and minimizing the speaker's interaction with the room. The bass extension is rated down to 60 hertz (–3 decibels); see our Test Bench measurements for more information. Although our review of the Mini T remarked on its hunger for power, rated sensitivity for the Mini A, at 87 dB, is merely on the low side of average. I found the output level to be acceptable in my listening room with a midpriced receiver. Magnetically attached grilles are on the front, and plastic-nut binding posts are on the back.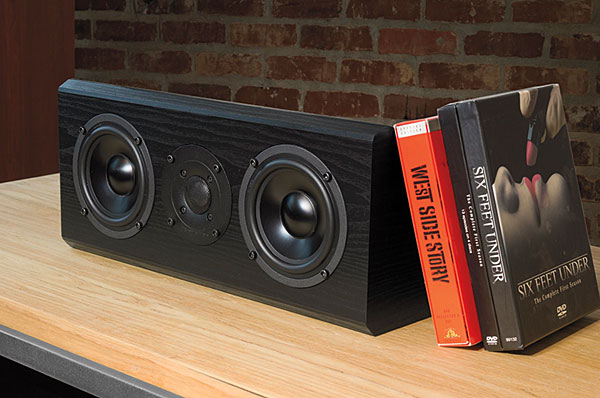 The AC-1 Micro center is a two-way design in an asymmetrical trapezoidal enclosure, which helps with positioning. Place the side with the square corners down, it aims straight ahead; flip it over, it aims upward. Clever! Drivers include two 5.25-inch woofers flanking the tweeter. The monitor and sub have fluted ports designed to minimize port turbulence, while the center's enclosure is sealed.
The Model A Sub has two side-firing 10-inch aluminum-cone woofers in a 48-pound enclosure (which is pretty heavy for a sub this size), backed by a substantial 400-watt RMS amp. In lieu of the typical continuous crossover dial, a toggle switch selects 80- or 150-Hz crossovers; I used the former, but the latter would be better for smaller satellite speakers. Unfortunately, you can't always bypass this internal low-pass crossover, and there is no LFE input. The usual on/off/standby switch gives way to 12-volt trigger in and out jacks. I've lost track of the number of times I've rated a sub lower than the rest of an otherwise fine speaker system, but Bryston takes their subs seriously. This one accounts for nearly 40 percent of the system price. To develop it, Bryston lugged it to the top of a 90-foot measuring tower that uses the great outdoors as an anechoic (non-echoing) measurement environment. Why go to all that trouble? Because, according to Bryston, the accuracy of indoor anechoic chambers is limited below 85 Hz. These people will stop at nothing.
Associated equipment included a Pioneer Elite VSX-53 A/V receiver, which had enough headroom to run the Brystons, though it had to work just a little harder than usual. An Oppo BDP-83SE universal disc player was the source component. All movies were on Blu-ray Disc.
Slowly the Veil Lifts
Some speakers make a first impression that proves unshakable. Others yield their mysteries more slowly, and the Brystons were in that category. Frankly, at first they left me disoriented. I liked their power handling, firm bottom end, and neat dovetailing at the sub crossover. I also appreciated the fatigue-free ease they gave to even the most aggressive movie soundtrack, and the way images seamlessly panned in any direction but up (since this wasn't a Dolby Atmos system). But I wondered if their top end was concealing the truth about the soundtracks of the various forgettable thrillers I used for break-in. It took a while to resolve the doubt that gnawed at me during the movie demos. Only when I moved on to music did I realize how, well, musical the Mini A's top end was, and how realistic its imaging was. Suddenly, I felt it was telling me a lot of what I needed to hear.