Boxee Box Media Streamer Page 2
Watch Videos Posted by Friends
When I check my Facebook wall, I often don't have the time to click on videos my friends have shared. Boxee makes it easy to browse through the videos your friends have posted on Facebook, Twitter, and Tumblr. Clicking on the Friends icon brings up a grid of videos your friends have shared. Now I can sit down and go through several videos at once and watch them on my TV. This consolidation of videos from all three social sites makes it easy to check out the cat kissing a dolphin or the new YouTube video from OK Go. Because Boxee has a Web browser, clicking on a video takes you to the source Website—YouTube, Vimeo, Break, and so forth. If you like the video (or any video you watch on Boxee), you can share it on Facebook, Twitter, or Tumblr with your own comments. However, you can't "like" or comment on your friends' videos and post it to their walls.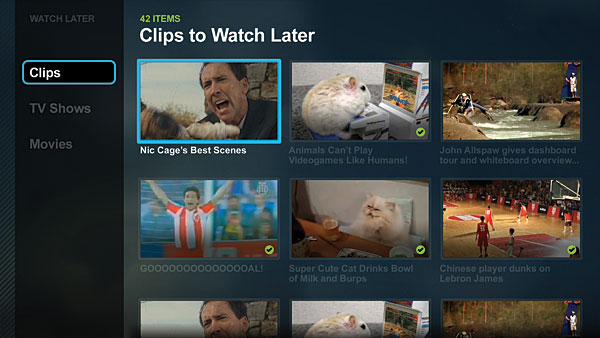 Boxee Live TV and Slingbox
If you've decided to cut the cord with cable and get your TV programming using an antenna, you may miss your cable provider's programming grid. Over-the-air broadcasts don't give you a description of what's currently being shown and certainly not what shows are coming up later in the day. That's the benefit of Boxee Live TV. With an optional USB accessory, you can connect your antenna or basic cable and see the TV show listings for your area. It's a big improvement over simply attaching the antenna to a TV and relying on other guide sources.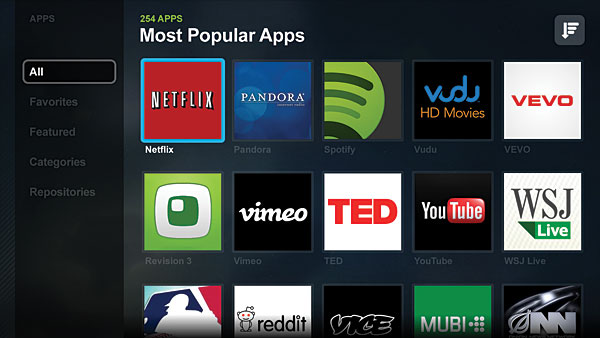 Another live TV option for Boxee is to use the Slingbox app. If you have a Slingbox attached to your cable or satellite box or DVR, and/or to a DVD or Blu-ray player, you can watch all of that content on your Boxee as well.
Play the Movie You Want
When you want to watch a particular movie or see what movies are available to watch, it can be annoying to visit each movie-streaming site to find the title you want. The holy grail of media streamers is the ability to see a list of movies, click on the one you want, and watch it without having to search the Web. Boxee does just that.
Click on Movies in the menu bar, and you'll see a grid of movie cover art. You can see the most popular titles all together or choose a genre. Once you choose a movie, you'll see a list of where it's available to view. It could be a free Website, or for rent on Vudu, or if you own it, you'll see a direct link to play the movie from your collection. If you aren't ready to watch it now, choose Watch Later to find it easily when you want to see it.
You can find TV shows in the menu bar by clicking on the Shows icon. Organized by the series titles, a list of seasons and episodes displays when you click on a show. The same type of Website or streaming options are available.
Unfortunately, the viewing options are limited. Boxee has made a deal to show current CBS TV shows but is presently blocked from the ABC, NBC, and Fox Websites. Also, Boxee only lists movies that can be rented from Vudu. If Boxee could search for titles in Netflix and stream from all the networks, this feature would be a home run.
Your Media Library, Only Better
To watch a movie you have saved to a media library, you must choose the source—on a NAS drive or computer—then navigate through lists of folders and files to find the movie. If you have purchased the movie online, it should have cover art and other data. But if you've downloaded it using a (legal) Bit Torrent site or other unconventional way, it may not have cover art or all the information available.
Boxee scans your chosen video folders and uses the IMDB database to add cover art and metadata—descriptions, cast and crew, and type of show. If Boxee doesn't find a movie, you can click on Identify in the sidebar to search for the correct information.
Boxee displays all of your movies together in a grid, and you can play them without worrying about finding them on a particular computer or hard drive. TV shows are automatically identified and separated, showing up in a grid under the Shows menu. What's more, Boxee categorizes the videos by genre so you can browse your collection of action, romance, fantasy, sci-fi, or other types of movies.
Boxee Menus and Remote Control
Here is Boxee's Achilles' heel. Boxee's home screen and menus have many options, which tend to overwhelm the novice user. To make matters worse, there are no Back or Return buttons on the remote. The Menu button has multiple uses and doesn't always bring up the menu. Instead, it may act as a Back button. Plus, the only way to access the home screen is through the menu. A Home button would be nice, too.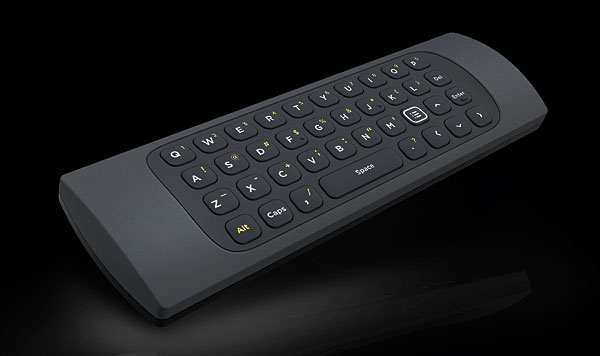 Boxee's remote was one of the first to offer a QWERTY key- board. Still, the buttons are small, and there's no backlighting. You'll need the lights on and your glasses to control your Boxee. Also, the remote is a symmetrical rectangle. I can't tell you how many times I held it backward and pushed all the wrong buttons.
Picture and Sound Quality
Boxee does a good job with picture and sound quality. Set it up to automatically choose the best resolution, and it can handle up to 1080p/24 and can pass through a 3D signal. It supports most audio surround modes. I watched Men in Black on Vudu in 1080p with Dolby Digital surround sound. While other media streamers may have problems with artifacts in low-resolution videos like those from YouTube, Boxee handled them well. Some videos were blurry in full screen but were rarely unwatchable due to artifacts.
The Bottom Line
If you're looking for a simple media streamer that can play videos from popular online video services, there are others that will fit the bill. However, if you're looking for a robust media player and media streamer filled with features, Boxee Box will provide hours of entertainment and won't disappoint you. The Boxee Box by D-Link retails for $180. Just be patient with loved ones if they need help.