Boston Acoustics Reference E Series E70 Speaker System
Take it to the limit.
I've come to appreciate that, when it comes to evaluating speakers, first impressions count—big time. Immediate gut reactions typically run from, "I like them," to, "Yuck, turn them off." The latter tend to instantly put the kibosh on any prospective speaker purchase, but initial positive responses usually get revised as you hear different kinds of music and movies—something along the lines of, "Wow, the bass is amazing," or, "The imaging is spectacular." My first brush with Boston Acoustics' new Reference E Series E70 speakers took place at D&M Holdings' facility in Mahwah, New Jersey. (D&M is the parent company of Boston Acoustics, Denon, and Marantz, along with McIntosh, ReplayTV, Snell Acoustics, and a few other brands.) I saw and heard a lot of cool products that day, but I was instantly smitten with the E Series' transparent sound and sleek good looks. The E Series lineup includes the flagship E100 tower speakers ($2,500 each); two L/C/Rs, the E70 ($800 each) and E50 ($500 each); and two monitors, the E60 ($600 each) and E40 ($400 each).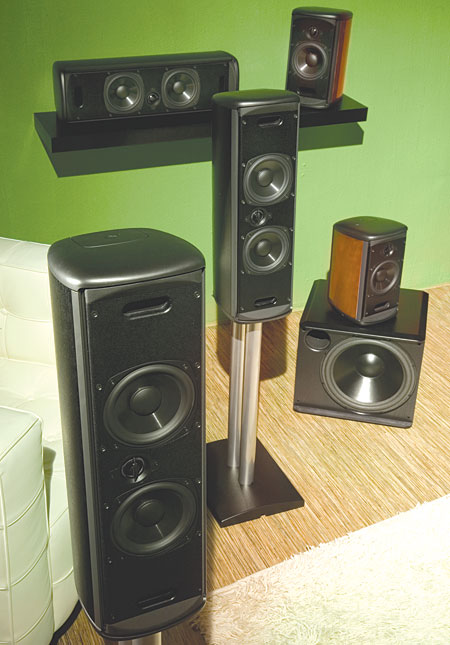 The Second Date
Fast-forward a few months to when I received a set of E Series speakers for review. As I lifted the surprisingly hefty E70 and E60 out of their shipping boxes, I couldn't help but be impressed with their build quality.
Within a given brand's speaker line, many models may share different combinations of similar woofers and tweeters. One thing that often distinguishes the higher-end models are their better and/or bigger cabinets. Boston Acoustics' design team was definitely thinking along those lines when they developed StabiliTek, a multilayer cabinet system that combines rigid alloy extrusions with acoustically inert sandwich construction for all of the E Series speakers. The cabinets' aluminum and medium-density-fiberboard parts are acoustically damped with foam gaskets, and the deep channel that runs down the speaker's rear, central, metal backbone can also conceal speaker wires. The purposeful lines and visible hex-head bolts on the speakers' backs lend a macho flair to the designs. My E60 and E70 review samples were fitted with satin-finished ebony walnut and high-gloss cherry wood panels. The ebony is nice, but the cherry is absolutely gorgeous. Boston Acoustics also offers unfinished panels, so you can more easily custom-finish your E Series speakers.
The E70 and E60 feature a newly designed 5.25-inch copolymer woofer with a 1.5-inch voice coil. The E Series models all use Boston's 1-inch aluminum dome VRH.O. tweeter, which features an extruded aluminum heat sink to improve power handling. The tweeter is slightly offset from the cabinet's center to minimize diffraction.
As the E70 is an L/C/R, you can position it either vertically or horizontally; Boston Acoustics provides a thick rubber pad with the E70 that serves as a nonslip cradle for center-channel duty. The speakers' end caps have a removable foot bolted into place. It can either conform to the cap's curves or, when you turn the foot around, provide support for shelf-mounting the speakers. Boston Acoustics also offers dedicated wall brackets and sexy-looking, heavyweight metal floor stands.
Selling for a very reasonable $479, the new XB6 subwoofer ably augmented the lower octaves of my E Series system. The sub's medium-density-fiberboard cabinet feels sturdy enough, but knuckle wraps reveal that it is a rather hollow-sounding box. Still, it's the bass that counts, and the XB6 reached down to around an apparent 35 hertz in my home theater. Older Boston subs had downward-firing woofers, but the new-generation XB models all have front-mounted woofers and ports to make them easier to place in cabinets. Oh, and tweaking the sub level is a breeze, thanks to the volume control's placement on top of the cabinet. I was perfectly satisfied with the XB6's oomph, but Boston also offers another 12-inch model, the slightly larger XB8 for $679, which might be even better.
Getting in Tune
I can't say I'm always thrilled with the sound of skinny L/C/R speakers that are designed first and foremost to look good next to a flat-panel TV. The prime issue with the breed is a lack of midbass, which tends to make it tougher to achieve a seamless blend with subwoofers. That's not a problem here; the E70's cabinet is a little more fully figured than its trendily thin competitors, so it can house slightly larger woofers in a slightly larger enclosed volume, and that makes all the difference. The E70 sounds clean and clear, with tuneful bass down to around what sounds like 80 Hz in my room.
When I listened to the E Series speakers, I switched between two sets of electronics—my Sunfire Theater Grand TGR-3 surround processor with an Ayre V-6x amplifier and a $1,300 A/V receiver. In both cases, the basic character of the E Series' sound was exactly the same, but the Sunfire/Ayre setup yielded a more transparent and delicate treble, and the imaging bordered on holographic. This just goes to prove how good the E Series speakers really are. Feed them the best-quality signals, and you'll hear your investment pay off. I also noted resolution gains when I upgraded from single-wire to biwire connections with my Tributaries Silver Series speaker cables. These reference Boston speakers definitely appreciate the finer things, if you're of a mind to hear the differences.
The entire E Series line is timbre-matched, so you can mix any of the five E Series models in your home theater installation. I've heard that claim before, but the small E60s sounded almost exactly like the larger E70s when I balanced their volume levels with pink-noise test tones during setup.
The Powers of Persuasion
I knew something was up when the E Series speakers awakened my long-dormant appreciation of Steely Dan's music. Maybe I was overexposed to Aja in the 1980s, but I haven't played any Dan at home in ages. I accidentally grabbed Countdown to Ecstasy, and the music and twisted lyrics seemed fresh again. The tightest rhythm section in rock kept me in groove mode, and Denny Dias' burning guitar solo on "My Old School" put a big, stupid smile on my face.
Harry Connick, Jr.'s big band mixes funky jazz, gospel, and blues on his rousing tribute to New Orleans, Oh My Nola. The E Series positively wailed on "All These People," a moving tune about the folks who were left behind at the Convention Center after Hurricane Katrina. The sound was beautifully balanced, and the big band's dynamics were wide open. The Boston speakers were obviously conceived with home theater in mind, but they also sounded spectacular with music.
I next watched The Illusionist DVD and promptly forgot about listening to the speakers' sound. Edward Norton plays Eisenheim, a master magician in early 20th-century Vienna, and the scenes shot inside a theater sounded eerily natural. The surround mix put me in the midst of the audience's hushed voices and gasps of wonder as Eisenheim performed feats of wizardry.
I finished off my evaluations with the Miami Vice DVD, which amply demonstrated the Bostons' athletic abilities. When I had the volume goosed high, the onscreen firepower loomed large; the kinetic kicks were far beyond what I'd expect from such lifestyle-friendly speakers. The baby 12-inch sub produced a low-down vigor that made my home theater throb. The compact sub is my recommended mate for the E Series. So, it looks like my first impression was spot on: Boston's E Series speakers are, in a word, excellent.
Highlights
• Boston's new curved-aluminum and medium-density-fiberboard cabinets rival far more costly high-end designs
• Pure and clear sound