The Boss Baby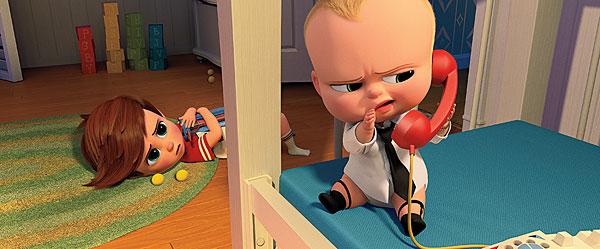 The Boss Baby is a hoot, including great voiceover work from everyone, particularly Alec Baldwin as the baby. The wildly fanciful premise makes it one of the funniest films of 2017. Kids will be enthralled and even adults might find it a welcome change from today's gross-out, live-action comedies. There's also a ton of homages to other films, including Lord of the Rings, Raiders of the Lost Ark, Mission: Impossible, Mary Poppins, Glengarry Glen Ross, and even Galaxy Quest.
While most of the computer animation here is standard issue, several fantasy sequences stand out. Produced in an animation style combining the old fashioned and modern, these scenes are the most richly colored in the film, adding eye-popping style to what might otherwise have been a look interchangeable with dozens of other fun-but-been-there-done-that animated features.
The standard Blu-ray's video is excellent, but those vivid colors shine most brilliantly on the Ultra HD disc. Combined with its top-shelf resolution, this package has much to offer even to adults still stuck in an animation-is-just-for-kids world. But like most animation, the film is almost uniformly bright throughout and doesn't give the UHD disc much opportunity to show off its high dynamic range on bright highlights.
The UHD disc's Dolby Atmos soundtrack (auditioned here in 5.1) is a solid effort but won't challenge most systems. Even a rocket launch is relatively low key in its use of dynamic range and deep bass. The otherwise very good music score is mixed low enough in level to keep the film's dialogue front and center. That's not necessarily a bad thing in a film with as many laugh-out-loud one-liners as this one.
The extras (on the Blu-ray Disc) include extensive shorts, making-of featurettes, deleted scenes, and music videos from other DreamWorks animated features. They're fun but mostly short; a commentary track would have been welcome, but they're increasingly rare these days.
Blu-Ray
Studio: DreamWorks Animation, 2017
Aspect Ratio: 2.35:1
Audio Format: Dolby Atmos (Ultra HD); DTS-HD Master Audio 7.1 (Blu-ray)
Length: 97 mins.
MPAA Rating: PG
Director: Tom McGrath
Starring: Alec Baldwin, Steve Buscemi, Jimmy Kimmel
When a new baby arrives at the Templeton house, seven-year-old Tim has his world turned upside down. He's even more flummoxed when he sees that the baby is wearing a suit, carrying a briefcase, and is here on a mission from BabyCorp, where babies come from. Puppy Co., the company that Tim's parents work for, is threatening BabyCorp's only market by producing cute, cuddly, "forever puppies" that threaten to eliminate the human passion for babies.

SPONSORED VIDEO