BOSEbuild Headphones and Speakers: What Your Kids Need for Christmas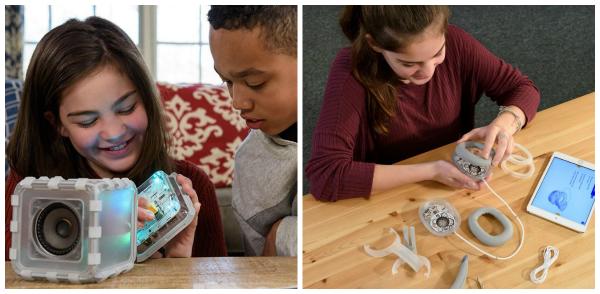 Have you ever wondered how you could get your son or daughter more involved in your love of audio equipment, music, or engineering in general? STEM is an important agenda item, but what can you do, right here, right now to spark an interest in your children? Bose has the answer. Instead of buying your children a pair of headphones or a speaker they'll open and use, how about you all work together to build them up from a complete kit?
BOSEbuild is a division of the Bose Corporation we know and love, founded by Amar Bose, an engineer and educator. BOSEbuild's mission is to find new ways to inspire kids' curiosity and spark their instinct for exploration. Remember how much fun the Heathkit electronics were when you were young? Want to show your kids how much fun and educational building their own gear can be? Bose has created two products that are meant to do just that.
Both BOSEbuild products are designed for kids age 8-18; either headphones or a Bluetooth speaker in a complete DIY kit. They contain all the parts needed, and the products don't require any additional tools or parts. Both have a "build" app that's only available on iOS products, but once complete, Android or Apple products can be used as the source. The app takes kids through electronics and engineering concepts in a way that makes them easily understand how speakers and audio wiring works, no soldering required.
The BOSEbuild headphones have customizable backing and LED lights that can be programed to remain one color or change with their music. Once built, they'll sound similar to regular Bose products, but your kids can change the look whenever they want. They use Bluetooth or a wired connection, but don't have Bose' legendary noise cancellation.
The BOSEbuild Speaker Cube is a single Bluetooth cube speaker with a lighting package that can be customized via the app. Kids will learn about electromagnets and speaker design. All the wiring connections are clearly labeled and easy to connect even for smaller kids.
I owe a lot of my interest in audio engineering to back when I was a kid, taking apart the phones in the house to see how the speakers worked, repairing our old player piano whenever the keys got stuck or the player mechanism failed, and helping my father wire up his hi-fi stereo system with Quad Electrostatic loudspeakers and a Velodyne subwoofer way back when. I wonder how many other people can trace their interest in audio or engineering back to a childhood experience?
The BOSEbuild headphones are on sale now for $119 and the Speaker Cube is currently $69, both on build.bose.com. If you order today, you and your children can be building up speakers and sharing your love of audio on Christmas morning. Who knows what you'll inspire in your kids? You might be looking at the next Dr. Bose across your Christmas dinner table.