Blu-ray Review: The Illusionist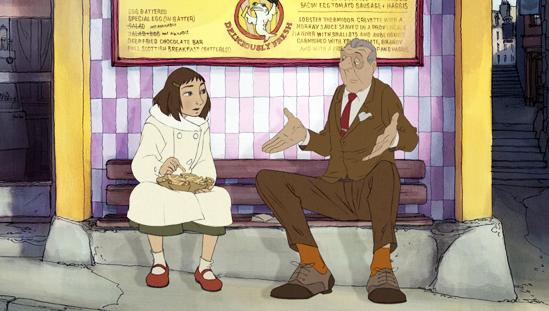 There's a particularly wonderful scene in The Illusionist, the animated movie adapted and directed by Sylvain Chomet (The Triplets of Belleville) from a previously unfilmed script by Jacques Tati. When the Monsieur Hulot-like character familiar to fans of Tati goes into a movie theater, there's Tati's Mon Oncle up on the screen in live action. It's a charming and beautiful moment, but it simultaneously makes The Illusionist's main flaw obvious: the absence of the inimitable real actor from the rest of the film. It's like Yellow Submarine's lack of the real Beatles (until the very end). Still, there are many pleasures to be had on this Blu-ray.
The droll, slightly sad story is similar to that of Charlie Chaplin's Limelight. An aging, down-on-his-luck music-hall performer shares a room with a much younger woman, in a theatrical boarding house that's filled with even more desperate characters. Just as he brings magic into her life with his illusions, she gives the same to him through her youth.
The Illusionist was nominated for Best Animated Feature Film; it and How to Train Your Dragon lost out to Toy Story 3. Although the traditional animation style of this film doesn't have the three-dimensional look of a Pixar movie, the 1.85:1 picture on Blu-ray still has dimension, depth, and convincing perspective, with plenty of movement into and out of its layers. Images are bright and clear, with a subtle yet wide range of muted pastels and washes of monotone that are somewhere between the colors of an illustrated children's book and Hergé's Adventures of Tintin comic-book series. There's plentiful detail in the drawings, providing much for the eye to wander over in every scene, and shadows are particularly convincing.
LATEST VIDEO