Blu-ray Review: The Illusionist Page 2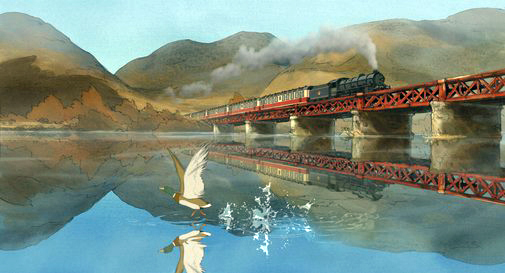 Like Tati's own films, The Illusionist is virtually a silent movie, but it's filled with skillfully used music, effects, and mumbling to help involve the viewer. The result is truly impressive, a DTS-HD Master Audio 5.1 soundtrack that's full, loud, and open.
Composed by the director, the score is a mélange of jazz, Frenchy cabaret, pop, and bagpipes. It comes at you from all sides and is very natural sounding, with separation both among the instruments and from the mosaic of abundant city sounds. At the same time, the quietest slurp or sigh is crisp and distinct. Door knocks, footsteps, and the playing of a double bass are all suitably bassy. There's much accurate placing and panning of effects — maybe more than in any other film I've come across — with cars, trains, and buses constantly flowing by and traveling diagonally through the soundstage. As for dialogue, what few familiar French declarations there are come across well.
The best extra is a making-of featurette showing the process of building the animations, from early drawings to the final figures brought to life on computers — but at just 3 minutes, it's obviously way too short. Apart from that, you merely get 2 minutes of line tests (where primitive figures move around in the finished backgrounds) and 9 minutes of before-and-after comparisons of the same. A DVD version of the film is included.
LATEST VIDEO