Blu-ray Review: Another Year, and more Page 2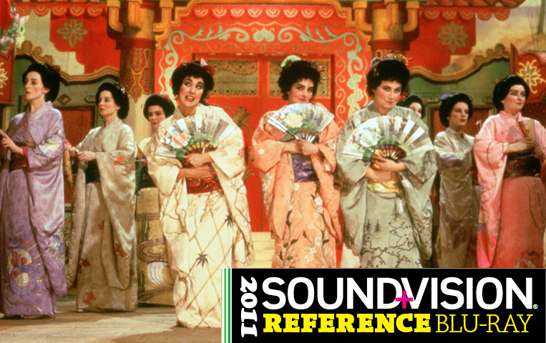 Topsy-Turvy (The Criterion Collection)
Movie: 4 stars
Picture: 5 stars
Sound: 4 stars
Extras: 4 stars
Mike Leigh's Topsy-Turvy (1999), about the creation (and the creators) of the 1885 comic opera The Mikado, offers the subtly joyous spectacle of superb actors playing superb actors as they go about the business of establishing roles that are now iconic. In the meantime, Jim Broadbent and Allan Corduner go far beneath the skin of Gilbert and Sullivan to examine their genius and their personal demons, and Leigh gets us into the mindset of the late Victorian period without shoving our noses into it.
The 1.78:1 picture on Blu-ray glows, in every sense of the word. We don't usually associate Leigh with home-theater spectaculars, but the musical sequences in Topsy-Turvy fill the high-def screen with light, color, and detail, to the point where you may simply want to play those scenes repeatedly. Especially radiant are the costumes and the stylized makeup, both of which won Oscars (the only ones yet awarded to Leigh films). The non-musical sequences are almost as good, owing to the burnished colors and shadows of Dick Pope's cinematography.
The DTS-HD Master Audio 5.1 sound doesn't come at you from all sides like that of an action movie, but it offers pleasing ambience and clarity throughout. And the musical scenes get a nice little bump from the subwoofer.
Leigh provides an engaging and comprehensive commentary, though he doesn't explain all of the little wanderings from historical fact. (There aren't many.) Hidden in the extras, among the making-of and analytical featurettes, is a genuine stealth bomb: Leigh's 1992 short A Sense of History, a monologue written and performed by Broadbent, who quietly annihilates the English landed aristocracy with a savagery unequaled even in The Ruling Class.
(Photo courtesy The Criterion Collection)
LATEST VIDEO