Billy Lynn's Long Halftime Walk
The story is quite boring, and while it showcases the technology, it doesn't do much to entertain the audience. The film follows Billy Lynn and his army squad who are home from Iraq on a PR tour after Lynn is inadvertently caught on film running into harm's way to save a fellow soldier. The highlight of the trip is a Thanksgiving football game where Lynn gets to be part of the halftime festivities while Destiny's Child performs. Through a series of flashbacks, we see why Lynn joined the army, what actually happened in Iraq, and how it later affects him and his squad mates.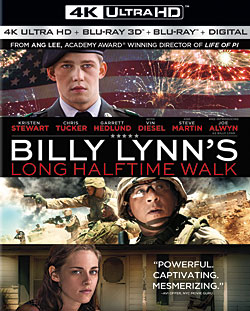 The UHD presentation is mesmerizing, but not necessarily in a good way. Yes, it's clear and smooth, without losing any detail, but I found the picture quality too distracting. In practice, it looks like a cross between an afternoon soap opera, a documentary, and a corporate training video. Yes, this is the first UHD to be released in 60 fps, but first doesn't always means best. The 4K imagery teems with detail, giving it an almost 3D appearance because of the heightened depth of field, and the wide color gamut shines, especially during the halftime show as well as the various ribbons and medals on the dress uniforms. I popped in the 3D for comparison's sake, and it's also pretty impressive in its own right.
Although the UHD set comes with three versions of the film—UHD, Blu-ray, and Blu-ray 3D, only the premium UHD version includes an Atmos track, while the other two get DTS-HD Master Audio 5.1. The differences between the tracks range from minimal to extraordinary, with the latter happening during the battle scenes and frenetic halftime show, which place you right in the middle of the stadium. Just as you'd expect, there's ample directional cues and intense bass.
Supplements include deleted scenes and some featurettes on the Blu-ray Disc. The UHD has a five-minute documentary in 4K showcasing the technology used in the film and the challenges of being an innovator.
Blu-Ray 3D
Studio: Sony, 2016
Aspect Ratio: 1.85:1
Audio Format: Dolby Atmos / TrueHD 7.1 core
Length: 110 mins.
MPAA Rating: R
Director: Ang Lee
Starring: Joe Alwyn, Kristen Stewart, Steve Martin
Director Ang Lee's middling story really isn't the reason to force your way through this film; it's the innovative photography that's worth your time. Lee shot the film at 120 frames per second, which is a perfect multiplier of the UHD Blu-ray's 60 fps and Blu-ray/Blu-ray 3D's 24 fps, so it made it easy on Sony to release the film on multiple formats and into theaters.