Bigger Better Bass Page 9
Pinnacle Baby Boomer ($850) Another small-box, twin-driver sub sporting a powerhouse amp.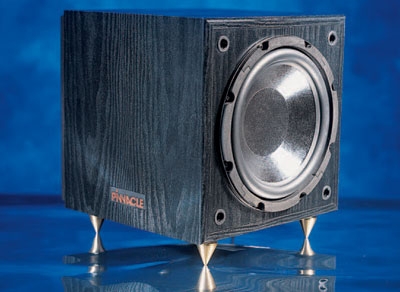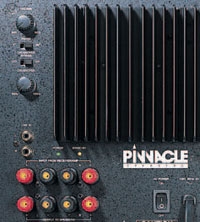 What's in the Box? • Cabinet design sealed • Finish flat black vinyl • Driver size 8 inches (two) • Rated Power 600 watts • Controls variable 50- to 150-Hz low-pass crossover, crossover bypass, level, phase switch, auto-on • Warranty 7 years parts and labor, 2 years amplifier
How Big Is It? • Dimensions (WxHxD) 11 1/2 x 10 x 11 inches • Volume 3/4 cubic foot • Footprint 7/8 square foot • Weight 30 pounds
Ins & Outs • line-level input • speaker-level input and output
How Low Does It Go? • Bass limit 20 Hz at 74 dB SPL This is astonishing performance for a sub that measures less than a cubic foot.
How Big the Bang? •Average SPL from 25 to 62 Hz 93.2 dB • Maximum SPL 104 dB at 62 Hz • Dollars per dB $9.10 The Baby Boomer's peak SPLs and their distribution over its frequency range were below average.
The Bottom Line The Baby Boomer had excellent extension, but like many super-small subs, its output diminished quickly at lower frequencies. Its extended upper range, however, means that the Pinnacle could be a good match for many satellite speakers.
Manufacturer Pinnacle Speakers, www.pinnaclespeakers.com, 800-346-2863
LATEST VIDEO