Bigger Better Bass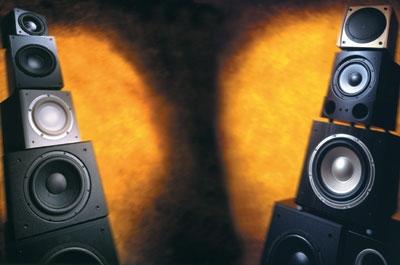 Photos by Tony Cordoza What do these ten subwoofers, ranging from $399 to $1,690 in price, from 8 to 15 inches in Driver size, and from 1 to 5 cubic feet in overall size, have in common? They were submitted in response to our call for subwoofers that would appeal to a music lover or home theater enthusiast looking to replace his current sub with one that offers fuller, deeper bass at a reasonable price.
And you will find some true values here - subwoofers that can go unusually low, achieve unusually high sound-pressure levels, use unusually small cabinets, or offer first-rate performance at an unusually low price. But impressive spec sheets and handsome product brochures can't tell the whole tale, so I carefully listened to and tested each sub before deciding which ones are the real bargains. (I even measured the enclosure dimensions myself, sometimes coming up with figures different from the Manufacturers' specs - usually larger because I included grilles and protrusions like output terminals.) See page 100 for an explanation of the test procedures and the lab measurements not given in the write-ups on the individual subs.
When it comes to features, all of these subs have the basics, like line-level inputs, a volume and phase control, a variable-frequency electronic crossover, an internal amplifier, and a long power cord. Most turn on automatically when an input signal is sensed and shut down when there's no signal for several minutes. It's the less common features - like additional line inputs, speaker-level inputs, filtered speaker-level outputs, and a crossover bypass (so you can use the bass management in your receiver or preamp) - that help some models stand out from the pack.
Like you, I was primarily concerned with how these subs performed. You'd expect them to do well in the midbass. The big question is, can they go nice and low - into the 25-Hz region of synth bass lines, bass-drum thwacks, and action-movie explosions - and still provide smooth, even sound at a decent volume? That's what separates the men from the boys in the big, bold world of subwoofers.