Bigger Better Bass Page 4
PSB SubSonic 5i ($449) Another small sub that lays claim to a big, deep sound.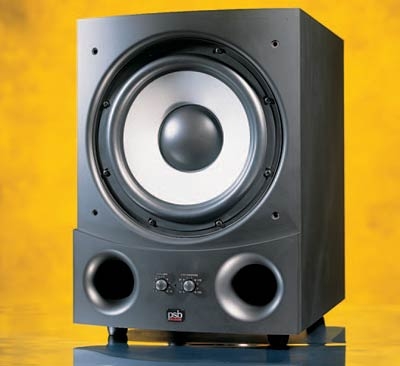 What's in the Box? • Cabinet design ported • Finish black ash vinyl • Driver size 10 inches • Rated Power 150 watts continuous, 225 watts dynamic, 450 watts peak • Controls front-mounted variable 50- to 150-Hz low-pass crossover, crossover bypass, level, phase switch, auto-on • Warranty 1 year
How Big Is It? • Dimensions (WxHxD) 12 3/8 x 17 x 15 1/2 inches • Volume 2 cubic feet • Footprint 1 3/8 square feet • Weight 31 pounds
Ins & Outs • line-level input • speaker-level input and output
How Low Does It Go? • Bass limit 25 Hz at 87 dB SPL The PSB produced the kind of full, deep bass you'd expect from a far larger and more expensive sub.
How Big the Bang? • Average SPL from 25 to 62 Hz 98.1 dB • Maximum SPL 102 dB at 62 Hz • Dollars per dB $4.58 Its amazingly even output means this sub will sound more powerful than its SPL figures suggest without ever being boomy.
The Bottom LinePSB's SubSonic 5i is compact in dimensions, heft, and price. While it could produce only moderate SPLs, it delivered more uniform output over its bandwidth than any other subwoofer in this group.
Manufacturer PSB Speakers, www.psbspeakers.com, 888-772-0000
LATEST VIDEO