Bigger Better Bass Page 10
B&W ASW 675 ($1,000) Can B&W coax its legendary refined sound out of this moderate-size but hefty box?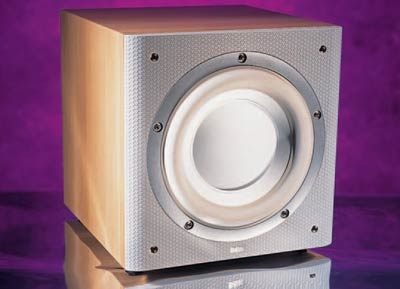 What's in the Box? • Cabinet design sealed • Finish black ash or light oak vinyl • Driver size 10 inches • Rated Power 500 watts continuous • Controls variable 40- to 140-Hz low-pass crossover, crossover bypass, selectable 80-Hz high-pass filter, A/B EQ, level, phase switch, auto-on • Warranty 5 years speaker, 2 years amplifier
How Big Is It?
• Dimensions (WxHxD) 13 3/8 x 13 3/8 x 15 3/4 inches • Volume 1 3/4 cubic feet • Footprint 1 1/2 square feet • Weight 56 pounds
Ins & Outs • line-level input, two line-level outputs • no speaker-level input or output
How Low Does It Go?• Bass limit 16 Hz at 73 dB SPL (EQ mode A) 25 Hz at 89 dB SPL (EQ mode B) The B&W exhibited terrific deep bass in both of its EQ modes.
How Big the Bang? • Average SPL from 25 to 62 Hz 98.6 dB (EQ mode A); 99.2 dB (EQ mode B) • Maximum SPL 106 dB at 62 Hz (both EQ modes) • Dollars per dB $10.14 This sub gave average or above-average performance in every respect and produced a nice even output across its entire frequency range.
The Bottom Line The ASW 675 delivers excellent deep bass, uniform output across its dynamic range, high-quality styling and finish, and an exceptional warranty, but at a relatively stiff price.
Manufacturer B&W Loudspeakers of America, www.bwspeakers.com, 978-664-2870