BG Z-62 Speaker System
On a different planar.
Recorded music is a cozy conspiracy between conventional speaker technology and listening expectations. Most speakers are made of cones and domes, so we've gotten used to their particular dispersion patterns and regard them as a normal part of music. The first experience of planar speakers, like BG's Z-62, can come as a shock to the listener who's never heard a planar tweeter before.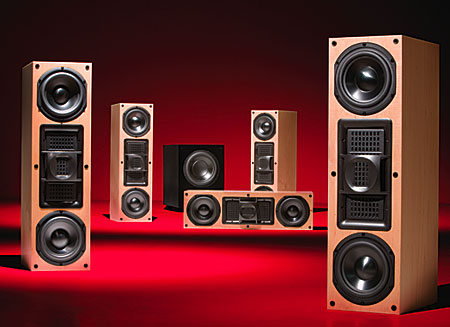 It's a different sound, so it feels different right off the bat. People usually describe it as sounding light and airy. The sensation of hearing something new continues as you move around the room, discovering that the limitations of conventional cone-and-dome products no longer apply. Suddenly music is no longer shaped so much like a beam. Music is everywhere.
I've heard and even reviewed planar speakers before, but it's been so seldom that the Z-62 sent electric charges through my brain on the first listen. Like other speakers animated by planar tweeters, these BGs play by their own set of rules. The listener must adapt. His or her relationship with music and movies subtly changes during the listening experience.
Tall Boy
Nearly 29 inches in height, the Z-62 is no compact satellite, although it's still small enough to require a stand. On the back are biwirable gold-plated hex-nut binding posts and a pair of ports. But the front is where the action is.
On the front of the Z-62, between two 6.5-inch aluminum-cone woofers, is a mid/tweeter assembly that I've never seen before. It includes two flat-planar drivers mounted one in front of the other. On top is the tweeter, measuring 3.5 inches high by 2.65 inches wide. Beneath that is a larger planar unit that serves as the midrange driver, measuring 10 inches high by 5 inches wide. Both drivers are made of Teonex film with an aluminum voice coil etched into it. The sheer visual fascination might tempt you to leave the grilles off, but the speakers sound better when you leave them on.
BG also sent the Z-Sub i subwoofer, a conventional-looking sub with a couple of nice touches. Its twin 10-inch drivers (one forward-firing, one downward-firing) include an active woofer and a passive radiator. The cone feet are not metal or plastic but rubber, and their tips are blunted, not sharp. It's about time a speaker manufacturer showed a decent regard for my fine Bulgarian machine-made rug.
I put the BGs to work with a Rotel RSX-1065 A/V receiver. The resolution of these speakers will not tolerate a dirty-sounding receiver. Signal sources included an Integra DPS-10.5 universal disc player, Rega Planar 25 turntable, Shure V97xE cartridge, and NAD PP-1 phono preamp.
Sneaky, Sneaky
Possibly the sneakiest surround soundtrack I've heard lately is Cloverfield (DVD). Like all of these auditions, it was in Dolby Digital 5.1. This horror movie is ostensibly shot on camcorder by witnesses to convulsive events in New York. It starts at a party, and the dance tunes sound just as though they were recorded by a cheap built-in microphone in a medium-sized apartment full of people. When the action starts, driving the participants out into the chaotic streets, suddenly there are surround effects. The low- frequency-effects channel acquires more and more weight as the movie goes on. When the heavy artillery gets going, the sub has plenty to do. The BGs thrived on this brilliantly ambiguous material, revealing the cleverly arranged layers of effects, but not clinically enough to deprive them of their impact.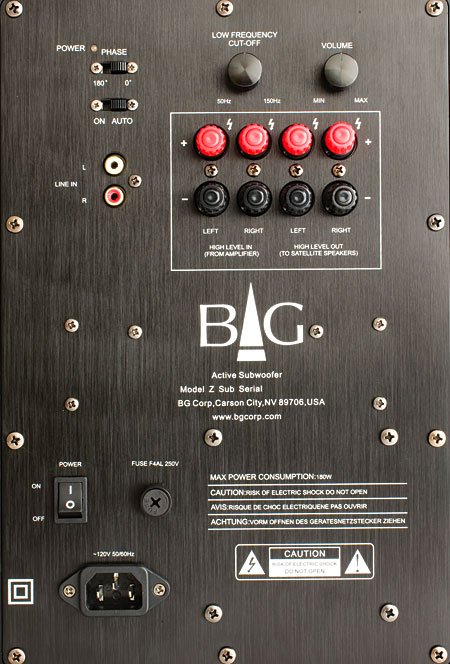 Even Money showed that the BGs handle more conventionally recorded dialogue with ease. Because of the way my room is set up, the two-cushion sofa bed has both an on-axis cushion and an off-axis cushion. (I use the latter when a guest is in the hot seat.) From either cushion, I could catch the dialogue without straining or manipulating the volume. When I moved around, the mids and highs were consistent in both intelligibility and character.
Well-defined and pleasingly solid bass lines popped out of the jazzy musical score, and the crossover between the speakers and the sub was not obvious. This speaker/sub system sounded like a set of full-range speakers with a good bottom end. I briefly switched off the sub and ran the speakers full-range, which produced a more lightweight presentation. You wouldn't want to run these speakers without a sub.
After all that rarefied entertainment, I was disappointed to learn how bland Shrek the Third was. The effects were numerous and not abrasive, but they all sounded like low-resolution MP3. Voices were clear, as you'd expect in animated entertainment. The pop music that runs over the credits bore traces of synthesized vocal manipulation. A revealing set of speakers always tells the truth about the quality of source material—and is limited by it.
Ping-Pong with Jim
The DVD-Audio version of L.A. Woman by the Doors is now an eight-year-old museum piece. And it's showing its age—Jim Morrison's "Mr. Mojo risin'" line ping-pongs around all four corners of the soundfield. Still, the vocal usually occupies the center channel, as it should, and that's more than you can say for a lot of minty-fresh surround mixes. The BGs delivered a tonal balance that was a little on the bright side, but not on all of the tracks. They enabled me to hear an effect for the first time in "Riders on the Storm." The sung vocal was only in the center speaker, but the whispered vocal overlay appeared in all channels. It sounded spooky and effective with the enveloping storm noises.
I moved over to SACD and played Telarc's multichannel releases of The Never Ending Waltz in which Erich Kunzel and the Cincinnati Pops perform a whirling array of orchestral dances in 3/4 time. The string sound was slightly forward, with well-defined bowing, but it didn't sound excessively hot. These speakers did not deliver a lot of voluptuousness in the lower midrange. However, they did develop high frequencies with confident extension, plus a spatial generosity that would be all but impossible with dome tweeters.
Alternate Takes is one of my three-dollar treasures, a cutout LP of pieces made famous mostly on John Coltrane's classic Giant Steps album. I focused on the tenor sax and didn't exactly get a pinpoint image suspended between the speakers. Instead, the BGs insisted on precisely constructing a soundstage that extended 2 feet behind and in front of the speakers, turning Coltrane into a three-dimensional presence. They even did it with just two speakers (and a sub).
The BG Z-62 makes an excellent case study of the virtues of planar drivers. It will do especially well in a home theater that needs to cover a broad seating area. Given the right amplification—you'll definitely want something clean and warmish—it can uncover a lot of previously unnoticed pleasure points in music. Incidentally, if you'd like something that intrudes less into the room, BG also makes some excellent in-walls. Are you ready to go outside the dome?
Highlights
Flat diaphragms for tweeter and midrange produce open, airy sound
6.5-inch cones are aluminum
Sub plays nice and deep