Best Gear of May 2022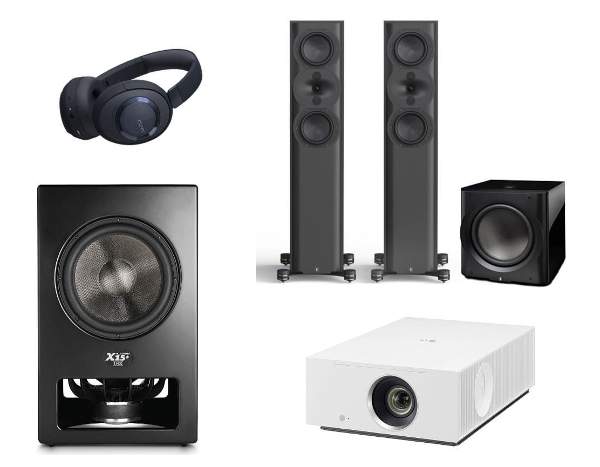 Ready for a subwoofer that can play very low and very loud in very large spaces? Or how about a versatile set of headphones that put excellent noise cancellation and sound expanding spatial processing at your fingertips as you look ahead to that awesome summer vacation you just locked down? Both made our Top Picks list in May along with an affordable smart projector that will take movie time to the next level and a trio of high-end speakers from a brand you never heard of that will leave you speechless.
LG HU710PW 4K Laser DLP Projector: $2,499
LG continues down the smart projector path with the HU710PW, a follow-up to last year's
HU810PW
that retains many of the same features — including TV-like direct access to Netflix, Disney+, and other streaming apps — while shaving $500 off the price. The tradeoff that makes the lower price possible? Brightness. Unlike its sibling, which uses a full-on dual laser, the new model employs a lower output LED/laser light source, which makes it best suited for use in dark rooms. The good news is that color performance remains impressive with DCI-P3 coverage pegged at 94%.
In addition to supporting HDR10 and HLG high dynamic range (HDR), the projector boasts HDR tone mapping that optimizes image contrast frame by frame with HDR content, an extensive set of picture calibration adjustments, and multiple picture presets, including Filmmaker Mode. On the audio side, when you're streaming directly to the LG using its built-in apps, audio can be routed to an outboard receiver through its HDMI eARC connection. In all, there are three HDMI ports, one of which supports HDMI 2.1 with ALLM (Auto Low Latency Mode) and 24Gbps bandwidth, plus an optical digital audio output.
Whether he was streaming The Batman on HBO Max or watching No Time to Die on Ultra HD Blu-ray disc, reviewer Al Griffin was impressed with the high level of detail he saw, particularly in the dark and moody production design of The Batman, which proved to be an ideal torture test for contrast. The HU710PW may not be brightest projector but it delivers a nice set of features and great picture quality at a reasonable price.
AT A GLANCE
Plus
Impressive contrast
Flexible zoom and lens shift range
Built-in streaming platform with HDMI eARC
Minus
Limited brightness necessitates dark room viewing
Smart interface not for everyone
Full Review Here (posted 5/4/22)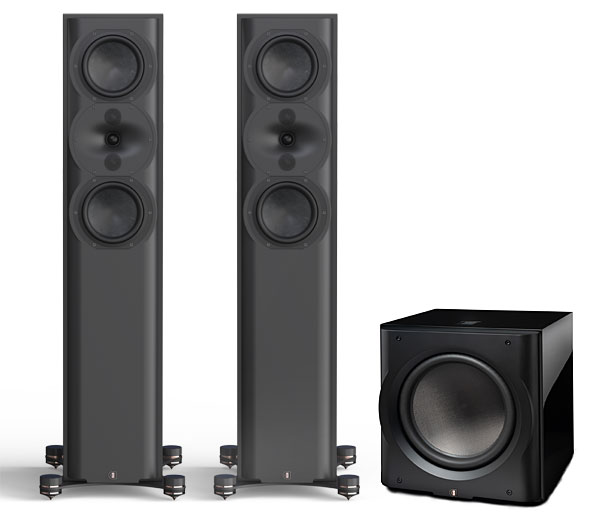 Perlisten Audio R5t Loudspeaker and D15s Subwoofer: $7,000 (tower), $5,000 subwoofer
If you haven't heard of Perlisten Audio, you're not alone. Short for Perceptual Listening, the brand was launched by a group of audio industry veterans in early 2021 so it hasn't been around all that long. Despite its young age, the Wisconsin-based startup has managed to amass an impressive lineup of speakers, all engineered in the U.S. and built in China. Though our experience is limited to the R5t tower speaker and D15s powered subwoofer, it's clear that this company is off to a great start.
The R5t is a modified two-way design featuring a vertical array of three 1.1-inch drivers with one woofer above and one below. Perlisten calls the arrangement a DPC-Array (DPC for Directivity Pattern Control) in which the operating range of the top and bottom tweeters is limited to improve sound quality. Bottom line: it works. The D15s subwoofer we paired with the R5t towers is a THX Dominus Certified design that mates a 15-inch woofer with a 2,000-watt (peak) amplifier in a 20-inch cube built to deliver the goods in spaces as large as 6,500 cubic feet.
Not known for mincing his words, veteran reviewer Tom Norton praised the R5t towers for their "transparency, lack of coloration, and ability to throw a wide and convincing soundstage." And when he called the subwoofer into action, Norton found himself in awe of the "superb dynamic range" he experienced. All of which says, this is a speaker combo that's worth your attention.
AT A GLANCE
Plus
Clean, uncolored sound (R5t)
Surprisingly powerful bass (R5t)
Excellent build quality (R5t)
Stunningly dynamic performance (D15s)
Excellent build quality (D15s)
Minus
Pricey (both)
Not the best option for very large rooms (R5t)
Full Review Here (posted 5/11/22)